NSFW: A Breakdown Of The Top 13 Coronavirus Videos On PornHub
Covering my ass one more time here to say 'NSFW'... Hold off if you're at work, pals. Now where were we... Ah yes...
With more & more people getting stuck on quarantine, odds are good FAP numbers worldwide will skyrocket.
It's a nice escape from this frightening reality and it might even help you pass out (with your phone still in your hand) if you've been anxious & stir crazy... BUT, if you want to enjoy those feelings while still thinking about Coronavirus, I've got you covered.
I have done the research & amassed a 'Top 13 Coronavirus Porns' in honor of Friday the 13th (and also because I only found 13 that had moments I could screenshot without genitals in them).  
You'll have to look them up yourself via the titles because I'm not sure what the rules are with links to porn sites on here, & instead of asking our editor I would rather write out this long sentence instead? Also, for some I've included transcripts because they were too good not to. Highly recommend you don't skip - promise the reading is worth it. Anyways, without further ado and in no particular order... 
THE TOP 13 CORONAVIRUS VIDEOS ON PORNHUB THIS WEEK: 
1. QUARANTINED REGRET
HER: You know what I'm fighting around here these days? A fucking virus, DUDE. The Coronavirus will get you.

VOICE BEHIND CAMERA: Not my small d*ck. 

HER: (Jabs wooden sword at him.) It will DEFINITELY get your small penis. But before that happens I'll slice it off, don't worry about it. 

(Star Wars light saber sounds while swinging sword) 

There it is, there it is. You don't have a penis anymore! You don't have to worry about the Coronavirus getting in through your penis… But it can still get in your respiratory system so you could be fucked. 

MAN BEHIND CAMERA: That's my last mask that you have on. I want my mask back. 

HER: Too bad! 
The biggest regret here was knowing I'll never get that 1:01 minutes of my life back.
2. CORONA VIRUS PROTECTION EXPLAINED BY AN IDIOT
- Man speaking to imaginary person on speaker phone in deep, trying-to-be-sensual voice - 
MAN: So yeah, dick pics… You said I should send you a dick pic.. Remember that stupid conversation? Dick pics are sooo passe. What we have here is 'dick Coronavirus protection'.

(Shows off bottle of Alco Brand Hand Sanitizer). 

This is, ah, Jackass level of absolute stupidity. So um, let me see how this works.. ok… Alright… 

(Puts large amount of sanitizer on hand)… 
At this point you can guess what happens but I'll tell you anyway. He proceeds to hand-sanitize the ever-loving shit out of his penis. It goes on for another minute or so & every now & then he makes a pained sound when he hits the pee hole & says, 
This is among one of the stupidest things I've ever fucking done. It's pure fire, but it's sanitized. 
HOT, HOT, HOT…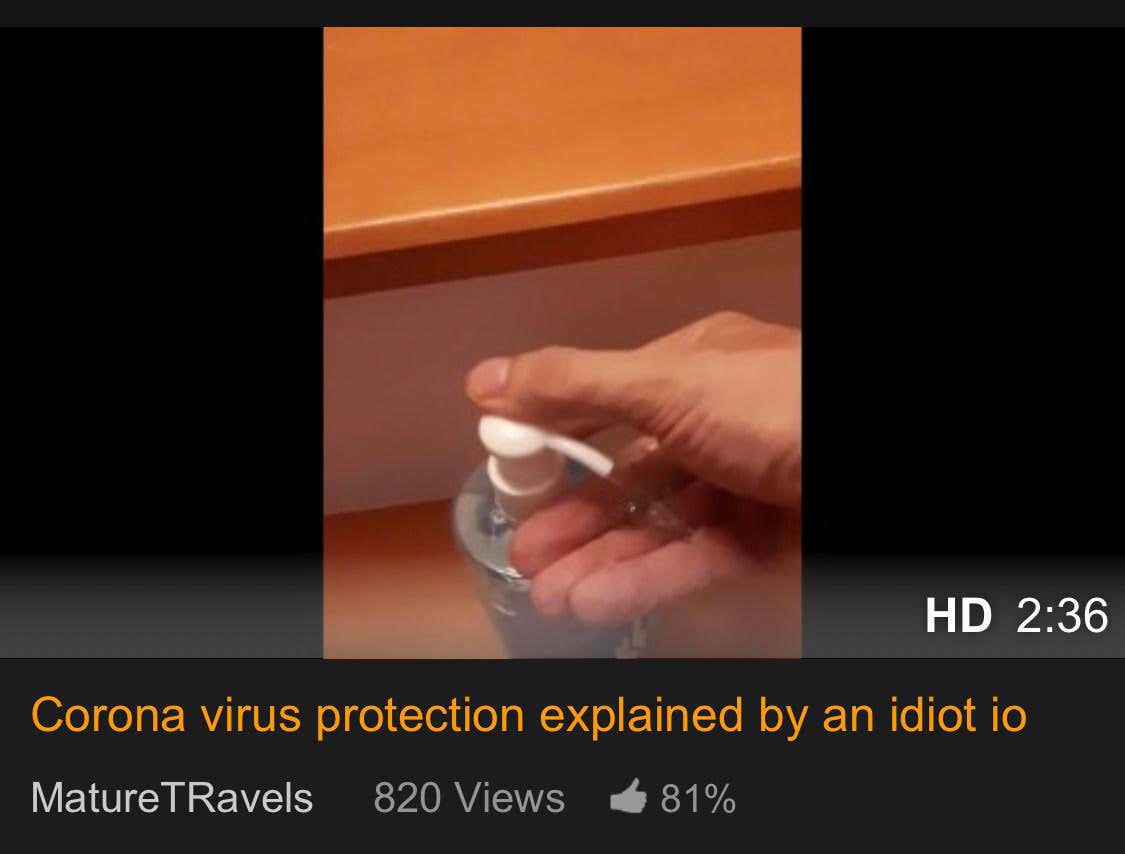 3. DAMN THAT PUSSY GOT CORONA VIRUS!!!!
This visual might seem super aggressive but for all we know this is just a kindly back massage. At the same time, I didn't watch this one because I don't watch stuff like this (before 4pm).
Also have to say - If "Damn, that pussy got coronavirus" is not a line in a rap song soon I'll have lost my faith in musicians. It just has a ring to it… 
4. HOW TO HAVE SEX DURING CORONAVIRUS EPIDEMIC
I imagine this was inspired by the landlord's performance in The Big Lebowski or Charlie Kelly's green-man endeavors. Perhaps not quite. You don't really see anything in this one except spandex writhing around. Oh, and as to why the video creator's name is Laura_Encased? Couldn't help myself & did a little more research & her 'thing' in the pandemic off-season is encasing people's bodies in plaster, sexily. 
5. FAILED RICK ROLL
This one opens up with a .05-second image of a germ up close, then goes immediately to Rick Astley's Never Gonna Give You Up. Obviously an attempted Rick Roll, but they messed up & the thumbnail is Rick instead of the germ giving the surprise away. Regardless of that and a complete lack of sex (besides every steaming moment Rick's on screen) it's still got a 92% rating out of 5.5K views. That song will just always slap.
6. DOUBLE BUBBLE, RUBBER-SUITER IN TROUBLE
This seems to have been clipped from a larger video called 'Rubber Sensory Overload… PART 2', so ah, we have that going for us, which is nice. 
In the beginning a guy hooks the breathing tube of the rubbersuit-lady to a bong of sorts & then the lady makes loud bubbles for like 3 whole minutes while wrinkling the rubber around. If you're into ASMR & also keep people trapped in your basement, this vid's right up your alley. 
7. DISNEY'S GRU WITH MEMES FOR U (???)
Much like the Rick Roll video this one starts with a close up on germs, but it also has a British robot voice saying, 
"You should definitely like the video and subscribe to protect yourself against the Coronavirus." 
To the surprise of no one, wacky xylophone music plays in the background the entire time as the robot reads all the words on 7 whole minutes of bad Coronavirus memes, many of which are a liiiiiiiiiiiiiiiiiittle bit racist. No nudes, but again a solid rating out of 53K views… sigh. 
8. TWO GIRLS, ONE MOUNTAIN (TO AVOID CORONAVIRUS)
The first few minutes is just two super fit ladies in funky rave/hiking gear bounding through legitimately beautiful scenery with a boombox & cute dog.
But wait, there's more!
At the top of the mountain they find a geocache box where people have left cute little notes about their non-sex hikes & they decide to leave a note with a bumper sticker to their porn site & the date they had the threesome up there on it. They proceed to bang the cameraman as the sun sets which seems neat enough except they all look a little uncomfortable on the rocks. 
This league, man… This league…
9. RUN, CORONAVIRUS, RUUUUUN
Literally nothing but 8+ minutes of a lady running barefoot in a thong on a treadmill. You do you. 
10. PROTECTION PSA
If you look this one up, be sure to brace yourself for some incredible, informative dialogue.
HER: (bounding through front door) - I'm home….. and I'm sooo horny!

HIM: Wait! Don't you move a foot closer. Haven't you heard of COVID-19?? You aren't even wearing a mask. 

HER: You mean the Coronavirus allll the way over in China? I think I'll be fine. It's like a little flu. I have a doctor's mask in my car anyway. Just fuck me!

HIM: It's not just a flu and that mask isn't even protecting you. It might protect other people from getting the virus if you're already infected, but the only way to protect yourself is to have a good mask. N-95 rated and higher! There's over 60 million people in full quarantine over in China right now and those are just public numbers! There could be a lot more. We have to be safe, we have to be protected, this is way more than a little common flu. 

HER: I don't have time for this! My pussy is like, so wet, and you need to get dicked down right NOW!
(She proceeds to get dicked down, but safely, in a N-95 rated mask.)
What I love about this one is that I genuinely believe the guy was legit trying to get some info out there. "Yeah, I do porn.. but I also inform."
11. YOU A BIG FINE WOMAN, WON'T YOU BACK HAZ-MAT UP
This video is only 36 seconds long but the first 4 seconds where they make out with each other by smooshing their tongues against the plastic is electric, like watching a dog lick peanut butter off a sliding glass door. After that, well, you get the idea.
12. PAGING DR. COCKDOGG
This might be my personal favorite of the group (until his pants come off). 
DR. CD: Hello there. My name is Dr. Dogg…. Dr. CockDogg. If you're watching this video it's for one of two reasons. Either A) You've been downloading a lot of porn and somehow stumbled on to this video by typing in "Coronavirus" instead of "Corona Sluts". Or B) You have the Coronavirus. We're gonna assume it's B.
Spoiler alert… he rambles on for a while & then goes to town on himself. If you're feeling adventurous, he helicopters his penis around at 06:40 for absolutely zero reason.
13. I'M SORRY TO END IT ON THIS ONE, PLEASE DON'T BE MAD AT ME
Have to end a 13 count Friday the 13th blog with something that will haunt your dreams. 
I was scrolling through all the Coronavirus stuff (there's A LOT) and this one caught my eye in an immediate & visceral "WTF" kind of way. My search pulled it in because of the word 'coronae' which I will never look up & never want to know about. That also goes for 'pearly penile papules'. But, if this rings a bell with you, you can fix it with this tutorial… for FREE. 
I did not click on it but still managed to throw up in my mouth a little bit off the thumbnail photo alone, which I did not include as my gift to you.
In closing, I'm not sure if I'll get the Coronavirus or not, but without a doubt my cell phone & computer have at least 10,000 viruses now after the searching I did for this blog. Happy FAPPing.