Reader Email: Can Eloy Jimenez Win The Home Run Title?
If you listened to Barstool Chicago Radio on Sirius like you should have this morning, you'd know that I am fighting a titanic hangover today.  I closed down Richards on Saturday then yesterday started at Sidestreet Saloon before going to Declan's, The J Parker and Trader Todd's.  If you're from Chicago you know exactly how I'm feeling right now.
PS - update on this exchange since so many goddamn people are wondering:
Yes, she slid in my DMs and yes, we exchanged numbers and yes, I fully plan on embarrassing myself someway, somehow once I meet her.  Apparently she hasn't seen the gum video.
ANYWAYS - on to baseball.  Lotta good questions from the people this morning.  
Great question to kick it off.  Also, bulldogs are awesome.  Great city dogs.  With respects to Andrew Vaughn: I am assuming he'll take the Robert path in 2020 by starting in HiA Winston Salem, destroying the ball there and in Birmingham and will end the season in Charlotte.  I say this with zero embellishment: there absolutely is a chance that he is the best hitter out of all the young White Sox stars.  Yes, better than Eloy, Moncada and Robert.  I'm not guaranteeing that, but it's not outside the realm of possibility.  I absolutely fucking LOVE his swing.  He generates so much torque and the barrel stays through the zone for so goddamn long.  It's a work of art.  I would be shocked if he weren't a perennial .300/.380/.550 hitter.  He's that good.  What sucks is that he's going to have such a dominant year that people are going to be freaking out that he's not in Chicago in July.  Wouldn't be surprised to see him extended prior to 2021 like Robert and Eloy too.  This lineup is going to fuck for years.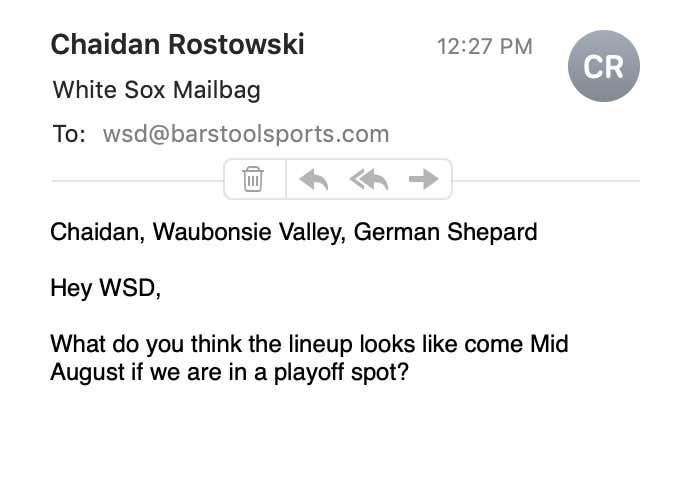 I got a 15 yard penalty my freshman year for calling a kid a cock sucker for facemasking me against Waubonsie Valley so I kinda hate you Chaidan.  That said, I LOVE German Shepherds.  I'm gonna move to a better place in august and that is the first thing I'm doing, adopting a German shepherd.  Such loyal, smart dogs.  
Great question - the lineup should largely be the same opening day as it is in August.  2B and RF are the only two positions that you could *maybe* find an upgrade for.  That would obviously come via the trade market this summer, but assuming Mazara and Madrigal perform as expected, Hahn will probably be looking to add pitching instead of hitting mid season.  Purely a guess though.  
Hey Craig - Buehrle is a beautiful fucking dog.  Give him a pet for me. 
If I've said it once I've said it a million times at this point: Adam Engel is going to be a very important piece for the White Sox this summer.  Everyone knows that he's great defensively but I truly think his mechanical adjustments he made after being sent to Charlotte last year will stick.  He looked great in the 2nd half of 2019.  He'll be deployed solely against lefties and as a defensive replacement and that is an area where he can flourish.  Not if, but when people see how valuable he is this summer I want you all to tweet me and say "WSD you were right you baseball savant!"
Mark my words, dude will be a key piece on this team.
Sheepadoodle? The fuck?  To answer your question.... none of them this year, but MAYBE Dunning.  They're going to baby his arm but he's "ready" in terms of age, projection, etc.  I do think he'll be a nice mid season add after they limit his innings in Charlotte to start the year.
I love Yermin.  Dude HACKS.  He's not a prototypical AAAA player, his bat truly plays at the big league level.  Only issue is is there really isn't a spot for him on this roster as he's apparently a brutal catcher and can't play anywhere else.  DH like you read about.  I don't know how the Sox are going to use the 26th man but I'd imagine it'll be a reliever/swing man or utility guy a la Leury Garcia.  Not a clue.  I do not think it'll be Yermin though.  I'm hard pressed to even call him trade bait.  All of that said, he will get his shot at some point this summer.  
Eloy all day.  Assuming he's healthy for 140+ games this year, Eloy will hit 40+ bombs by accident.  Robert more like 25ish or so.  A lot of books have Eloy around 33-35 bombs this year.  Take the over ALL DAY.  To say he could win a HR title this summer isn't an outlandish statement at all.
All depends on Kopech/Rodon coming back and pitching well.  I think Kopech is going to be a star so if you pair him and Rodon with Keuchel/Cease/Gio/Gio/Lopez then you have some good depth, especially with Dunning and maybe even Stiever being options later this season.  So no, I'm not too worried about it.  Just need progress from Cease/Lopez and if they are solid, the team will win a lot of games because the lineup fucks.
Do I think Tim Anderson will be good this year?  Yes. Do I think he's going to win the batting title again?  No way.  He'll be a perfect 7 hitter once Robert or Madrigal shift into the leadoff role. 
JULY 24TH SAVE THE DATE!  Red Line Radio is doing a live show at the park with Rick Hahn cohosting.  It's against Minnesota and I'll have details this week.  Patio and tailgate rager though.  EVERYONE BE THERE.  
1. Corks
2. Turtle's
3. 10 miles of shit
4. Chisox bar and grill
I just hate how expensive Chisox is and if it is up to me I'm tailgating anyways.  Also Shinnick's Pub is the best out of all of them IMO.  Hidden Gem
24 days until opening day!!!! LET'S GO WIN A GODDAMN DIVISION