Four New Members Of The Answer The Internet Million Views Club
Latest episode featuring a local New York City guy and fellow degenerate, Mike Cannon
A once extremely exclusive has officially hit double digits with 10 vides of at least 1 million views. 9 members, because the Queen of Internet Hypotheticals Abella Danger did it twice. But in a 24 hour span we inducted 4 new members into the club:
Jessa Rhodes:
Holy goddam moly is this chick a rocket. The textbook definition of a BAD BITCH. Shes actually pushing 2 million, so she eclipsed the million mark a while ago and slipped through the cracks. I'd like to slip through her cra...
Moving on!
Logan Paul:
Logan Paul is living the fucking life, man. Him and his buddy fly around the country banging Riley Reid and Lana Rhodes. He's selling out arenas and making bank off of pay per views, and hes crushing youtube on a daily basis. A million views aint shit to him but still a big deal to us, so, thanks to Logan and if you'd like to send any porn stars my way, I'd appreciate it. I'm a No Face Girl fan, if you need any suggestions.
KSI: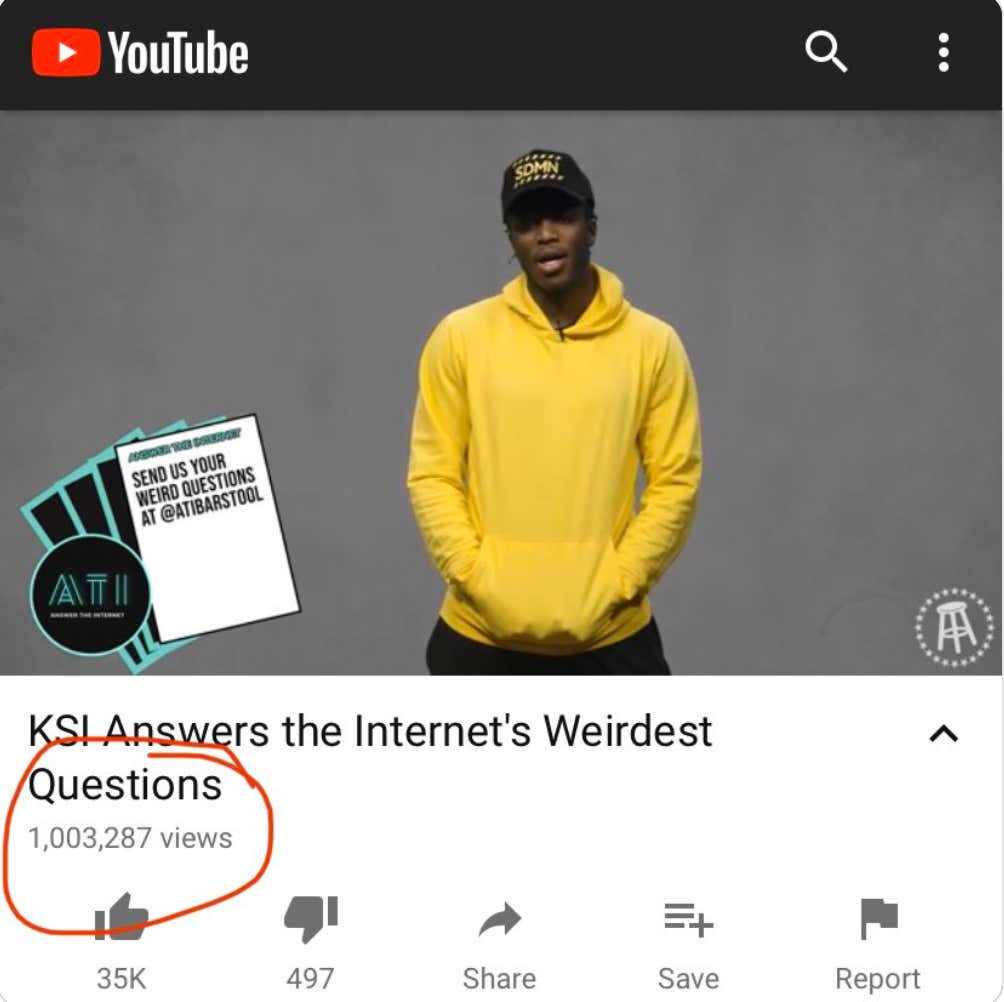 Logan Paul's mortal enemy, both arrived in the Million Views Club on the same day. The difference? Took Logan 6 months, took KSI 6 days. The battle between the two top youtubers continues…
And last but certainly not least, FLUFFY:
Gabriel Iglesias, one of the most successful comedians of all time, can put this accolade on page 72 of his resume in small font as a footnote. Gabriel was pushing a network show too so we had to keep it clean and he still knocked it out of the park. All the greats can make any of these questions funny.
Honestly that might be the biggest misnomer about ATI. The most memorable questions are the ones that are extreme or vulgar or sex related. But the majority of the cards are actually normal questions that anybody can answer. The best ones are the philosophical ones that make you think (if you could travel back in time and tell yourself one thing in 10 words or less what would it be?), the funniest ones are the idiotic ones (How long would it take to drink a swimming pool?), the most passionate ones are the nonsense debates (a polar bear vs a shark in an olympic size swimming pool, who wins?) and the most memorable ones are the most fucked up (you're one inch in your mom and your dad is one inch inside you, which way do you move?) But all of them keep the goddam party going. Get your copy of ATI now, and in the coming months be on the lookout for expansion packs and more game play from the Answer The Internet world:
Go to AnswerTheInternet.com for all the options to buy your copy of the game, and make sure you subscribe to our channel on Youtube. We are closing in on 200,000 subscribers at a MUCH faster rate than our first 100k. So if you wouldnt mind helping us out, just click subscribe. Even if you're not an avid youtube user who logs in ordinarily, all it takes is your gmail login. So just use the same name and password as your email and subscribe for us over on the ATI channel:
Thanks to all the guests and thanks to all the viewers for the support. Respect.