Every state in America has its own bird, flower, motto, flag and a bunch of other factoids; none of which let me know anything about the Americans who live there.
Do you know what would help me know more about my fellow Americans from around the country? What type of shoes they wear. With this in mind, I have taken on the task of researching (either by experience or personal reference) the state shoe of every state in America. These are my results:
ALABAMA: The Air Monarchs. Air Moneys really do represent a core set of beliefs and values consistent with living in Alabama. (Also the official state shoe of Kansas, Tennessee, Wisconsin, and Idaho.)
ALASKA: Caterpillar Work Boot. People in Alaska love Walmart. If you were to search "most popular shoe in Alaska" and the term "Walmart" you will see The Caterpillar work boot. Along with Birdman's Lugz, you can also find Caterpillar work boots at your nearest Shoe Carnival.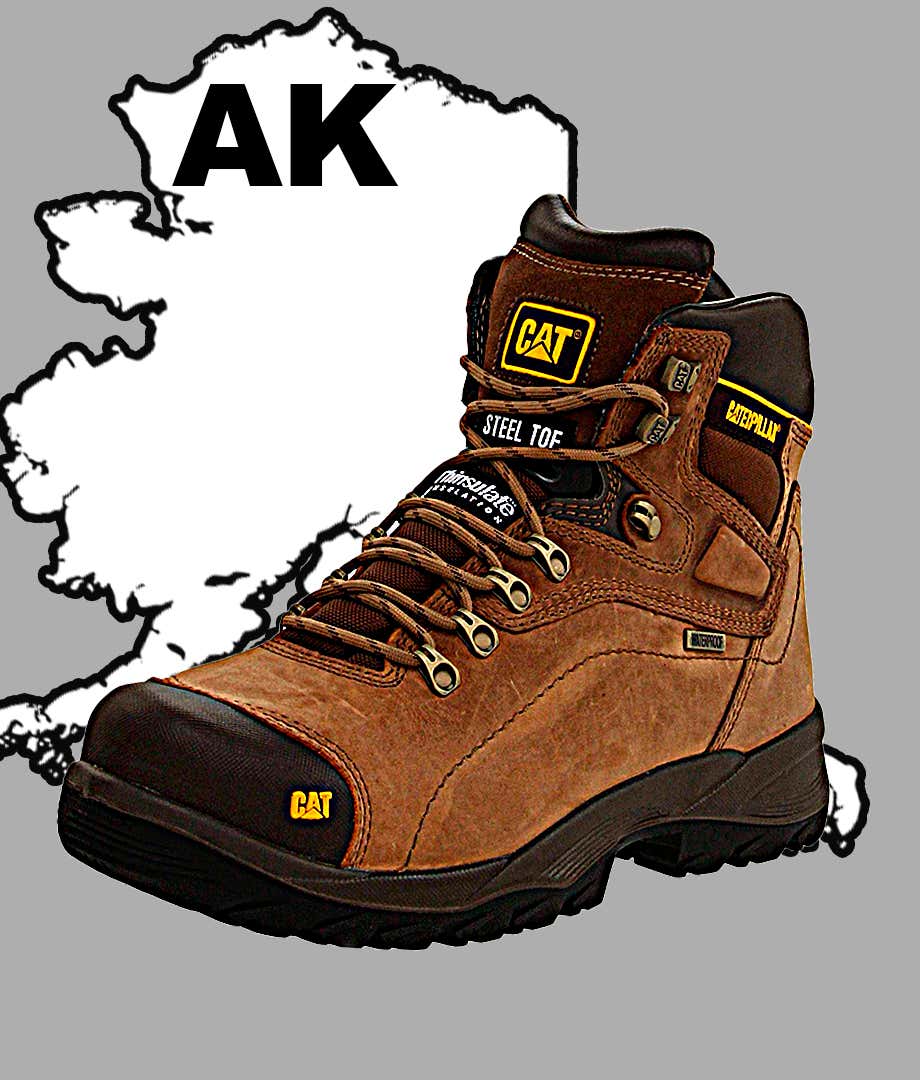 ARIZONA: Dirty Vans. You can find Dirty Vans in any state in the country, but AZ is the home of Dirty Vans. Vans in Arizona tend to rot from the inside out due to the lack of socks and extreme heat found in that region. (Also the official state shoe of New Mexico.)
ARKANSAS: The classic 10-inch L.L. Bean Duck Hunting Shoe. The flexible rubber sole makes this boot the perfect footwear for backwoods hunting and returning Red Box DVDs to the local Harps grocery store.
CALIFORNIA: Chuck Taylor All-Stars. Like people from California, Chucks are soft, relaxed and easily destroyed. A shoe built for those impervious to nightclub dress codes. The ultimate sandal sneaker.

CONNECTICUT: Sperry's. The shoe that says "Look, I've been on a boat." With uncomfortably hot summers and snow laced winters, Connecticuters find solace in slipping their feet in a presentable shoe that won't stop smelling until you put your foot in it.
FLORIDA: The Rainbow Premier Leather sandal. Floridians love exposing their toes in some Rainbows. Breaking in that leather can take a while, but once you get your foot imprinted in the sole, you won't find a more durable sandal to get arrested in.
GEORGIA: Gucci flip flops. Home to most HBCUs in the country, Georgia has put these high-end house shoes on the map in the last decade. These $200 sandals are a perfect way for anyone in any state to communicate "I listen to a lot of rap music."
HAWAII: Jandals. A sandal made entirely of rubber so there's no sinking these slides while frolicking in the Pacific. Featuring two gladiator straps, the "Jandal" is named after the sandal's original home, Japan and unfortunately is not short for "Jesus' sandals."
ILLINOIS: Air Jordan 1 Retros. The shoe that Michael Jordan (and Spike Lee) made famous. The lightest Retros on the market. "Chicago" "residents" love reliving MJ's golden years by rocking the first pair of Jordan's ever released.
INDIANA: Team Jordans. There's a huge difference between Retro Jordans and Team Jordans. The home of outdoor courts and poor eating habits. Indiana values frugality and functionality over flare. Those core values are reflected in Team Jordans.
IOWA: K-Swiss Classics. A tennis shoe made especially for tennis, the K-Swiss classics bring a simplicity to footwear that is extremely hard to find nowadays. Iowans and K-Swiss classics both follow the K.I.S.S. acronym perfectly.
KENTUCKY: Barefoot. Shoes can be a hassle at times; finding them, making sure the right shoe goes on the right foot, tying them! Real Kentuckians turn their nose up at high-end establishments with signs outside that read "No shoes. No shirt. No service." (Also the official state shoe of West Virginia.)
LOUISIANA: Shrimp Boots. These rubber boots were intended to keep Shrimpers' socks dry on the boat, but in Louisiana, they never come off. Accompanied by khakis and a camo hat, shrimp boots are accepted at every event in the NOLA except weddings.
MAINE: The 8-inch L.L. Bean Boot. Located in Freeport, Maine, this is a case of Mainers bending over backward to support their home state. I imagine people in Maine to look as sturdy and cold as their homegrown shoe. (Also the official state shoe of Oregon.)
MARYLAND: New Balance 990s. The DMV area tends to blend together at times but there's no denying the popularity of the 990s in Maryland. Versions of 990s vary based on stability and cushioning but they all scream, "I can't tell you who I'm voting for."
MASSACHUSETTS: Uggs. The official shoe of Tom Brady is automatically the official shoe of Massachusetts.
MICHIGAN: Black Air Force Ones. I know Michigan is a big state but this state shoe is inspired by Detroit. While investigating a B&E in Detriot, there's a 90% chance you'll see an A1 footprint at the crime scene. Air Forces can also substitute for boots in the winter.
MINNESOTA: Red Wing Classic Moc. This is another case of people from Minnesota taking care of their own. Red Wing is a Minnesota company and in a miserably cold place littered with Canadian quarters, this work boot is one of the few things to live for.
MISSISSIPPI: Grass cutting shoes. Any shoe from any state can eventually become grass cutting shoes, but Mississippi residents often find themselves wearing their grass cutters well after they're done cutting the grass. (Also the state shoe of Missouri.) 
MONTANA: Timberland's Mt. Maddsen Waterproof Hiking Boot. Some boots are only made for walking, but these boots were made for walking in the woods and shit. (Also the official state shoe of Wyoming, North Dakota, and South Dakota.)
NEVADA: Athletic Works Two Strap Velcro. Only found in Walmart, this comfortable shoe can be seen in action on the feet of elderly women at Vegas slot machines on and off the strip. No jumping necessary or allowed in these shoes. 
NEW HAMSHIRE: Salomon Speedcross Running Shoe. Surprise! Residents in New Hamshire love a "wicked" walking shoe ready to take on the roughest terrains. (Also the official state shoe of Delaware and Rhode Island.)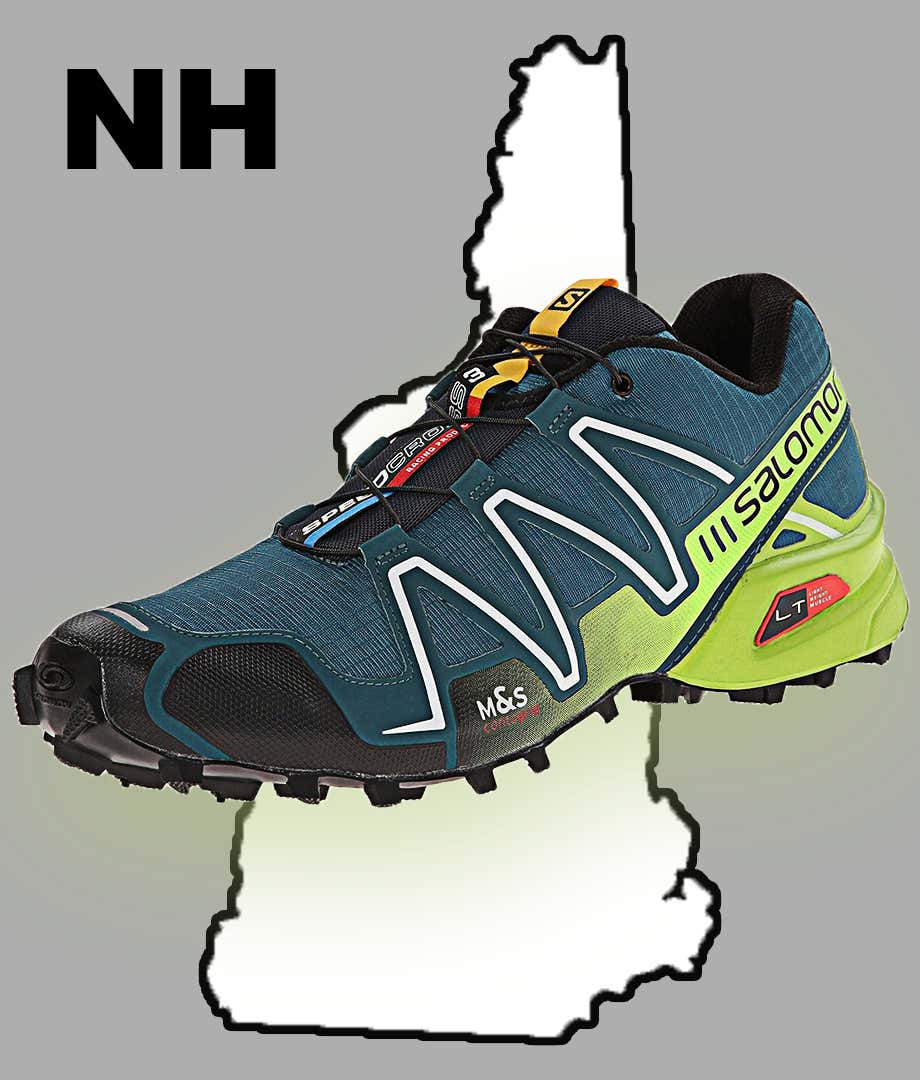 NEW JERSEY: Gucci Loafers. The state shoe of New Jersey reflects the retail therapy required to live there. When you never have to get out of the car to pump gas, you have the luxury of wearing the most flashy footwear at all times.
NORTH CAROLINA: Air Jordan 11 'Concord.' The home of Michael Jordan's college basketball team, you'll find current and former UNC athletes rocking Concord 11s. Outside of the 1s and 3s, the 'BRED' 11s are one of the most popular Retro Jordan's out.
NEW YORK: Timberlands. If you've been to New York (City) during the winter, you already know Timbs can be seen as a fashion statement as much as they're seen as a necessity to protect against these dirty, filthy, dusty-ass New York (City) streets.
OHIO: LeBron 15. Or any other LeBron shoe honestly. Seeing someone from Ohio in a pair of LeBrons is like seeing someone from Barstool in some "Zillon Beers" merch; it's more of an expectation than a surprise.
OKLAHOMA: Camo Crocs. This reliable footwear goes perfectly with any and all Oklahoma and Oklahoma State gear. The ventilation ports allow for peak feet breathability. The perfect shoe for praying to the one true Christian God.
PENNSYLVANIA: White Air Force Ones. Sturdy. Tough. Durable. White. These words don't just describe the majority of Pennsylvanians, they also describe the famous white forces. Perfect for watching TV in the house or talking to friends on the porch.
SOUTH CAROLINA: Walmart Flip Flops. Not only does South Carolina have some of the cheapest gas in the country, but they also have some of the cheapest state shoes. I've witnessed a full-court basketball game in SC featuring only flip flops from Wally World.
TEXAS: Cowboy boots. Everything is bigger in Texas including them big ass, hot ass leather leg sleeves they call boots. Wear them with jeans or a tuxedo, purchasing your first pair of cowboy boots is a rite of passage for most American's relocating to Texas.
UTAH: Merrell hiking shoe. Merrell shoes are as sturdy and resilient as the Utes who live there abstaining from sex, alcohol, drugs, waterparks, rollercoasters, hot Krispy Kreme donuts and all other forms of fun. A perfect shoe for hiking on those Utah river banks.
VERMONT: Birkenstocks. An expensive but classy way to showcase your toes. The only state shoe that epitomizes World Peace with its existence. These premier sandals are worn without socks by Vermonters until the age of ~45.   
VIRGINIA: Rockports. A reliable set of slip-resistant shoes make all the difference in Thomas Jefferson's birth state. With a plethora of restaurants and strip malls throughout the state, Virginia is for minimum wage workers as much as it is for Lovers.
WASHINGTON: Hiking sandals w/ socks. The only thing better than hiking sandals are hiking sandals with socks. Although toes are covered, something about this state shoe makes me feel like Washingtonians don't wash they hands after they go to the bathroom.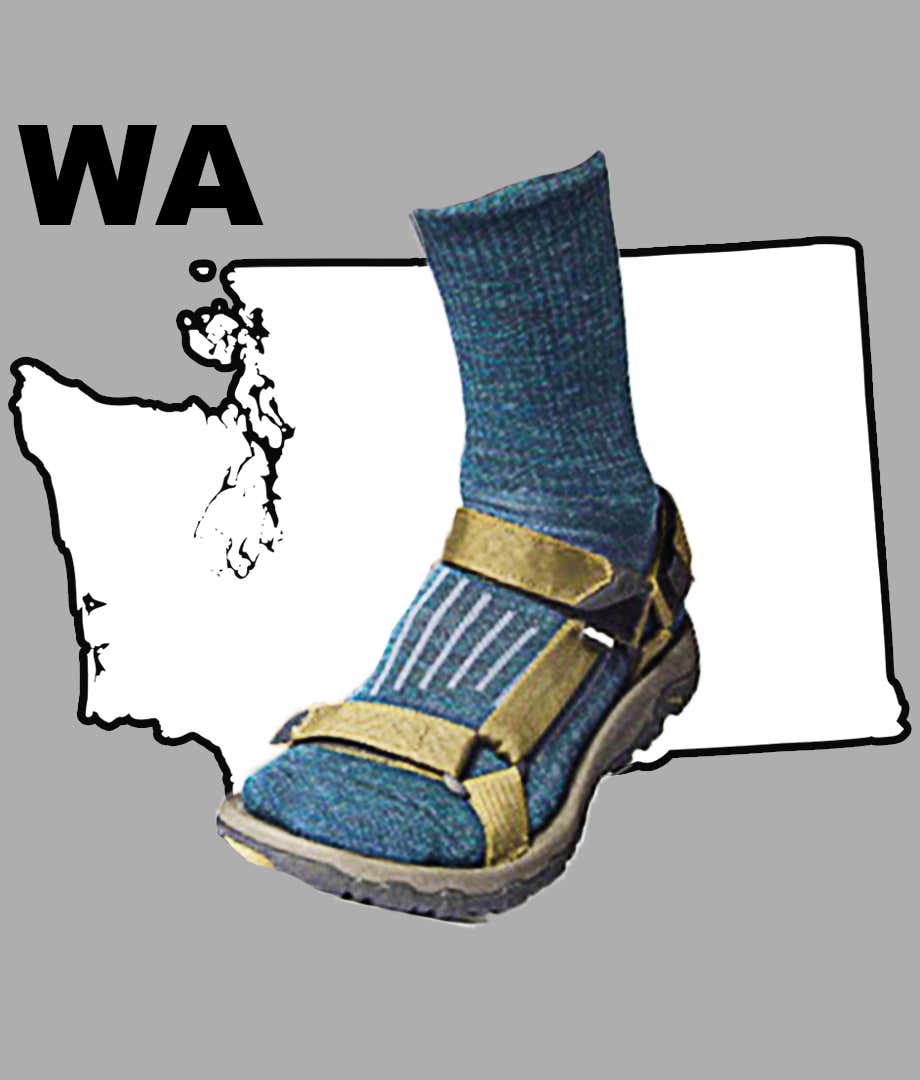 -fin-