Eminem Dropped A Surprise Album And Already Started A "Disgusting Lyrics" Controversy/War With Ariana Grande Fans While You Were Sleeping
Lot of things happened in the music world while you were sleeping (I didn't sleep. Money doesn't sleep so I never sleep either) (I couldn't sleep). 
First, I refreshed Spotify at 12:01 AM like I do every week to check out New Music Friday, and right there at the top was an Eminem and Juice Wrld (RIP) song. Even better, there was a different album name next to the song name, which means it wasn't a single...it was a surprise album.
I think I'm in a very small minority of people that still gets excited for Eminem releases.  Yeah Relapse was the dumpster fire GIF in CD or streaming audio form. But while the critics have jerked themselves off bashing everything he's released since then, I thought Recovery was OK, MMLP2 was pretty good, Revival was...okay Revival was really bad, I can't spin that one, they call it Walk On Water-gate...but I liked Kamikaze! If you weren't a butthurt mumble rapper or 16 year old stan of one of those guys, it's always fun listening to Eminem rip people apart.  Even if he's a grumpy old man doing it out of boredom and jealousy now (his words not mine).
I listened to the whole thing straight through. I was doing some stuff in the background, setting some blogs up for the morning, seeing Coley was blogging the same exact thing as me so scheduling them at the same time instead of posting mine right away to be fair because there was no way I deleting all these words I had already written, eating some frozen chicken patties, you know the usual. 
I'll just say that the album is...not for me. In my humble opinion...the worst one he's put out. I don't know maybe it will grow on me. There were a few songs that I didn't mind. But the clunkers really fucking clunked — I texted Coley that if we wanted to avoid World War 3 all we had to do was fly our spy planes over Iran blasting the Ed Sheeran song out of supersonic speakers — everyone in the country would kill themselves before they had a chance to fight. 
The technical skills are still there, and always will be. The punch lines are just getting weaker and weaker. There were a few on here that made me physically cringe, like the one about the slut fucking the Earth with her dick.  Marsh and Little Engine and Darkness were ok. Godzilla too I guess. 
So I didn't care for the music, but one thing I REALLY don't care about when it comes to Eminem: his lyrics and the people who get worked up about them.  Which is the other thing that happened while you were sleeping — there's already a full-blown controversy about his lyrics in track 2, "Unaccomodating" with Young M.A. 
DAILY MAIL — American rapper Eminem has faced fierce criticism hours after releasing a new song that features a 'disgusting' lyric about the Manchester Arena terror attack.

The artist released a surprise album today titled Music To Be Murdered By to much fanfare, but controversy quickly surrounded the track Unaccommodating.

In the new song, Eminem references the 2017 terror attack at an Ariana Grande concert which killed 22 people while bomb sound effects play in the background.

He raps: 'But I'm contemplating yelling "bombs away" on the game, like I'm outside of an Ariana Grande concert waiting.'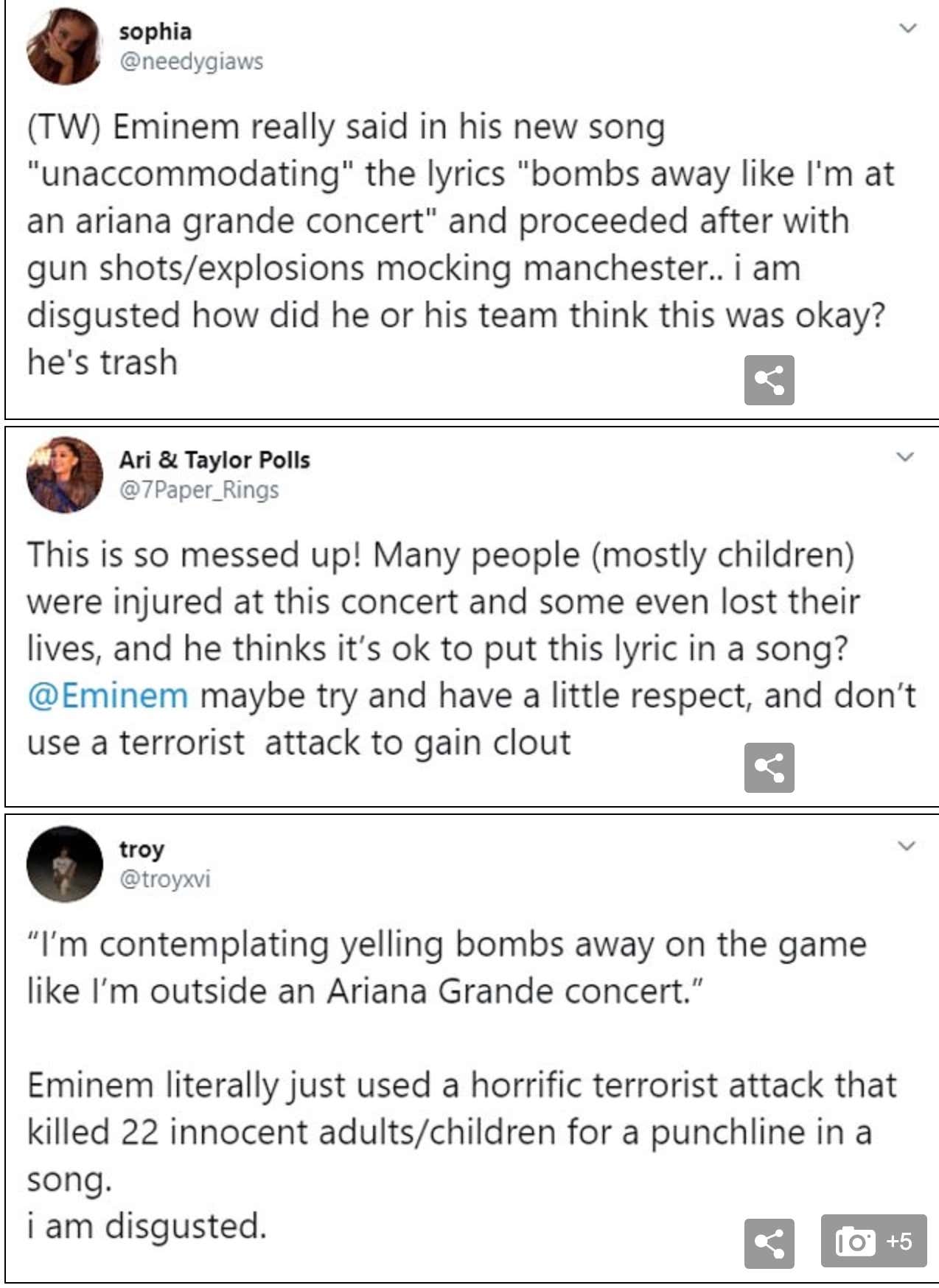 Yeah I'm never the one that's a target at the receiving end of one of his lines. I get that. I'm not gay and in this case I'm not the victim or survivor of a terrorist bombing so I'm not gonna tell people how they should think and feel. But it's what he's been doing since day 1. He's a shock rapper. He literally made an entire song of him brutally murdering his wife while his daughter was in the car…with sounds effects…on his first album. He's always going to say stuff that is WAY over the line to get you to talk about him. (And, of course, he was born to brew up storms, stir up shit, kick up dust, and cuss til he slur up spit.) (I don't have to look up Eminem lyrics, I know them all by heart, was a big W-word back in the day.) 
Also I think it's worth mentioning — they say two things:
1) Actions speak louder than words
2) Ariana Grande's words speak louder than most mere mortal's words
Also, in a weird twist, Eminem is actually getting PROPS for another song on the album — "Darkness," about the Las Vegas shooting and calling for stricter gun control laws.
So I guess we'll call it a wash. I don't know if people will like the album or not, but I definitely know Em is gonna want to stay of the old Twitter platform today — between the Ariana stans and the gun crowd, gonna have his hands full.