The Atlanta Braves Now Play in the Worst-Named Stadium in Major League Baseball
Thanks to a bank merger between SunTrust and BB&T, the Atlanta Braves have a new name for their ballpark after just three seasons of SunTrust Park. Apparently the banks are creating a new name for the merged company instead of just keeping one of the old ones ... and it stinks.
Truist Park?! I'm absolutely not calling it that. I will keep the memory of SunTrust and SunTrust Park alive long after they leave this Earth.
This is now a strong contender for the worst-named stadium in baseball — I honestly think it takes the cake. Who are the other contenders?
— RingCentral Coliseum (Oakland A's)
— Guaranteed Rate Field (Chicago White Sox)
— Globe Life Field (Texas Rangers)
Oakland is the only one that's really close, but I think we win. This sucks, especially because STP is the best ballpark I've ever been to. It's beautiful. And now it's Truist Park? Boooooo.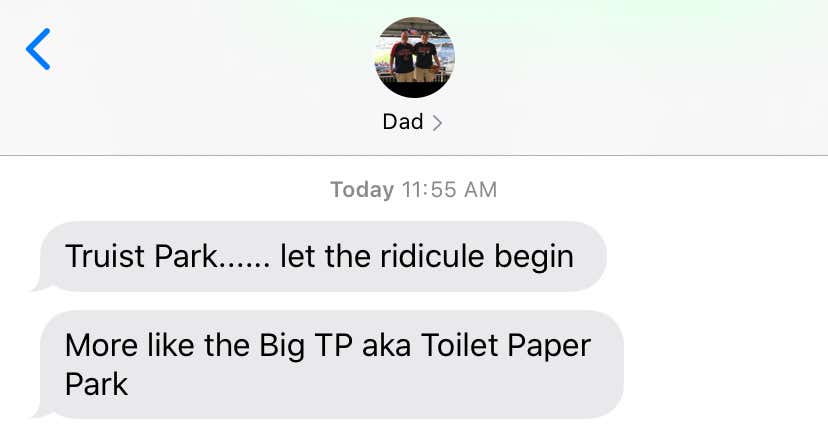 My dad isn't on social media, but he couldn't wait to get in on the action.
However, in the midst of this debacle, several astute minds on Twitter have pointed out that TeePee could actually work for the Braves.
I could maybe roll with the TeePee. Sounds fun, gets back to the Braves' roots. Maybe they'd even let us bring back Chief Knockahoma.
No? We can't do that anymore? Ok, whatever. Long live SunTrust Park.