Australian Instagram Model Tammy Hembrow Is In Trouble For Using A Picture Of Her Boobs To Try And Raise Money For The Australian Wildfires
So this story is kind of confusing to me. Tammy Hembrow (10.5 million followers) is getting roasted online for posting a picture of herself in a wet T-shirt then saying 100% of the profits from a swim suit line she's associated with will go towards Australian wildfire relief.
Here's the story according to the Insider:
Instagram fitness star Tammy Hembrow uploaded but quickly deleted a photo of her in a swimsuit and wet T-shirt after she was accused of striking the wrong tone.

In the caption, she said she was donating 100% of the profits of her Saski Collection clothing line to emergency relief for the Australian bushfires. But some people thought it was a bit tone-deaf to promote fundraising efforts with a see-through top.
Before we go on, because I know you'll want to see again, here's the photo in question.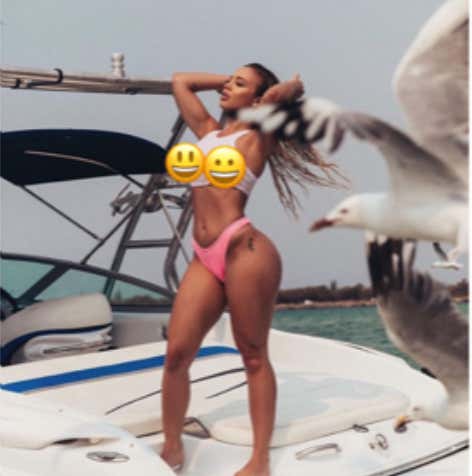 If you want the unedited version you can find it yourself. Moving on…
Hembrow deleted the photo and temporarily deactivated her Instagram account as a result of the negative comments, according to Australian news site The Daily Telegraph. 

Hembrow reactivated her account to reiterate that she would donate her profits by posting a heartbreaking video of a koala.
Hembrow did not immediately respond to Insider's request for comment.
A few thoughts. First- am I crazy or did Tammy do nothing wrong? I guess technically she could've tried to raise money without posting her boobs, but who cares? Boobs sell. Second- as far as I'm concerned, any awareness is good awareness at this point. More than two dozen people are dead including half a BILLION animals. THIRD- Porn stars are literally sending pictures of their assholes in exchange for donations and you don't see them taking any flack.
I get that it may be in bad taste to benefit at all from the wild fires, which is what she's doing by indirectly pumping her bikini line, but it worked. She's raised $70,000 so far and that's something that should be applauded. No need to slut shame her. She's using her platform to go good while staying true to her brand. Good on you, Tam. Don't let the haters get you down.