Last Night In The NBA: A Potential Disaster In LA, The Suns Are Falling Back Down To Earth, The Lakers Flex Their Muscles And More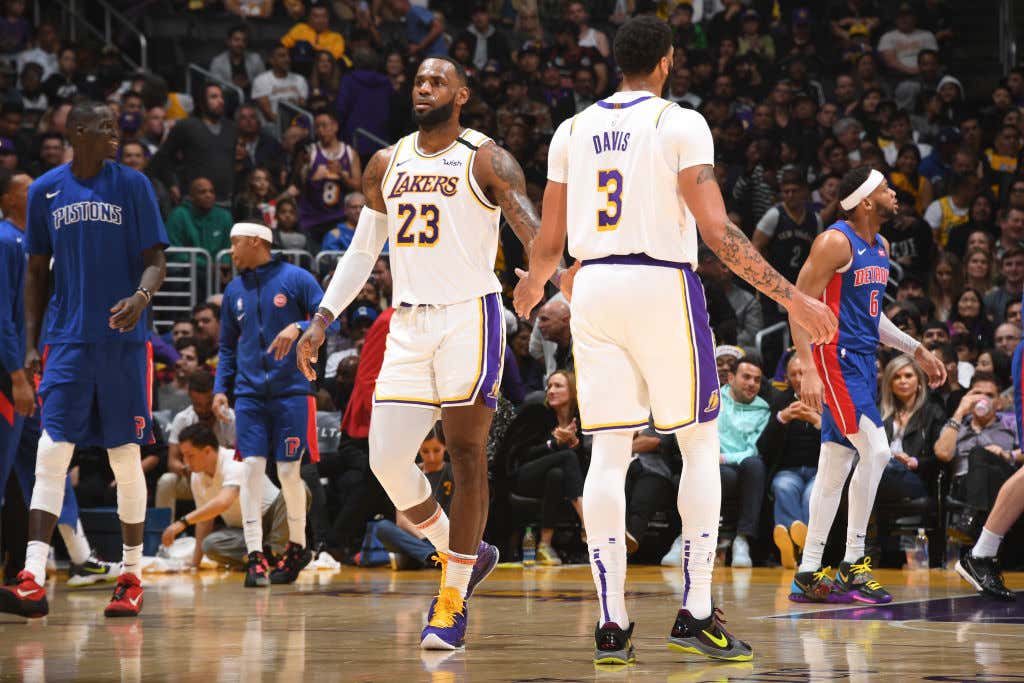 Good morning everybody happy Monday and welcome back to another edition of Last Night In The NBA where we bring you up to speed on everything that went down from the night before in the Association. I know yesterday was all about football and maybe you're a little depressed about how your favorite team performed this weekend and when you add it to the fact that this is our first full work week in quite some time, understandably there are probably some cranky stoolies this morning. Well the NBA gave us 5 games on the schedule yesterday,  with 3 of them being decided by 7 points or less. We had near upsets, some surprising individual performances, and continued dominance by some. If you missed any of the action that's OK, here's what happened.
New York Knicks (10-26) 132 vs Los Angeles Clippers (26-12) 135
I'm not sure what is going on with the Clippers right now, but despite this win they are a team that clearly has to get their shit together. A game like this immediately coming off the strange performance where they gave up 140 to the Grizzles at home and lost, to give up 135 to the Knicks and barely win is a small cause for concern. Giving up that many points in back to back games is never ideal, and while they didn't have both Kawhi/George play at the same time in either of these games, even still you can't be that bad defensively at home. Last night it was no Kawhi, so George had to handle most of the scoring for the starting unit considering no other player had more than 6 points
and honestly if not for the bench scoring and the outside shooting, the Clippers suffer their worst loss of the season. They gave up a quick 45 points in the first quarter, the 19 TOs certainly didn't help, and thankfully their two prized bench players combvined for 66 points to help avoid disaster
The duo made a little bit of Clippers history and this was a nice bounce back effort from them after Harrell came out and called out his team for not being that good. Always ideal when a player backs up a statement like that with a monster performance. The team finished the game with 54/56% splits, is 16-4 at home and can forget all about this since they were able to pull out the win.
For NYK, hey whatever. At least they had a close, entertaining game on then road against one of the best teams in the NBA. At this point that's basically a win for the Knicks. Remember they are just 5-14 on the road this season and they had no business even being in this game in the first place. A massive night from Mook and RJ Barrett did most of the damage
and who knows maybe a performance like this helps boost Mook's trade value. They had a little bit of an issue on the defensive end in the second and third quarters allowing 85 points, but again it's the Knicks so who reading this is surprised. The surprising part is that they even had a double digit lead to blow in the first place. 
Portland Trail Blazers (15-22) 111 vs Miami Heat (26-10) 122
It feels weird to say, but for this season maybe the idea of the Blazers is better than the actual Blazers. Two star guards, a double double machine big man, good young talent off the bench, and a solid coach and a system that has been in place for years you'd think they'd be much better than 7 games under .500 but here we are. Now McCollum didn't play in this game so he avoids blame here, and they did get a 5th straight 30 point performance from Dame
as well as 21/18 from Whiteside and an efficient 19 points off the bench from Anfernee Simons
So what the hell happened? Well, they started slow, got in an early hole and then never really settled in defensively. Defense has sort of plagued this team all season and this was the latest example. No quarter under 28 points for the Heat, Melo struggled offensively, they didn't get much outside of Whiteside/Dame in the starting group, and not to mention the Heat are really fucking good at home. I'm sure there was some revenge motivation for Whiteside, but this was pretty much the perfect explanation of what he is. Great numbers, team never wins. I think MIA is happy with the tradeoff.
For MIA, they had balance with 7 players in double figures, and this was all with Jimmy Butler getting the night off. Bam and Derrick Jones Jr carried things for the starting unit
and then how about Goran Dragic off the bench. This is a starting quality player who showed why with his 29/13 and 7 3PM in 30 minutes off the bench
and if he can stay healthy, he can definitely be a difference maker for this MIA team. The Heat are an impressive 17-1 at home this season, they are keeping pace with BOS to be in the conversation for the 2 seed, and when you combine their legit defense with their outside shooting this is by no means an accident. This is one of the biggest surprises of the season, and they are as legit as their record suggests.
Minnesota Timberwolves (14-21) 118 vs Cleveland Cavaliers (10-26) 103
No KAT in the lineup and Wiggins went 6-19 so how did they pull this off? Well for starters playing the Cavs always helps. But then when you also get great performances from both Dieng and Napier out of nowhere, weird stuff like this happens
Here's the thing about MIN and why everyone needs to shut the fuck up about KAT getting traded. This teamis only 0.5 games from the 8th seed in the West. Their season is NOT over, they have a chance to make the playoffs for the second time in like 16 years or some shit. They are not about to trade their franchise player even if you also ignore the fact that he has 4 years left on his deal. The Wolves are right there and just have SA/POR/MEM ahead of them, none of which are world beaters. 
A big second quarter got them separation and seeing as how it was CLE, that was enough.
For CLE, the bad news is Kevin Porter Jr hurt his knee, which you never want to see. The good news is Collin Sexton has looked really good since they traded Jordan Clarkson
and they got the best performance of Dante Exum's career, you know, the guy they traded Clarkson for.
All that is enough to make you forget they are 6-13 at home and have one of the worst records in the entire NBA. not to mention Kevin Love is being a little baby about the team being bad despite nobody forcing him to sign on the dotted line in 2018 when everyone knew they would be bad.
Darius Garland still has some efficiency issues but shows flashes at times, and if Exum can get even close to reaching his potential that trade could look fantastic in a few years.
Memphis Grizzlies (15-22) 121 vs Phoenix Suns (14-22) 114
OK what the hell, why do the Grizzlies keep winning. As someone who wants NO part of the 13th pick this summer, I am going to need them to start losing and losing big. Sadly though, I don't think that is going to happen. Now when the young talent is balling like it is
and they get these random dominant performances from JV out of nowhere. What the hell was that, it was almost like Baynes and Ayton didn't exist
This is a team that put up 54/42% with 18 3PM, has 261 points over their last two games, and like MIN is right there for a playoff spot. I don't think anyone predicted that would be a possibility when this season first started yet here they are.Playing hard and almost .500 on the road.
For PHX, like cool Devin Booker went nuts and had 40
and he broke the Suns record for consecutive 30 point games, but what the hell. Where was the offense in the third quarter when the Grizzlies opened this thing up and they had only 20 points? Ayton and Baynes both started together which is a massive frontcourt yet they couldn't stop anything. That feels concerning. The early season vibes are slowly wearing off this team as they turn back into the Suns of old and that's too bad because they have a lot of exciting talent, but as it always does shit starts on the defensive end. Until this team defends consistently, they won't go anywhere. 
Detroit Pistons (13-24) 99 vs Los Angeles Lakers (29-7) 106
5 in a row now for the Lakers who continue to roll. As is usually the case with this team LeBron and AD did most of the damage with 45 of the 106 including a triple double from LeBron and 8 blocks for AD
If we're being honest, this was one of the most ridiculous defensive performances you'll ever see by a team. A total of 20 (!!!!!!!!!) blocks, that accounted for 40% of the Pistons misses. That is an INSANE number that I really can't wrap my head around. Dwight had 5 off the bench, McGee had 6 and AD 8. I can't imagine this is all that common in NBA history where three players have at least 5 blocks so hats off to them. They had 3 players in double figures off the bench and while this was probably closer than they would have liked, a big fourth quarter sealed the deal and they avoided disaster.
For DET, it's a positive that they were even in this game with no Blake and Drummond going 2-13 from the field. That's a prayer. Granted they were only in this game because DRose turned back then clock and had a vintage performance off the bench with 28
but at the end of the day a 5-14 team on the road did what a 5-14 team on the road does. They are now 3.5 back of the final playoff spot in the East, and it looks like it may be time to hit the reset button here, which is why the Drummond rumors make sense. Tough outcome for a team that thought they were playoff caliber but as we know, injuries are a bitch.
And that's it! You are now all caught up with everything that went down last night in the NBA. We're back tonight with 9 more games so you know the drill. Hopefully this helped kill some time for you this morning, we all need it. Have a great Monday!