Uncut Gems: Chaotic, Insane And Fucking Incredible
A charismatic jeweler makes a high-stakes bet that could lead to the windfall of a lifetime. In a precarious high-wire act, he must balance business, family and adversaries on all sides in pursuit of the ultimate win. (via Google)
Jeff D Lowe (96/100): One of the best movies of the year, 'Uncut Gems' is captivating, chaotic and anxiety-inducing in the most incredible ways possible. This two-hour adrenaline shot, featuring an Oscar-worthy performance for Adam Sandler, will absolutely blow you away.
Fans of the Safdie Brothers' movie 'Good Time' won't be shocked by the type of movie you get when seeing 'Uncut Gems' in theaters. I can't remember the last time I watched a movie and felt the energy flowing through me. Does that sound ridiculous? Yes. But it feels like the theater hooks up an IV connected to the movie straight into your arm. It's an unbelievable experience and a profound one at that.
Adam Sandler's performance and character will resonate with you through laughter, anger, and sadness. We've seen Sandler in serious roles before ('The Meyerowitz Stories', 'Punch Drunk Love'), but never something quite to the level of 'Uncut Gems'. The mix of optimism, yet crippling hopelessness makes his character fascinating and complex. It's a dark movie but packs enough charm to ever turn into a miserable experience. Hell, even Kevin Garnett turns in a fine performance (as himself).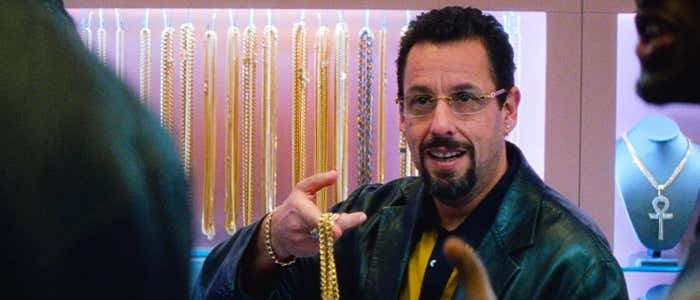 The acting and the story bring a ton to the table, but the style in which the movie is made is what solidifies 'Uncut Gems' as a top tier release. Almost every shot is a close-up, it moves around quick (never too quick) and never lets the audience settle down from the jump. It's a frantic movie and the Safdie Brothers will make sure you feel uneasy the entire time the story plays out (the music choices play a huge part in this).
My only disappointment with 'Uncut Gems' is that I didn't see the movie earlier. The hype was reaching dangerous levels for me… and yet it still lived up to it. Some people might find the movie to be a bit too "in your face," but the movie is a near-masterpiece in my eyes. 'Uncut Gems' is a sprint, and a hectic one at that, but it is paced well, cohesive and delivers on every front.
KenJac (90/100): There is one word I want to use to describe this movie: Chaos. From start to finish it is nothing but pure anxiety that leaves you at the edge of your seat waiting for a break. It's one of the best-executed thrillers I've seen in a long time, and already one in the gambling movie hall of fame in my opinion.
Adam Sandler is obviously all anyone can talk about in this movie, and he lives up to the hype. He's a fast-talking, rob peter to pay paul-type gambler that puts you in his shoes with ease. The artistic choice by the Safdie brothers to keep him in sunglasses helped disassociate him from the Fart Cop shitty comedies we're mostly used to. It's a reminder that Sandler is actually pretty great in serious roles, especially when he fits them well. The only other performances I want to shoutout are Julia Fox and Lakeith Stanfield, who were outstanding in their respective roles.
As I said, this is an anxiety-inducing thrill ride. Between this and 'Good Time', the Safdie Brothers are quickly establishing themselves as the kings of grime-crime. The entire movie makes you feel like your head is dunked underwater and all you want is to take a goddamn breath. The ending is also tremendous and really leaves you floored.
If you want to go on a cinematic roller coaster, go fucking watch this ASAP
–
The movie is Officially Buttered and one of our top movies of the year, even before we reveal Trillballins' score. We will review this movie on Lights Camera Barstool after Christmas, but this Sunday we will be doing our in-depth review of 'Star Wars: The Rise of Skywalker'.. Make sure to rate all 2019 and 2018 movies in the links below.
2019:
January: https://goo.gl/forms/tyUaQnv8QgMyHfcf1
February: https://goo.gl/forms/N98XcvIy3SukhrIw2
March: https://goo.gl/forms/4QbmSMj6wK0feMZ13
April: https://forms.gle/uRUg5xPyfsE8bk9B6
May: https://forms.gle/cdBDBdjNcHZ93sog6
June: https://forms.gle/z3cK9LSRCzNCwxYS8
July: https://forms.gle/8i1B8dMgSADefyU5A
August: https://forms.gle/4ywzQC6BNR818YDU9
September: https://forms.gle/an7c9p5dV1TZHwNK9
October: https://forms.gle/wjyrNUxbX8MYVLHUA
November: https://forms.gle/yVJjxeuNspX2GNjSA
December: https://forms.gle/uCYmh7uMtxE99Vj88