Old Man Golf Media Is Officially Fed Up With Fore Play And They Are Very Mad Online
This day was always coming. It was only a matter of time. The day Old Man Golf Media got fed up with the young whippersnappers over at Barstool Sports and blew their tops. The day Old Man Golf Media finally stood up from their type writers and started yelling at a cloud about how we're bad for the game of golf.
What is the straw that finally broke the camel's back? A fist bump from Tiger Woods at the Presidents Cup
It all started with ESPN's Bob Harig, who already had his panties in a bunch because we beat him to the official statement from Patrick Reed's caddie, calling Riggs a fan boy for fist bumping the Boss Man
Then some guy named John Huggan jumped into the mix and got mad at Frankie for this tweet
Frankie's funny tweet about wanting Tiger to end Abraham Ancer's career sent John on a war path. He's been tweeting at people non stop ever since about how we're the worst thing to ever happen to golf. John simply couldn't believe that the PGA Tour would give someone like Frankie a media pass.
He's furious about the state of journalism in 2019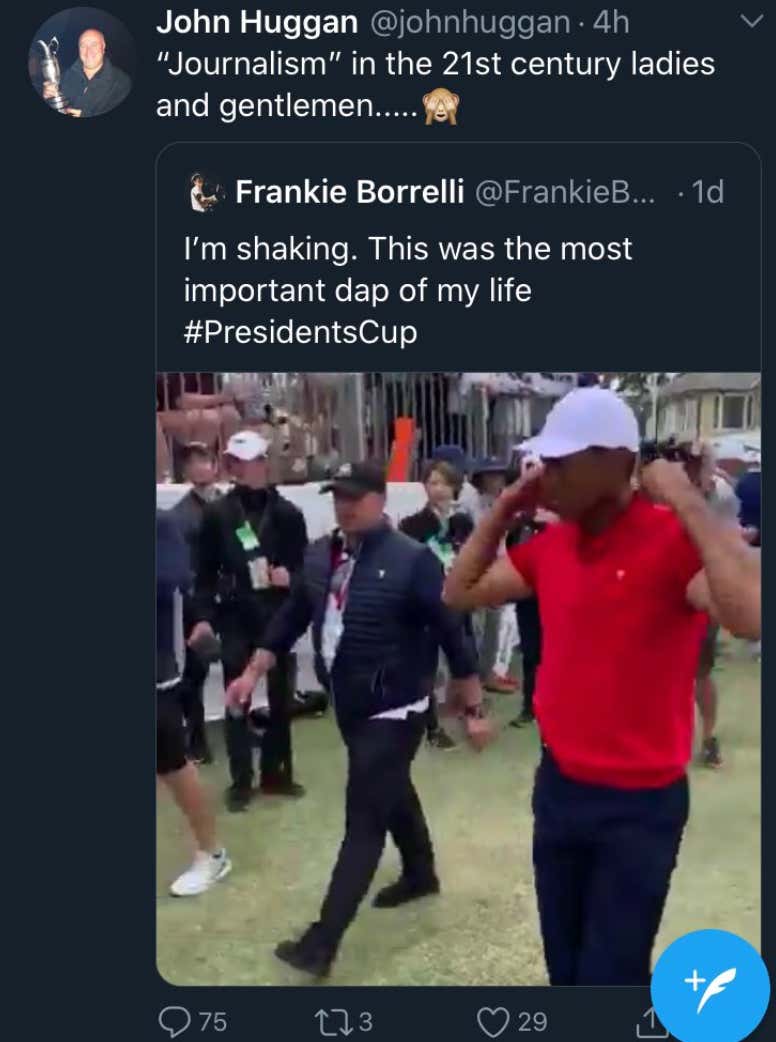 John was so mad about what happened that he blocked me on Twitter before I even knew who he was
Coward.
Then, last but not least, that fuck Geoff Shackelford jumped in with a condescending line in his blog about how we're Tiger fan boys and that nobody should be happy about what happened at the Presidents Cup
What a miserable existence it must be to hate the sport you cover, that's where Geoff Shackelford finds himself. His entire blog is about how nobody feels satisfied with the Presidents Cup win and it's all Patrick Reed's fault. It's the most negative and pessimistic way to look at what was an awesome comeback for Team USA at the Presidents Cup. Bottom line is Shackelford is miserable and he wants everyone else to be miserable with him.
And by the way, we are Tiger fan boys. Never once have we denied that. I happen to view that term as the highest compliment. These old dudes are acting like we're running around pretending to be journalists when in fact we've rejected that notion over and over again. We're passionate fans who love the game of golf. And yes we also love the greatest human being who has ever graced God's green earth, Tiger Woods, and don't hide that fact. We are fans and that's our approach to covering the game of golf because that's what we know how to do. We tweet and blog and podcast like fans because none of us went to a fancy journalism school. We are fans.
And just because we're granted media credentials doesn't mean we have to cover tournaments like everyone else. Who are Bob Harig, John Huggan and Geoff Shackelford to tell people what to do? Since when do they make the rules on what's the correct way to cover golf? News flash, they don't. We can do whatever the hell we want, and we do, and that pisses the Old Man Golf Media off to no end. And remember, they came at us. We were going about our business doing our own thing and they decided to critique the way we do things. And why? They're scared. They're scared because people like what we do. A lot of people. I'm not trying to blow smoke up our own asses but we have the #1 golf podcast and all of our videos get tons and tons of views for a reason. The fist bump with Tiger is currently at 1.1 million views and climbing. Bob, John and Geoff are mad that they are part of the old guard that has a shrinking audience.
Riggs put it perfectly in two tweets
Boom. That's it. Just have fun. I can't tell you how many people have DMed us or come up to us at golf courses and said we're the reason they got into golf and now they love it. Guys like Bob, John and Geoff only want the game of golf to grow if it grows on their terms. And if it doesn't happen on their terms then they don't want to see it grow at all. They want to actively fight against the growth because they don't have the brain capacity to understand why people like the thing that's helping it grow. They say we make the golf tournaments all about ourselves but in reality they're the ones being selfish.
Quick shoutout to our guy Matty G for going for John Huggan's throat
Love Matty G.
I'll leave you with this, we're not going anywhere. Fore Play and Barstool Sports aren't going anywhere. We have a gigantic audience because people find what we do entertaining and that's not stopping any time soon. We're gonna keep tweeting and blogging and podcasting and showing up to tournaments and covering them the way we want to cover them because that's what our fans want. So guys like Bob Harig and John Huggan and Geoff Shackelford can piss and moan and stomp their feet all they want but it's not changing anything.
Download, rate and subscribe to the Fore Play podcast here