Your Top Spain Travel Questions Answered
I know what you're thinking. How the HELL did you have the nerve to take a vacation after a just a week at Barstool? And didn't you see what happened when Kayce went on vacation?? Well first, it was after my second week but who's counting? (Dave is definitely counting) Second, the trip was already bought and paid for LONG before Sandy-gate. Thirdly, yes, yes I did... you guys have made it very clear my vacation put me into the crosshairs. 
After 13 days traveling around Spain, I have some thoughts, surprises and stories that select stoolies have DM'd me to share. 
Here are the answers to your top questions: 
Best unplanned surprises. Which smaller city did you enjoy the most
I LOVED Seville and Granada. These two cities were hands down my favorite. I was struck by the narrow, winding cobblestone streets, the tiny alleys filled with bakeries, bars and restaurants and little sour candy filled convenience stores. 
Seville, according to my tour guide became the center of the world after Columbus "discovered" American whence looking for "India".  
While I went there for the Real Alcazar,(the decadent and intricate Royal Palace built for Christians by Muslims), the Plaza de Espana was what REALLY blew me away.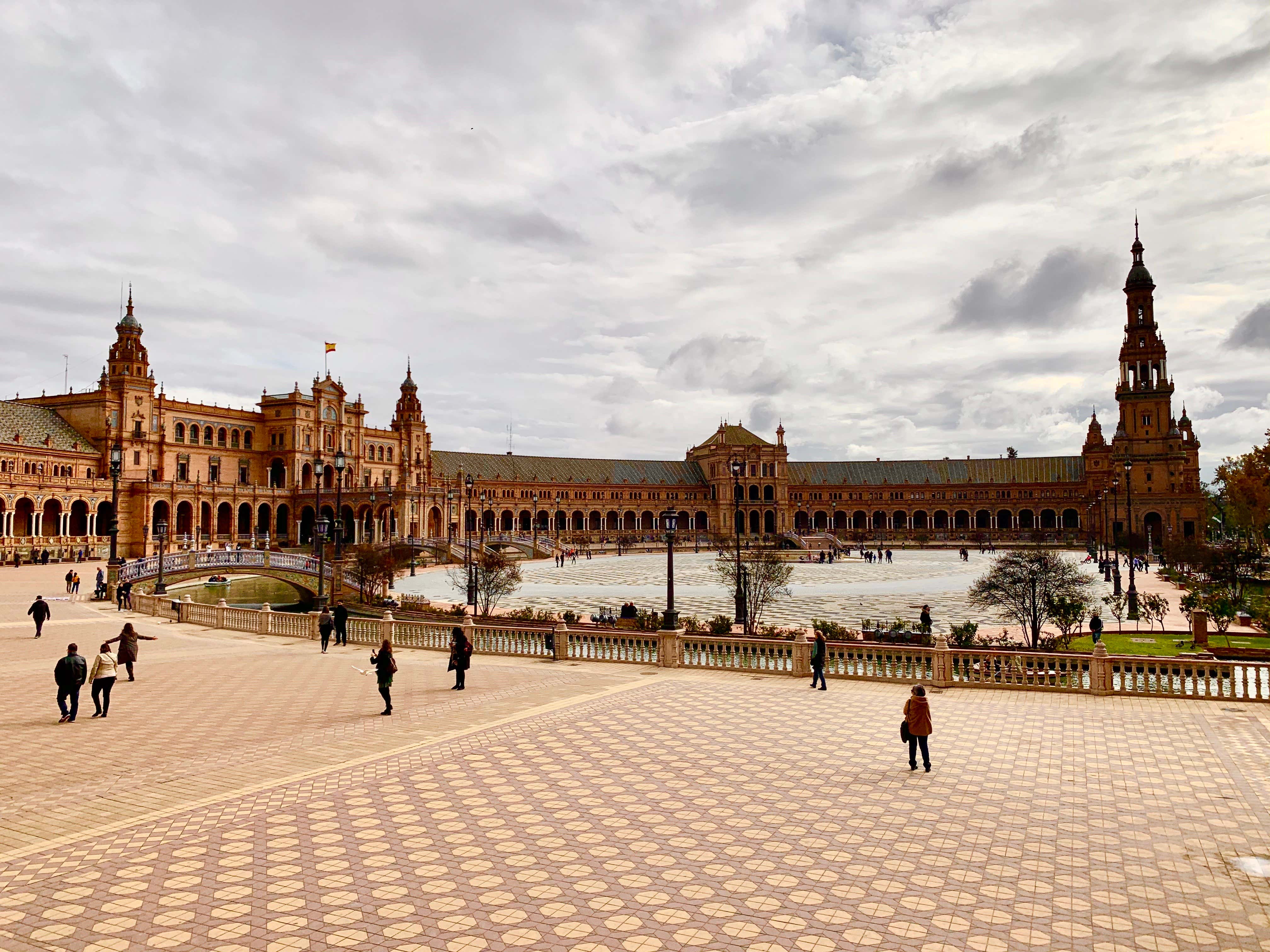 If you go to Spain and the weather is good, I'd recommend spending time exploring each monument for a half day on its own vs trying to pack it all in one day. 
Best Bar: Il Riconcello 
I'm glad we made the trip here on our last night in Seville. While I wasn't hungry, the Iberian Pork was some of the best I had on the trip and Jamon Iberico is one of the main dishes that Spain is known for. Il Riconcello has been around since 1670! I found it cool that they write your tapas order on the bar with chalk.  
Surprise within Seville: Calle Feria Mercado
I know its not traditional Spanish tapas, but I absolutely loved the cultural fusion restaurant that is Condende. The surroundings have a perfect balance of indoor and outdoor and the food is banging. I got the chicken and Guac Arepa. A must visit. 
Also, final tip. Make sure you're there on Tuesday-Saturday. Sundays and Mondays are very slow. Most local shops and resaurants are closed and the ones that aren't, close really early. I learned this the hard way. 
How easy is it to travel to Spain for a non-spanish speaking person 
I'd say it's really easy. If you know the basic words and phrases, you can get along if you download google translate. I kept my airpods in and then typed what I wanted to say out loud, in Spanish, and then google translate spoke it in my ear. I simply repeated the phrase to order food or find the closest open store on a Sunday. 
Customs that confused me: 
The love for sour candy. I was equally confused and delighted. Every convenience store had a mini sweet factory inside. There was quite a bit of variance as to how the store owner would measure out your sweets. Some weighed the bag, some guesstimated how much candy was in said bag, and some owners followed you around the store until we left without buying anything at all. Yep. We were definitely "hurry up and buy'd" on a few occasions in some of the smaller cities on our trip. 
What I would have done differently
1. Spent Less Time in Madrid
Let me preface this by saying that I am a 33 year old who doesn't drink and thus doesn't place all that much value in late night culture. So if you are a late night party animal, disregard this statement. 
I found Madrid to be on its own, pretty forgettable. The architecture of the city was pretty homogenous in shape and color, the city was crawling with tourists, and I never got a great night sleep due to how late everyone stayed out (7am was normal), yelling, fighting, singing and "painting the town red" as they say. 
I stayed 5 nights in total in Madrid. I would have cut that down to 2-3 and moved on to the smaller cities earlier. Also, do not stay in Malasana. Its a cool, hipster part of the city, but it's known for its late night scene. 
2. Went a different Route Through Southern Spain
Logistically speaking, most of this trip went really well. I would have done the trip a little differently though if I had to do it again to avoid the bus ride between Malaga to Granada. In hindsight, I may not have done Malaga at all this time of year. 
Recommended Route
Start in Madrid (2 Nights)  
Take train from Madrid to Granada (3-4 Nights)
Take train from Granada to Cordoba (1 night)
Go from Cordoba to Cadiz (1 Night) 
Go from Cadiz to Seville (3-4 nights) 
Go from Seville to Madrid (0-1 Night to fly out) 
3. Booked Tickets to Historical Sites WELL In Advance
I'm not a big "tour person" but in the cases of the royal palaces in Cordoba, Seville and Granada, having a guide talk you through it all was REALLY valuable. Even though I'm not into history, it really helped me tp appreciate how intricate the architecture was and the meaning behind it. 
The tickets though get pretty pretty expensive the closer you get to the day and if you wait until you're there, you might not be able to purchase them at all. I advise booking these "skip the line guided tours" at least a month in advance on this app. 
Apps I recommend you download ahead of time
Cabify: The Uber app for Spain. Uber and Lyft don't really work well over there. Having this was key in getting around Madrid and some of the larger cities we went to in Spain. 
Trainline: Booking trains from point to point was a bit confusing until I found this app. This app made it a breeze to pay via Apple Wallet, save my tickets and pull them up if my internet was buggy at the train station. 
GetYourGuide: I booked all of my "skip the line" guided tours on this app which also was really nice to have them all saved in one place vs trying to look through my email. I found all of the guides to be not extremely knowledgable but interesting as storytellers as well. 
GoogleTranslate: Pretty Self Explanatory
SIM card: Not an app but as soon as you get to Madrid, I recommend finding an international SIM card as US Cell phone providers charge $10/day for international data and cap it to .5GB a day. Its expensive and annoying when you run out. You can get 10GB of data to use at any cell store for around 10 Euros. 
One Thing YOU MUST DO
If you go to Granada, you must see a Flamenco show in the Gypsy cave. It was one of the most unique experiences I've seen and it feels MUCH more authentic than the show we saw in Seville. Makes sense given that Granada is the birthplace of Flamenco.
BEST Way to Get Your Flight
I recommend subscribing to Scott's Cheap Flights which essentially tracks when the prices to popular destinations drop from your chosen departure cities. I paid $275 for a non-stop, roundtrip ticket from NY to Madrid during Thanksgiving week. I think the premium service is $50/year but it could potentially save you thousands in ticket costs. 
All in all, I highly recommend going to the southern region of Spain for the history, natural beauty and amazing food. Early December wasn't a terrible time to go either. Weather was sunny and in the low to mid 60's pretty much the whole time. Hopefully these tips help you avoid some of the tiny hiccups I experienced my first time there. 
xx