Yabusele Fined For Bowing His Head During the Chinese National Anthem
(CNN) French basketball player Guerschon Yabusele has been fined 10,000 yuan ($1,400) and given a warning for not raising his head during the Chinese national anthem before a game Friday, Chinese state media reported.

Global Times reported that Yabusele was criticized on Chinese social media for being rude and not showing respect. Players in the NBA and other American sports leagues will often bow their heads and close their eyes during the US national anthem.
There was a time when I was the CBA's biggest cheerleader. The Shanghai Sharks and Beijing Ducks are household names across America thanks to my efforts. However I must say, I'm losing faith in the league.
First they CBA banned alcohol sales at the Shark Tank, and I said nothing (except for on social media).
Then CBA security called the cops on my girlfriend because I asked her to film me sneaking in beers for a future video and I said nothing (except for on social media)
But now that my guy Yabusele has been fined for bowing his head during the anthem I can no longer stay silent.  When I was questioning my Shanghai Sharks fandom Yabusele was willing to welcome me into the Nanjing Monkey kings family with open arms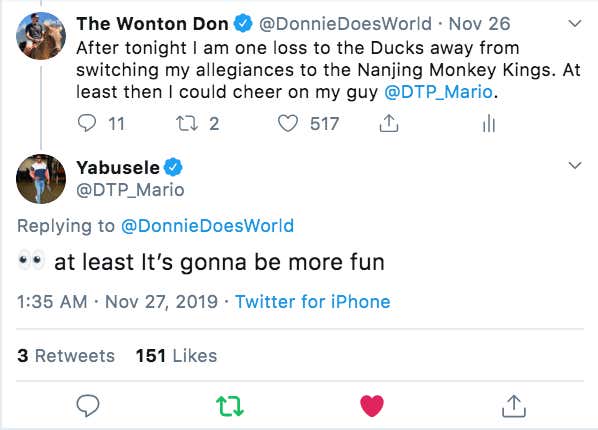 so speaking out is the least I can do. Here it goes, THIS FINE IS ABSOLUTE HORSE SHIT. Oh maybe it's just cultural differences you say? Maybe the Chinese don't understand that bowing your head in silent contemplation is a perfectly acceptable and respectful thing for NBA players to do during the anthem? Well guess who the commissioner of the CBA is?
Yao Ming of all people should know Yabusele meant no disrespect. Actually every Chinese person should be ok with this. Asians invented the bow as a sign of reverence for christ's sake.
Yabusele, who I know is religious, was most likely just saying a prayer thanking God that he is able to make a living playing the game he loves but just because China is so insecure these days they feel the need to throw a hissy fit over anything some trolls on the internet might interpret as unpatriotic. It's a shame.
The only time a bow can be deemed as unpatriotic is if you only do it for specific country's anthems. I don't need to tell you where Lebron's allegiances lie.
LEBRON In the US
LEBRON IN CHINA