The Creepy Thing That Bugged Me During My Trip To Spain
During my trip to Spain, I posted a story on IG that alluded to an issue with my Airbnb. It was light on details but full of fright and terror. 
I was reluctant to give details about my stay at what I like to call my "nightmare-bnb" but after multiple DM's from you all, here it goes:
After leaving our second stop (Seville), we took a day trip Cordoba to see one of the more famous historical landmarks in Spain (The Mezquita). Because of this little pit-stop, the only train we could get into Malaga (our next stop) arrived around 10PM. And thank god we decided to take that pit-stop, because this late arrival may have been the one thing that saved us from a disastrous and potentially life altering situation.
Once we arrived into Malaga, everything was initially going smoothly. Our host warmly greeted us at the apartment with hugs, a bottle of local white wine and delicious Marcona almonds. The place was spotless, modern, and smelled amazing... thanks to the plethora of Valencia orange scented oil diffusers. We were at ease after a long journey. The one thing, ONE THING, that me and my childhood friend were thrown off by, was the sign printed in big, bold letters on the inside of the front door. 
"PLEASE DO NOT PLACE YOUR LUGGAGE ON BED OR COUCH!" 
It was even a bit more concerning that our host mentioned it two more times while showing us around as well. Hmmm. Ok. As I was enjoying the view on the patio, our host showed Alice where she could find the extra sheets and pillows to make the couch into a bed. They were all in a Tupperware, which was also an interesting move. But hey, who am I to judge? 
After the host left, Alice and I just sat and talked on the couch, me eating the Marcona almonds, her drinking the wine. We debriefed on our journey, and laughed into the night. Before we knew it, it was past 2am. 
"Let's just chill. We can wait to unpack in the morning". I said 
THANK FUCKING GOD FOR PROCRASTINATION
Because mere moments after I went into the bedroom to head to bed and her to make up the couch I heard a scream. 
Her: "TREE (my nickname growing up), OH MY GOD YOU WILL NOT BELIEVE THIS" 
Me: Slightly annoyed at her dramatic tone… "Wassup" 
Her: "UHHH, This place has bed bugs"
Me: "Really?!?" (Internally, FUCK FUCK FUCK)
Then, I saw my phone ping. It was her video/photo evidence from the other room. 
Now, I've never seen a bed bug in real life, but let me tell you… that bug was unlike any I've seen before and Alice seemed VERY confident that it was in fact a bedbug, so that was enough for me to get up out of there. Not then, but RIGHT then. 
Me: "We gotta go this second. This shit [bed bugs] ruins lives" 
And we did. Thankfully, there was a Marriott just five minutes down the road that we were able to book for the remainder of our time in Malaga. We survived… unscathed. 
But what about this Airbnb? Well I wasn't about to pay for it, and DEFINITELY not going to allow other people to wander into that horror show aimlessly. 
The next day I called Airbnb's customer service line to let them know about our "incident". After sending the video to customer service, they confirmed that yes, we were in fact victims of a bedbug infestation. We got our money back, they agreed to help us pay for our hotel, and most importantly, Airbhb shut her account down, and canceled all future reservations. 
But the host was less than enthusiastic about elevating this issue to Airbnb directly. Do you know this bitch (lovely woman) had the nerve to imply WE brought the bedbugs into her house? 
Once I sent her the video of the bug scurrying on her pillows, she then denied that those pillows were even hers! On top of that, she cancelled the reservation to attempt to avoid my scathing review of her tomfoolery.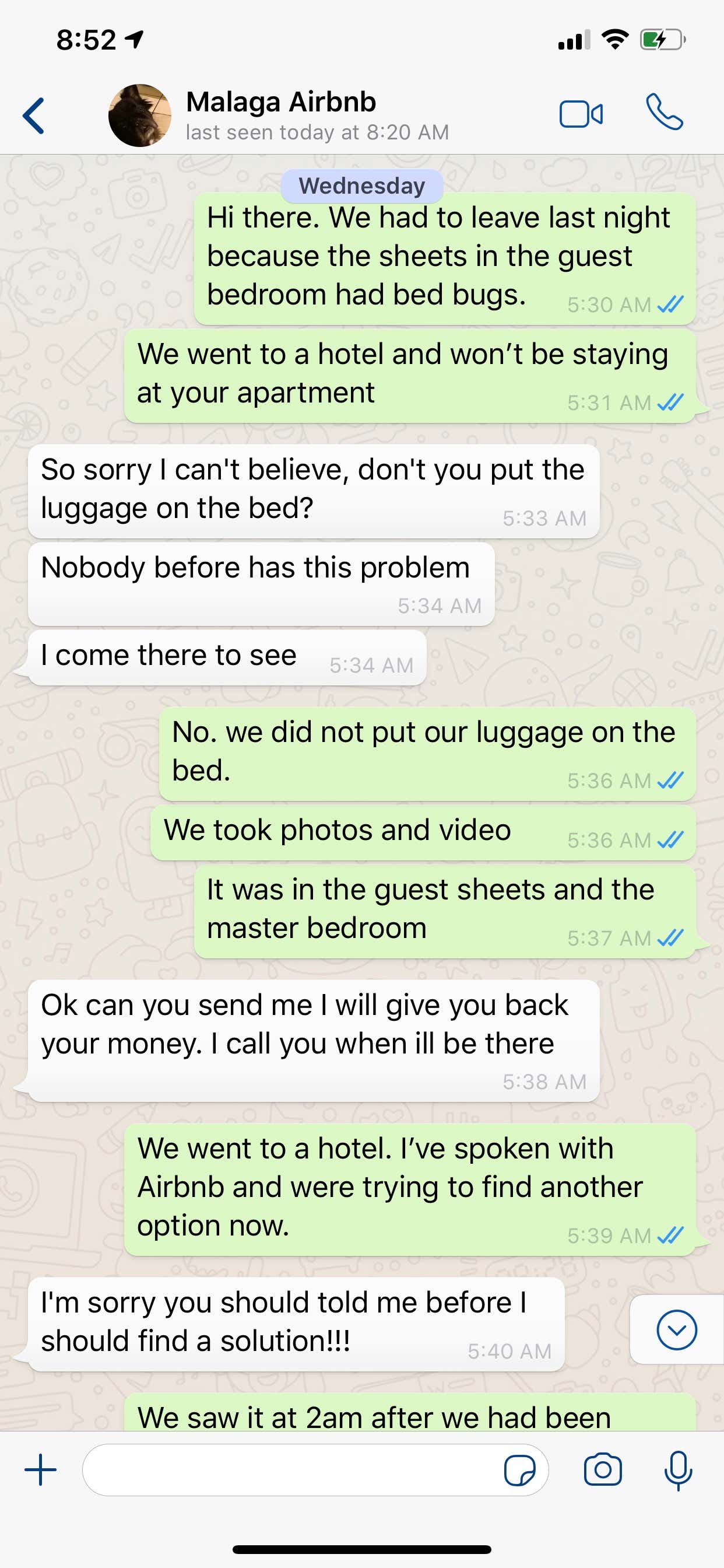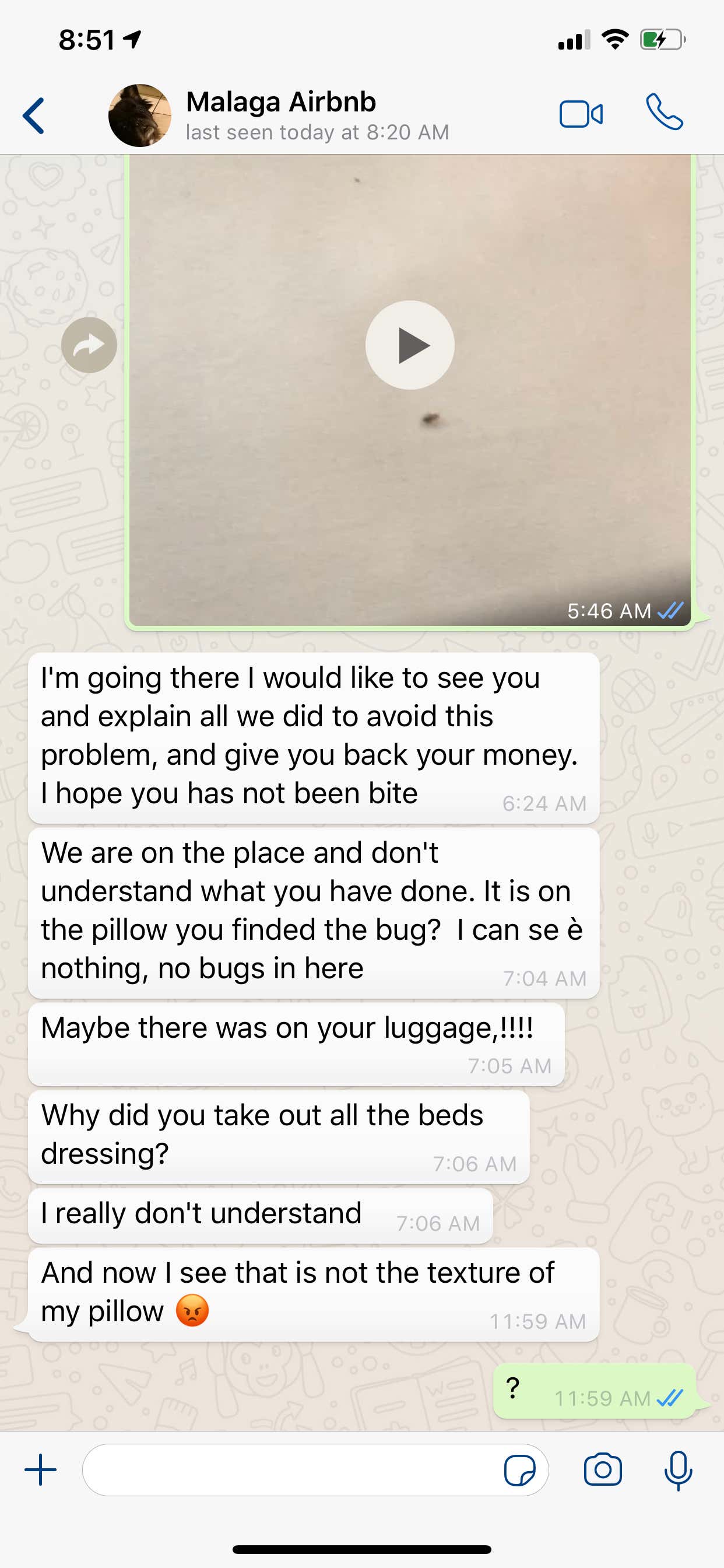 But, because there apparently exists a real deal bedbug stigma, I didn't want to share this nightmare story with you all. I didn't want to be given a Barstool nickname associated with this vacation trauma let alone have the soundtrack from "A Bug's Life" as my radio walk-up music. So... I held it inside.
But for you, I decided to be brave and tell my story. I am a bedbug survivor. Please do not judge me. And also, use this as a valuable lesson and a cautionary tale. ALWAYS pull back the sheets on the bed of your hotel, airbnb or hell, even in the guest room of your friend's house when you stay over. No matter how clean a place looks or smells, its better to be safe than sorry. 
xx