The Irishman: An Amazing Movie, Plain And Simple
You hear about this 'The Irishman' movie? It was a pretty big deal. We, along with everyone, watched it. Let's discuss…
In the 1950s, truck driver Frank Sheeran gets involved with Russell Bufalino and his Pennsylvania crime family. As Sheeran climbs the ranks to become a top hit man, he also goes to work for Jimmy Hoffa — a powerful Teamster tied to organized crime. (via Google)
Jeff D Lowe (94/100): 'The Irishman' is a profound piece of cinema and Martin Scorsese at the absolute top of his game. The filmmaker's newest movie is backed by a deeply compelling story and performances that go toe-to-toe with the year's best.
Let's get something out of the way off the top: the runtime. I have absolutely no issue with it whatsoever. It has been a hot button issue and many people have complained about it being a "flaw" in the quality of the movie. This, just…
…I just hate that post, man. We binge watch shows until our screens shut off automatically, but we can't focus upon a movie for three fucking hours? Watch the damn thing how it was intended…
Look, I was surprised when the initial runtime was released for the movie, but I will never critique a movie just for being long. If something comes out and it hits its marks and has me compelled throughout, then I don't care if it is 90 minutes, 120 minutes for 240 minutes long. This is the case with 'The Irishman', as there wasn't a single moment across the three and a half hour runtime that I found to be unnecessary. Scorsese and his longtime editor Thelma Schoonmaker utilized every minute possible to tell his epic story.
I understand not loving this movie and finding it too long or boring, not every movie packs a story that will hit everyone's interest. The same goes for Scorsese in general, just because he is a genius doesn't mean every movie he makes is perfect for me. 'The Wolf of Wall Street' is a movie that I enjoy, but also don't love as a whole. I respect Leonardo DiCaprio's brilliant performance and many aspects of the movie, but I felt as though it dragged on at times and was a bit too repetitive. Point being, despite all of the commotion over the runtime for 'The Irishman', I didn't find it to be a problem and, in fact, felt as though it helped make the movie even better. Without this long look at each character and the establishment of their bond and friendship, Scorsese's message with 'The Irishman' would be completely lost.
'The Irishman' is both a lot like Scorsese's mobster and gangster movies of the past, but, at the same time, introduces new themes and looks at the lives of the characters. Without giving away too much, the movie's theme focuses so much on legacy, but in a much more negative light than past releases in this genre. The importance of each character slowly begins to wither away and die off as they lose family, friends, and more, the older they get.
I know the de-aging has some people hung up on the movie (another discussion for another time), but it played into the brilliance of the story and its message. De Niro, Pacino and Pesci age so much over the course of 'The Irishman' that it conveys a strong message just through the visual aspects of the movie. It actually reminded me of 'Boyhood' a little bit, but, you know, this movie wasn't filmed over the span of 12 years. The battle of loneliness and keeping up personal relevance to the world is a stark contrast to past mobster and gangster movies that end before the downward, sad spirals of the characters' lives. Martin Scorsese is one of the few people in Hollywood that can take such a well-known, familiar genre and flip it right on its head.
There is so much more I could talk about, and I did on this week's Lights Camera Barstool, but I will just end with this: 'The Irishman' is fucking amazing.
NOTE: I love the Jimmy Hoffa story and always have, but I also love any movie that tells you the dates and times based on historic news events happening in the background. Big sucker for that kind of thing!
NOTE 2: Shout out to Ray Romano, what a legend
KenJac (89/100): Highlighted by the best third act in Scorsese's career, which is really saying something, 'The Irishman' is a really slow burn with a fantastic payoff. Yes, it is long, but it is long with purpose. The trio of De Niro, Pacino and Pesci were all fantastic in what can only be described as the Avengers of gangster movies.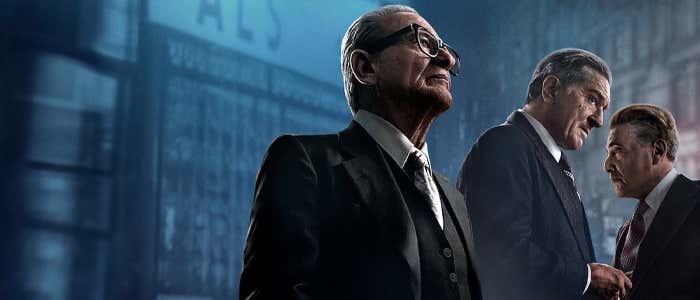 Normally, I break my reviews down into performances and then technical details. That is a little hard to do with this movie because of the composition, so I'm just going to do it all at once. Scorsese paced this movie well to build Sheeran's relationship with both Jimmy Hoffa and Russell Bufalino. Even more important, though, was the performances of De Niro and Pesci. The former's transition from a guy trying to do right by his friends and fit into an old man who is heartbreakingly lonely is really devastating. He really killed it, particularly in one moment where he calls Hoffa's wife. Pesci, who is well known for being the loud and boisterous asshole, came out of retirement and gave one of the best performances of his career as the quiet and thoughtful mob boss Russell Bufalino. I think Pacino had a lot of moments, but I actually didn't love him in this movie. It felt slightly overacted, which was maybe on key for Hoffa, but not a role that should go to someone known for overacting. 
So I guess I kind of am breaking it down into two parts. Whatever. I didn't love the length, and I agree with most of the simple-brain folks on social media that 20 minutes could be cropped off this without losing too much from the movie. And no, the de-aging wasn't great, but only in specific moments like with the shopkeeper. At first, I tried to rationalize that scene because it was a long take, and they probably only had a few chances to get it right. Right after that, however, I remembered that Thelma Schoonmaker edited this. She is Scorsese's go-to editor, and a legend in the field with 3 Oscar wins. When she watched that scene, I think something should have clicked that resulted in it getting cut. Otherwise, the effects looked fine and were perfect in dialogue scenes. As always, Scorsese is great at immersing the audience in time periods with great set design. The dialogue was also as quick and effortless as his films always are.
I really think the third act needs its own section. It's so, so devastating in a very unique way for the mobster movie genre. Obviously, getting old sucks regardless of your profession. Friends die, move away, etc. For a criminal, though, it's shown how much harsher that transition can be. Sheeran is ostracized from his family and has to watch his friends either die or go to jail and he slowly becomes more and more isolated. This culminates in a final scene that really tugs HARD at the heartstrings, and is really new to the mob genre. You never usually see the later years of guys like these, and seeing that reality is fucking hard. Bravo, Marty.
—
The movie is Officially Buttered and one of the highest-rated movies we've watched this year. We did an in-depth review of the movie on Lights Camera Barstool and ranked our Top 5 Favorite Martin Scorsese movies, as well. Make sure to rate all 2019 and 2018 movies in the links below.