THE BRUINS BLOW OUT THE CANADIENS 8-1 AT THE BELL CENTRE FOR THEIR 4TH STRAIGHT WIN!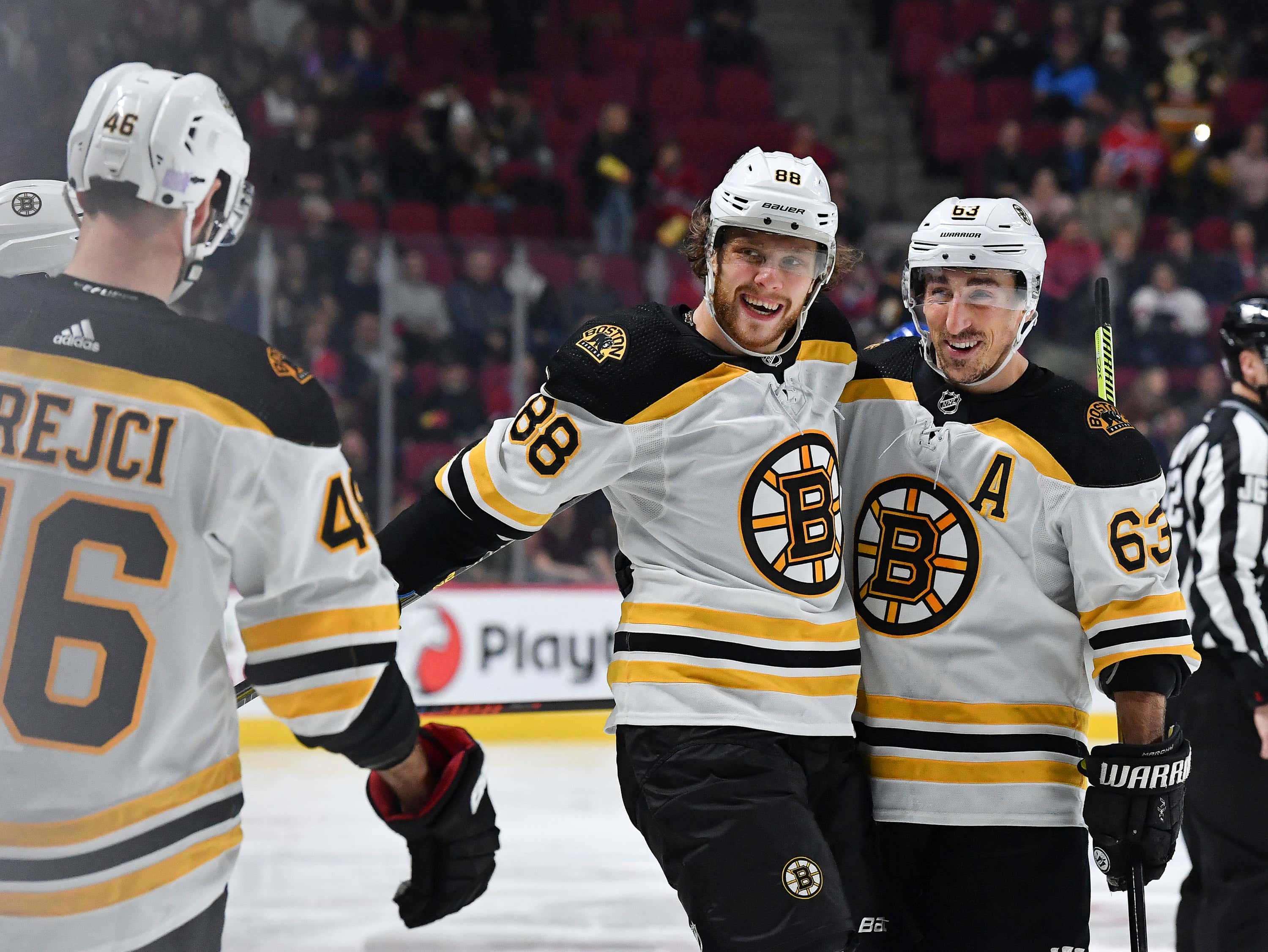 The Boston Bruins torched the Montreal Canadiens to the tune of a Pastrnak hat trick, 2 assists for Krejci and 1G, 1A for Brad Marchand, and 3 point nights from Sean Kuraly and Charlie Coyle as the B's earned their 4th straight win. 8-1 shit-pumping in Montreal.
Jake DeBrusk opened the scoring in Montreal off a pretty passing play at the end of the Bruins' 1st PP opportunity. Great set up from Krejci and Coyle. 1-0 Bruins.
Shea Weber tied the game shortly for the Canadiens.
But then David Pastrnak hammered home a one-timer from Charlie Coyle on the PP to put the Bruins up 2-1.
As the 1st period was winding down Brad Marchand received a gift and backhanded one past Carey Price, his 600th career point. 3-1 Bruins.
8 seconds into the 2nd period, David Pastrnak beat Shea Weber inside and fired one past Carey Price for his 2nd of the game. 4-1 Bruins.
Anders Bjork took a pass from Sean Kuraly and was in all alone to make it 5-1 Bruins, annnnddd that was the end of Price's night.
David Pastrnak capped off the hat trick by redirecting Brandon Carlo's shot from the point. 6-1 Bruins.
The extra point is good. Charlie Coyle from Torey Krug and Sean Kuraly. 7-1 Bruins.
Jack Studnicka sets up Danton Heinen for his 1st career NHL point. 8-1 Bruins.
FINAL: Boston 8, Montreal 1
News, notes and quotes:
- Jake DeBrusk is heating up with goals in back to back games. He got the scoring started tonight off of a great passing play from David Krejci and Charlie Coyle. Look out, he's healthy and ready to contribute.
- With Bergeron nursing a LBI, David Krejci centered David Pastrnak and Brad Marchand tonight, who absolutely lit up the Canadiens. 2 assists for Krejci, 3 goals for Pastrnak, 1G, 1A for Marchand.
- Brad Marchand recorded his 600th career NHL point with his 1st period goal tonight. He's now the 11th player in franchise history to record 600 points in a Boston Bruins uniform. Look at that elite company. 
- David Pastrnak capped off the hat trick tonight for the 6th time in his NHL career (2nd of the seaosn). One rip off a one-timer, the second off of a set play 8 seconds into the 2nd period, and then a redirect from Brandon Carlo. The man just can't stop, won't stop scoring goals. 23 goals on the season in 24 games. 
- Jack Studnicka made his NHL debut tonight, he notched his first career point with his assist on Danton Heinen's goal. He was centering Jake DeBrusk (1G) and Charlie Coyle (1G, 2A - 3 points), not too bad for your NHL debut. Played 14:30 tonight.
- Speaking of Charlie Coyle, after a quiet start offensively, he's now got 9 points in his last 8 games. 
- With Bergeron out and Studnicka centering the 2nd line, Sean Kuraly quitely put up 3 assists while playing with Anders Bjork (1G) and Danton Heinen (1G). I said in my blog earlier today not to sleep on that line and what do you know, Bjork and Heinen score and Kuraly gets 3 apples.
- 6 different players with a multi-point game tonight. Secondary scoring!
- Jaro Halak made 36 saves against his former team. 
HAALAAAAAAAAAAK (h/t Wazzz)
p.s I know he's out of the lineup but these fire Bergeron tees will be on sale Black Friday. Same with the Boston/Barstool hockey sweaters.
It's always fun beating the Habs. The 16-3-5 Boston Bruins are back in action tomorrow night in Ottawa on Thanksgiving Eve.
It was a great night to win a hockey game.
---