Look, when you are the (half of) face for an NFL player, you have to take the good with the bad. I was rolling my R's all the way to Aldrick Rosas making the Pro Bowl and I have been crying in my beer as he's missed a ton of kicks this year. 
Not all of the misses this season or even in this game have been his fault. But Rosas has been bad this year and was especially bad today. I know football games don't work this way. But if Rosas hit both of his field goals today, the Giants would have finished with more points than the Bears and won an ugly game I hope to forget once I hit Publish on this blog. 
Everything was good before the game.
But Rosas got a shitload of smoke and some hard times to the tune of two missed field goals and the opening 2nd half kickoff going out of bounds (there is no way I'm including those videos in the blog because I gotta protect my guy). It got so bad that when the Giants were down 19-7, I was trying to do the math if they could still win the game if they scored two touchdowns but missed both extra points. That's not a healthy mindset for any NFL fan. The fans of the team we were rooting against today can confirm that, likely with a tear rolling down their cheek.  
Now since I am the self-proclaimed biggest Rosas fan on the planet, I am going to spinzone the shit out of this performance/year. If Rosas is going to have the season from hell, let it be during Daniel Jones' rookie season. Rosas can get all his misses out, Jones can get all his rookie mistakes as well as fumbles out, and we will have Brady-Vinatieri 2.0 in no time flat! Plus kicking in the kickers elephants graveyard known as Soldier Field should be graded on a curve the polar opposite of the curve for kicking in Mile High.
Make no mistake about it though, this loss isn't just on Daddy St2ongleg. The defense gave up chunk plays to Mitchell Trubisky (some of which were overturned by penalties). The offense was in Bend Don't Break Mode so the Bears defense didn't unleash chaos. And there were some BRUTAL drops, including one by Saquon who had another quiet game with only one or two Saquon Plays. 
Some other thoughts from this slopfest:
- Lets be honest, this game was over the second this Bears fan brought a pumpkin pie into the game. On Thanksgiving Week no less!
We all have to look in the mirror after that performance and wonder if we are doing enough to help this team win. I tried my best in a pinch.
However I failed. But that's fine, we move on to a new food next week (likely the last of the leftovers from Thanksgiving on one final glorious sandwich).
- There was a lot to be upset about during this game. But this graphic was flat out depressing.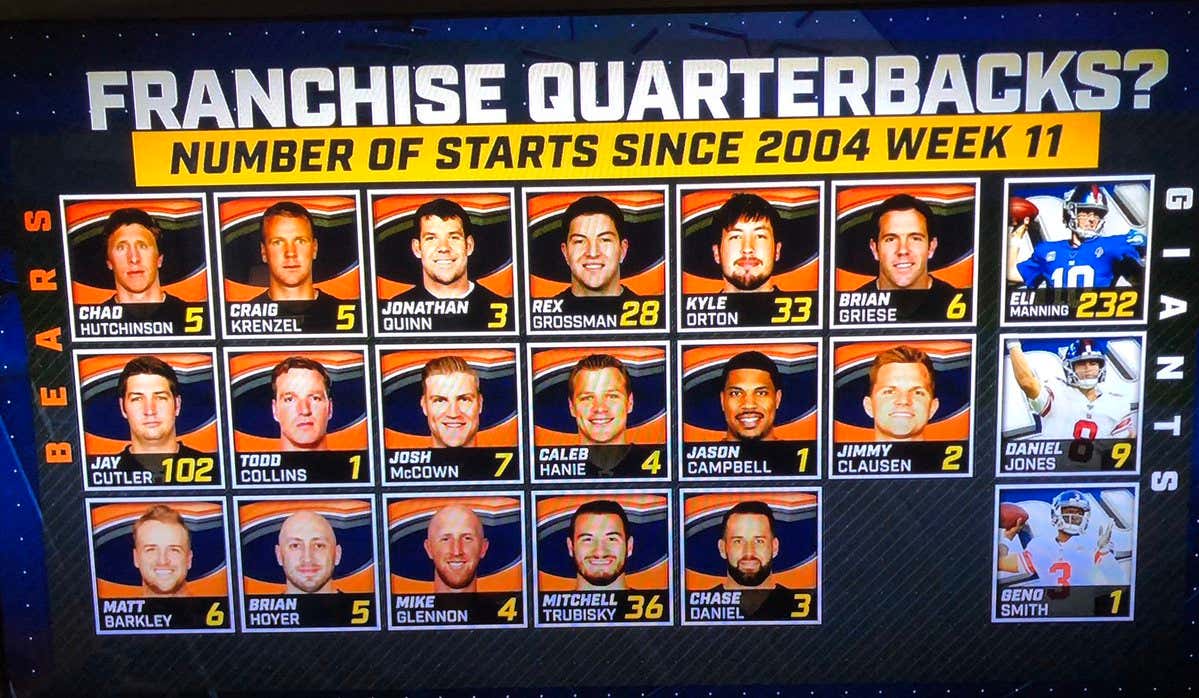 I mean Geno Smith? Really? I wish we could fire Evil Ben McAdoo again for that bullshit.
- But seriously, if Jay Cutler didn't grace the Bears with his presence for 102 games, the Browns Quarterback Jersey could have gotten a reboot in Chicago since reboots are what's hot in the streets these days.
- The defense made some nice plays today. But I honestly can't tell how much of it was because the Bears offense STINKS.
- I don't care what anyone says. If Khalil Mack beats his man like a drum and strip sacks your quarterback from the blind side, it shouldn't count as a fumble for the quarterback. And I'm not just saying that because Daniel Jones' fumble problem is all people in the media are going to talk about in the offseason.
- Speaking of that handsome young man, I gotta shout out my guy Danny Dimes for tossing this 10 cent piece to Golden Tate on a do-or-die play.
- I also gotta shout out my guy Danny Durable for staying in the game and trying to lead his team to a last second win despite having his hand RIPPED APART (This part of the blog may be NSFW and could give young children nightmares).
As awesome as it would have been for the legend of Daniel Jones to grow with a Bloody Hand Game, I'll take the loss in order to increase the chances of 16+ Chase Young games a year, especially since the Redskins won today. Yup, we are in full-blown spinzoning every loss into draft pick positioning mode, which is going to be very necessary after Aaron Rodgers gets his chance against this secondary next week. YIKES!
Okay, I just typed and you just read wayyyy too many words about that shitty game. Time to forget it ever happened!