Of Course The "We Believe" Warriors Got High As Hell With Snoop Dogg After Upsetting The Mavericks Back In 2007
I'll tell ya what, I would watch the shit out of that documentary on the We Believe Warriors. Loved that team with Baron, SJax, Al Harrington, Monta Ellis, Ike Diogu (shoutout ASU), and Don Nelson. As we know they pulled off one of the greatest postseason upsets in league history beating the #1 seed Mavs in a thrilling 6 games and I can't even imagine what that celebration was like in real life. If it's anything like what Matt Barnes is describing it seems like a fantastic way to spend an evening. 
Think of that night. You're on top of the basketball world after an insane upset, and you head over to Nelly's penthouse to get fucked up and you walk in and he basically demands everyone grab a doobie from Woody Allen like it's some sort of party favor. Quickly, this had to really be Woody Harrelson though right? Don't blame Barnes for being a little fuzzy. Then you make your way up to the roof and there's 2006-07 Jessica Alba & Co just chilling. You remember that Jessica Alba? Pretty much in her prime and one of the biggest smokes on the planet (and still is to this day imo)
The best part was this was only the pregame. A little different than your standard pregame I would say. Probably not too much flip cup or drinking games being played at that thing. To then follow that up with partying their faces off in Snoop's hotel room and hot boxing it to the point where the hotel had to come in and unscrew the window so the smoke could be let out, I mean I couldn't imagine having a more fun night than this. I guess maybe this explains why they lost in a quick 5 games to the Jazz in that 2nd round. Chances are they were probably a little worn out but whatever they weren't going to win the title that year anyways and the earlier upset was enough to warrant such a celebration.
What's funny is all of these celebs were captured in the locker room after the clinching win too. There's that photo at the top, then there was this one of Kate Hudson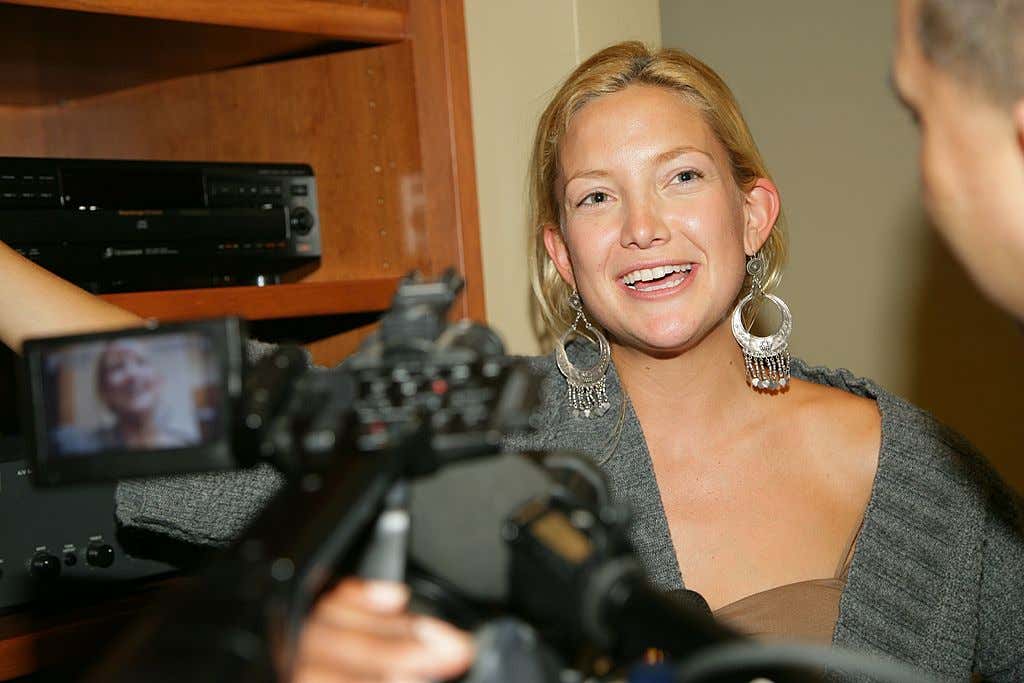 So you know at some point Nelly told everyone to just head to his penthouse to get fucked up and this magical story was born. Man to be a fly on the wall during that era, one of the most fun teams in recent memory. 
Seriously though, make that documentary Matt Barnes. Have your people hit up our people and we can make this happen (I have no power whatsoever but I feel like we could make it work). The people deserve more classic stories filled with some of the biggest legends of all time.