"You Leave Philly And Bad Shit Happens" - The Story Of The 2019-20 Philadelphia Flyers
So that original tweet was from November 8th. Since then, the Flyers are now 6-1-3 at home, and 4-6-1 on the road. 15 out of a possible 20 points at home, 9 out of a possible 22 points on the road. Now I'm not much of a numbers or math guy, but I'm pretty sure that means that the Flyers are around 183% better at home than they are on the road. And I'm also pretty sure that if you keep the same percentages for points-at-home (.75) and points-on-the-road (.41), the Flyers would end up with 95 points this year. 
Again, I'm not a math guy in the slightest. Haven't taken a math class since my junior year of high school. For all intents and purposes, numbers can get fucked and take a hike. But the numbers say that the Flyers being god awful on the road is going to keep them out of the playoffs, and that's what the eyes see as well. 
Now here's the thing,,,,,,I don't necessarily blame the Flyers here. I mean I hate leaving Philly as well. They don't call this place the Paris of Pennsylvania for no reason. It's the greatest city in the world and there's nothing else in life you need that you can't get here. This job requires the Flyers to leave Philadelphia at least 41 times a year. That sounds horrific. But at some point, you need to make a change and something needs to happen. Because whatever this team is doing on the road just ain't cutting it. 
I don't even get it though. Because it's not like the Flyers consistently come out on the road flat. It's not like they're not ready to play the game or anything like that. Take last night for example. Travis Sanheim gets the first goal of the game after absolutely RIFLING one past Bobrovsky's ear. So it would be one thing if the Flyers were just getting the doors blown off right from the first puck drop every road game. Maybe then you could say that their routine is off and whatever they're doing to get ready for the game isn't working. But that's not always the case.
Instead, it just seems like this team completely shuts off their brains and forgets everything they know about hockey for long stretches of time on the road. As soon as things start to go wrong, the team just breaks down and it snowballs. And that's when you start to see goals like this happen. 
Brett Connolly is a real prick for this one. On Patrick Kane's birthday, Connolly scores from the same angle that Patty Kane scored the game 6 OT winner in the 2010 Final against Philly. Makes me want to vomit. Obviously you'd like to see Carter Hart stand a little taller along the pipe there but that's such a ridiculous shot from such a ridiculous angle that took such a ridiculous bounce. Leaky one for Carter to give up? Absolutely. But the team defense had already collapsed at that point.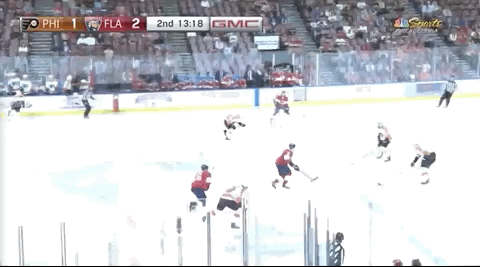 Now this one is a little more on Carter. To be fair, it was a rough turnover from Farabee in the neutral zone that led to this goal. But an extra juicy rebound ends up right on the stick of Sasha Barkov, and Barkov staples that puck to the corner. Just a gross sequence from start to finish there from the Flyers, and that's exactly what happens to them on the road for some reason. And just look at Oskar Lindblom there. I'm sure he wasn't expecting that big of a rebound but he just stops skating before he even gets into the defensive zone. Barkov blows right past him, gets to the rebound and stuffs it in the back of the net.
The Flyers aren't a bad team. They just play like one for long stretches of time, mostly while they're on the road. They're a great team at home (aside from blowing a 3-goal lead in the 3rd period against the Islanders on Saturday), but there's just something missing whenever this team leaves the Wells Fargo Center. I wish I knew what that something was but I suppose if I did, I'd be coaching the team instead of just blogging about them. All I know for certain is that the team needs more from their big guys. This was yet another game where guys like Voracek, Hayes and JvR were completely irrelevant. I mean I don't remember a single moment from Jake Voracek's game last night, and I feel like that's been the case for quite a few games so far this season. The Flyers need guys to provide a spark when they're on the road, and the guys who are getting paid the most amount of money to do so are just disappearing. Not great! 
Anyways, let's end this blog on a positive note courtesy of The Snowman. 
Sick bastard.