HOLY SHIT, WE ARE GETTING A JAMES HOLZHAUER VS. KEN JENNINGS VS. BRAD RUTTER JEOPARDY GOAT TRIPLE THREAT MATCH
USA TODAY- James Holzhauer just won the "Jeopardy!" Tournament of Champions, but you haven't seen the last of him. Holzhauer and the long-running quiz show's two other biggest winners, Ken Jennings and Brad Rutter, will face off in a prime-time Greatest of All Time tournament on ABC in January, marking the first network airing of the original "Jeopardy!" in 30 years. "

When James had his run last year, a lot of people were wondering, well how would he do against Ken Jennings? How would he do against Brad Rutter? (They're) our two most successful players in "Jeopardy!" history," says host Alex Trebek in an exclusive interview. "These three players have won close to $10 million in 'Jeopardy!' prize money and over 100 games among them, so it was logical." 
This phrase has probably been uttered on the Barstool blog more than any other phrase in history. But LETSSSSSS FUCKINGGGGG GOOOOOOOO. I have been begging for a Big Brain James vs. Ken Jennings matchup ever since James ran train on Jeopardy all the way to the bank. However I didn't think we'd get it this quick, if at all, let alone with Big Brain Brad involved as well (who played back when contestants were forced to retire after a 5-day reign as champion and already beat Ken Jennings when he won the Ultimate Tournament of Champions back in 2005). 
But after James won his respective Tournament of Champions game on Friday and avenging his only loss on the show, the Jeopardy Powers That Be put this dream match together quicker than any boxing commission or MMA group has ever put together a dream match and gave the people what they want in what (for at least a little while) will be the biggest showdown of the decade, with Trebek fully on board to host a battle of the minds with more combined brainpower than this video has.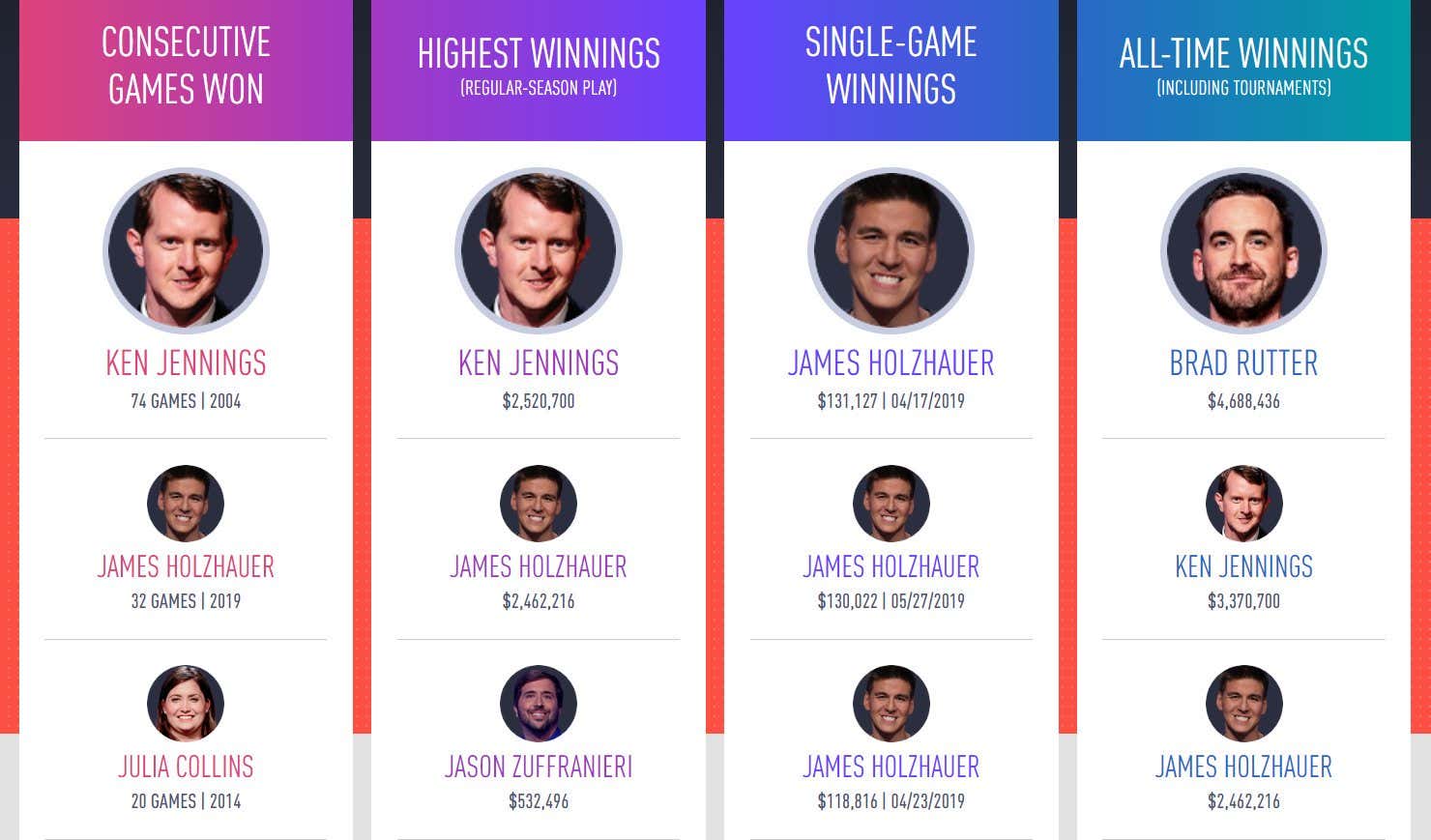 The best part is that this isn't a one night only game but a fucking EVENT.
But the GOAT tournament will be anything but typical: It consists of a series of two back-to-back games, airing weeknights (8 EST/PST) beginning Jan. 7. The player with the most combined winnings from the two games wins the "match," and the play continues on successive nights (except Monday) until one of them has won three matches and takes home a $1 million prize. (The other finishers get $250,000 apiece). That means the tournament can last anywhere from three to seven days.
I love that it is being hailed as the battle for the Jeopardy GOAT and that Alex is all-in despite fighting Stage 4 pacreatic cancer, in what hypothetically could be his MJ Game 6 in Utah swan song (I'm not ready to talk/think about that). I imagine some of the details are up in the air right now, but if this game is played anywhere but the 50 yard line of Cowboy Stadium before a sellout stadium studio audience, the people at Jeopardy fucked up big time. Oh yeah and the winner should be forced to face that AI bitch Watson to restore humanity's crown atop the trivia power rankings.
My guy Big Brain James got ahead of the curve and by starting the trash talk Big Poppa Pump style against Kohl's Cash Ken and No Name Brad.
Holla if ya hear me!
Ken Jennings then responded and turned it into a full blown nerd fight:
While Brad has remained extremely quiet, likely because even he forgets he exists sometimes. His last tweet however is a retweet of The People's Champion, which may or may not be Brad bending the knee before the GOAT Tournament begins.
Now if you will excuse me, I am going to go see whose private parts I have to suck in order to get press credentials to this legendary showdown.