College Football Gambling Primer (98-83, +4.65 Units) Presented By PointsBet: Week 12
If you are in New Jersey and looking for a book to bet with this season, check out PointsBet.com.
Special offer: deposit $10 and receive $100 in bonus bets. 
PointsBet also has Barstool's First Touchdown promo for college football: Place a moneyline bet on select NCAA games, and if your team scores the first touchdown of the game, you win, even if your team goes on to lose! Three weekends ago, LSU bettors were paid out just five minutes and five seconds into their game against Florida.
AND, if you're not in New Jersey, you can play PointsBet's Pick6 game online, where they're giving away up to $25,000 a WEEK. All you have to do is pick six football teams you think will win that week. You can go to pointsbetpick6.com to play.
Picks:
SDSU -1 (WIN)
Nebraska +14.5
Kansas +17
Texas +7
Georgia -3
Vandy +10
Syracuse +10.5
South Florida +14
Baylor +10.5
ADD (11:17 AM): MTSU -14
2019: 99-83, +5.55 units
Barstool Gambling Standings: 
Really not much to say about this contest outside of the fact that I believe SDSU is the better team. They rank 3 spots ahead of Fresno State in SP+ and have the same amount of talent according to 247Sports. I was expecting them to lay 4-5 points in this game. At -1, all we need for them to do is win the damn game. 
We are getting value on SDSU thanks to their loss to Nevada last week. This tilt against Fresno is to keep their Mountain West championship hopes alive. Rocky Long is one of the best G5 coaches in the country and I fully expect him to rally the troops on a Friday night and take down Fresno State in San Diego. 
Pick: SDSU -1
Talk about a sleeeeepy spot for Wisconsin. One week removed from a win over Iowa, the Badgers have to get up for a gross game against Nebraska at Noon, while laying over two touchdowns.
Nebraska has been disappointing this season. They sit at 4-5 and are fighting for their postseason lives. I still don't view the Huskers as awful. They rank 59th in SP+ and can give Wisconsin a game in a letdown spot. 
We view the Badgers as the team that took it to Michigan early in the season, not as the team that lost to Illinois, got blown out by Ohio State, and almost blew a lead to Iowa last week. They are overvalued. Let's roll with the Huskers. 
Pick: Nebraska +14.5
I love everything about Georgia right now. They control their own destiny to get into the CFP. They do have to go on the road here to take on Auburn in the south's oldest rivalry, but I think they are a substantially better team than the Tigers. 
The Dawgs ranks 6th in FEI and 4th in SP+. Auburn ranks 11th and 9th respectively. I can't see Georgia's 4th ranked defense allowing much to Auburn's 50th ranked offense. Am I a bit concerned about Georgia scoring on Auburn? A tiny bit, but the crown jewel for Auburn is their defensive line. Georgia may have the best OL in the country to offset that. 
Pick: Georgia -3 
What says that Kansas can't stick around in this game against Oklahoma State? They did it against Texas. They did it against Texas Tech. The only game that Oklahoma State has won by more than 17 this year was against Tulsa (by 19) and FCS McNeese State. The defense remains incredibly suspect and the offense isn't as high powered with Tylan Wallace out at WR. Give me Les Miles. 
Pick: Kansas +17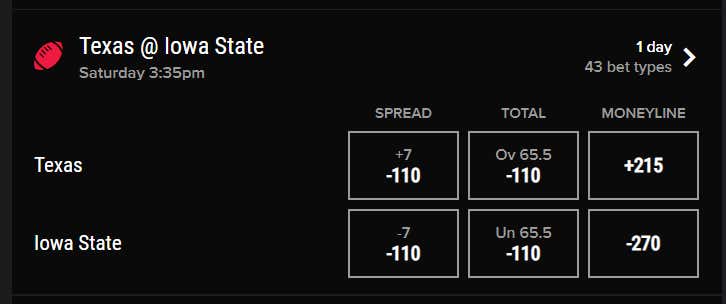 Tom Herman getting a full touchdown? Against Iowa State? Count me in.
I know Iowa State has shown glimpses of being a top-20 team, but Brock Purdy and company isn't a team that is going to run Texas off the field. I still view the Longhorns as a top-25 team and can't see Sam Ehlinger losing this game by more than a field goal. 
If Baylor loses this weekend and Texas wins, they will be in the driver's seat to sneak into the Big 12 championship game. Plus you get Tom Herman, who as a head coach is 14-3-2 ATS as an underdog? HOOK EM. 
Pick: Texas +7
Is Baylor a fraud? I mean, I guess? How would you define a fraud? Everything points to Baylor being at least a top-20 team in the country. Should they be considered for the playoff? If they go 13-0 they should. This is their first stop in accomplishing that goal. 
I still believe in Oklahoma. I'd put them anywhere between 5th-10th. Should they be laying 10.5 points on the road? I certainly don't think so. 
This is Baylor's biggest game in years. GameDay will be in town. Waco is going to get real weird. Give me the Bears in a close one. 
Pick: Baylor +10.5