Let's Take A Look At Lamar Jackson's Numbers Through 16 Starts
The Lamar hype train is at full steam right now and rightfully so. After taking over for an injured Joe Flacco in the middle of 2018, the 21 year old wowed week after week, winning 6 of 7 starts down the stretch and leading the Ravens to an AFC North title. A disappointing 1st half on Wild Card weekend and a furious 4th quarter comeback fell just short, so we were left to spend the entire offseason debating and wondering about who Lamar Jackson the quarterback really was. I wrote this piece back in August  telling all the haters that his abilities as a passer were right in line, if not better, with where a young QB should be through 7 career starts and to give him time to continue to develop before casting rash judgments.
But not even I could have predicted the jump he made from the very first drive of 2019. He's been absolutely lighting it up, and has put himself squarely in the race for MVP while staking the Ravens to a commanding AFC North lead at 7-2. Last week's win over the Bengals marked his 16th career start, which I think is a perfect stopping point to revisit the statistics I pulled for that August blog. In that blog, I took the top 32 leaders in pass attempts in 2018 and pulled their stats from their first 7 career starts. Here is that sample showing Lamar was right in the middle of the pack with a 82.6 passer rating through his first 7 starts (which doesn't factor in his rushing ability whatsoever)
This was well ahead of what public perception seemed to be, and I was excited to see where Lamar would take us next. So here is that same sample of QB's through their first 16 starts:
As you can see, Lamar has made a considerable jump up to 6th on that list. He has a 94.4 Passer rating in his 16 career starts, which is impressive as hell considering none of the QB's were 21 years old when they made their first start. And again, passer rating doesn't take into account the fact that Lamar Jackson is basically running like a pro bowl running back with his feet too. Those numbers speak for themselves
Now I did see that our good friend Carl took the time to put this blog together:
First of all, I can't fight the fact that I was also a bit surprised at how close these numbers are. Credit to Tyrod for being a lowkey stud and credit to Greg Roman for being a genius. But I think my two biggest takeaways when I compare Lamar to the rest of the QB's are also the two biggest differences between Lamar and Tyrod here, and they have nothing to do with rushing the football:
1. Lamar made his first start as a rookie at age 21 and Tyrod made his first start at age 26 in his 5th year after backing up Joe Flacco for 4 years. The fact that Lamar is doing what he's doing at such a young age is ridiculous and he's only going to get better. Point #2 further illustrates this…
2. Lamar's passer rating rose from 82.6 after 7 starts to 94.4 after 16 starts. Of those QB's I sampled who had a passer rating over 80 (to flush out QB's who went from awful to mediocre) through his first 7 starts, his improvement of 11.8 is TWICE as big a jump as the next best QB.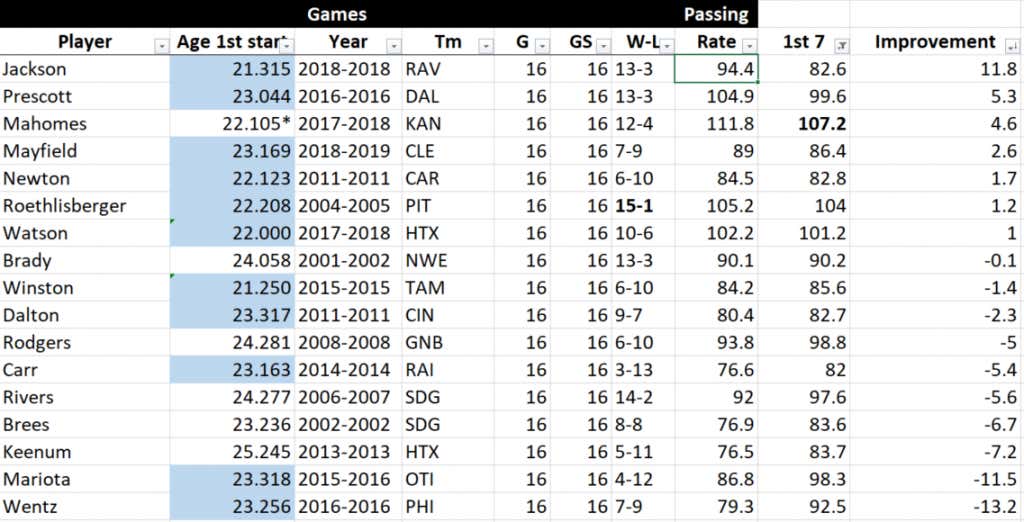 Yes, he had the benefit of an offseason to help this improvement happen, but the fact of the matter is that his passer rating this season is 101.7 and that's impressive as hell. As it relates to Tyrod, his rating was 106.2 in his first 7 starts and his rating actually dropped to 95.6. So yes, they played a similar 16 games but who Lamar has been this season and who he will be moving forward is far from who Tyrod Taylor was in 2015. It's an interesting comparison but ultimately a silly one, and we have every right to be "ballwashing" Lamar the way that we are.
Tomorrow brings us a helluva treat in pitting two of the most impressive young QB's the game has ever seen. I couldn't be more excited.
Also, you're a fool if you don't have every single one of these t-shirts at this point. They're hot fire. I can't imagine life without Lamar or these shirts. If you don't like it, deal with it.