The Kemba Walker Era Looks Awfully Familiar
 When the news first broke that Kemba Walker was joining the Celtics for the most part it was considered a nice consolation prize for losing Kyrie Irving. At least they didn't have to give a boat load of money to Terry Rozier right? They were still brining in an All NBA caliber, All Star point guard to be the next in line of guards that tend to flourish under Brad Stevens. The appeal of Walker wasn't just what he could potentially give the Celts on the court, but everything he was going to do off it to help rid this team of whatever bad juju they lived through last season.
A lot of talk was about if Kemba could replace Kyrie given what an awesome statistical run Kyrie had in his two years with Boston. Here's the thing. The Kemba Era isn't just off to a start that mimics what we saw from Kyrie, the early returns suggest we're seeing something not done since one of the most impressive offensive seasons in Celtics history. That may seem like hyperbole but I assure you it's not. I don't know what I expected from Kemba this year, but it was NOT 2016 Isaiah level production and yet here we are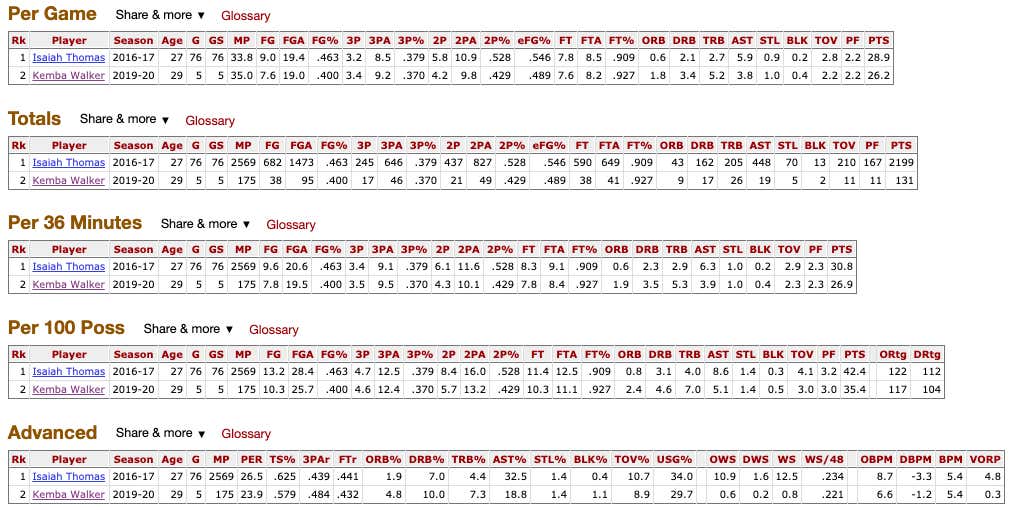 Now this image may be hard to read for anyone on their phone, so let's dive in. First, let's talk offensive approach. One of the most fascinating parts of that 2016 season was how Isaiah seemed to be able to drive against anyone and finish at the rim at will.
2016 Isaiah: 16.8 drives per game, 50% FG, fouled 9% of the time
2019 Kemba: 13.0 drives per game, 43.3% FG, fouled 13.8% of the time 
The one think Kemba hasn't shown is the same efficiency on his 2p FGs, but in terms of how Brad is unleashing Kemba it's eerily similar. You'll agree that getting to the line is a big time responsibility for a Celtics point guard, and Kemba so far has shown a level of grifting that Kyrie never did. He averaged 4.0 FTA as a Celtic for those wondering. Kemba? He's getting to the line at an Isaiah level and it's not just his averages either. Kemba's FT rate of 43% is pretty close to that 2016 Isaiah's of 44%. Here's what's even more encouraging. Kemba's production is in the same ballpark while he doesn't have nearly the same usage. When Isaiah did this thing his usage was insane since he was really the only option that year at 34%. Kemba is coming in at a very reasonable 29.7% so far. Their FGA are virtually the same, their three point shooting is essentially the same and even the advanced metrics are close. The one big difference is how much better Kemba has shown to be on the defensive end. Think about that for a second. This could be a situation where you are getting 95% of that 2016 Isaiah offense only with 100000x better defense. I'd say that would be pretty fucking good. 
The one area I was nervous about going from Kyrie to Kemba was the off the ball shooting. Kyrie blows Kemba away in that regard, but I'm starting to think the comparison should be more along the lines of Isaiah. In 2016 Isaiah shot 41/40% in catch and shoot situations averaging 4.8 points a night. Kemba? 4.0 points on 41/40% shooting. As we saw, offensively if you are able to drive and get to the line like Kemba has, then those off ball shooting numbers are more than good enough. During that season Isaiah became famous for what he did in the fourth quarter. It was one of the most insane parts of that entire 2016 season. He averaged 9.8 points on 5.9 FGA and 46/37% splits. That was good for 2nd in the NBA in fourth quarter scoring. Not bad. Kemba so far this season? 9.6 points on 5.8 FGA and 48/46% splits. That's good for 6th in the league (0.4 pts from 4th). Eerily similar. 
You combine all this with the fact that Isaiah was an incredible chemistry/locker room guy which Kemba has in spades and you can't help but be excited about what's in store for Kemba this year. Remember, Isaiah was top 5 in MVP votes and made an All NBA team that 2016-17 season. Who's to say if Kemba can maintain this level of production the same can't happen for him? It's not like he's going to shoot 40% from the floor the entire season so in my mind things could definitely get better. Nothing he's shown so far is all that crazy from what he's done his entire career. I think we all were hoping Kemba would get off to a great start to help heal the wounds of last year. I just don't think we thought he would throw up a season eerily similar to one of the most fun offensive seasons by a Celtic ever.