2019-20 NBA Season Preview Series: Toronto Raptors
The Raptors are entering this NBA season in a position they've never been in before in the history of their franchise: Defending NBA Champions. Now while some of the wind was taken out of their sail when Kawhi bailed for LA, a move that the Raptors had always known was a possibility and given their situation before the trade I feel like this was something they'd happily do again, once you win the first ever title for your franchise in my opinion you're playing with house money for at least the next immediate season. Whereas other previous champs may have the pressure to repeat and the expectations that they will again contend for an NBA title, I feel like that's not the case with Toronto and that's fine. Don't get it twisted, they aren't going to stink or anything like that, but now that they finally reached the top of the mountain the rest is gravy as you look to 2019-20. However before we can officially do that, it's only right we relive the best season in Raptors history
2018-19 Season Highlights
Outside of Kawhi departing, the Raptors are essentially bringing back the same roster we saw last season. They extended Kyle Lowry for another year to avoid any potential drama there, and there are talks that they are close to reaching an agreement with Pascal Siakam prior to Monday's deadline for RFAs. As of now, this is how things look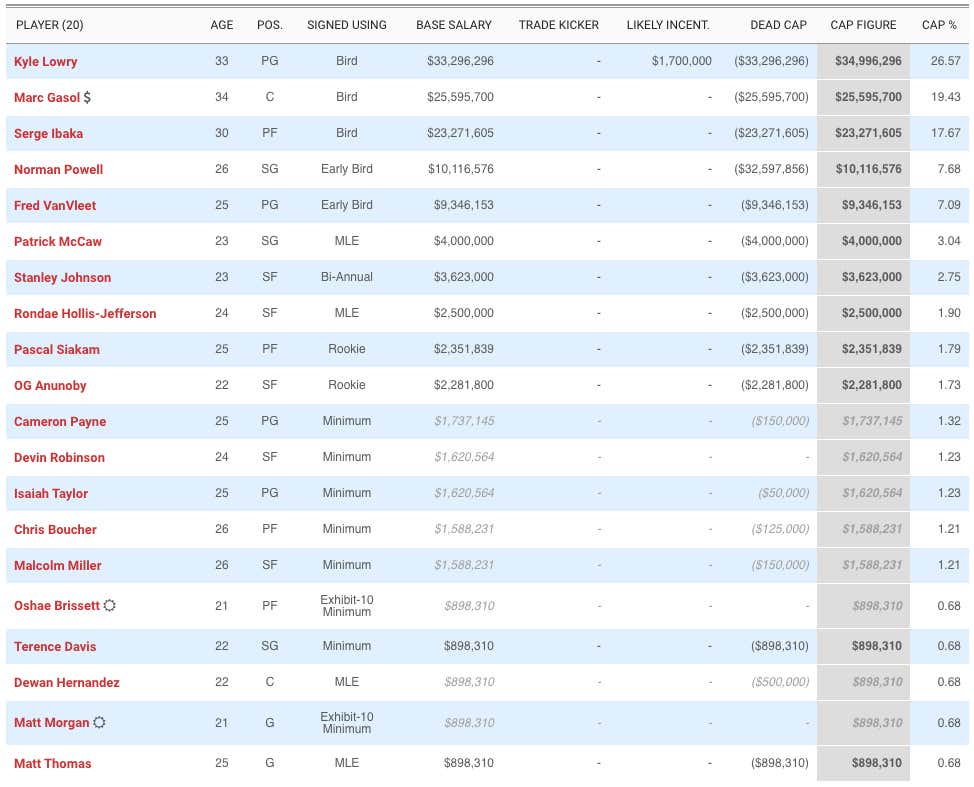 At a total of $131,729,254 the Raptors are owners of the 11th most expensive roster in the league, but there's also a chance we could get to February and this roster looks completely different. Why? Well it all depends on where they are. If this team is contending, somewhere in the top 4 seeds, we could see them be buyers at the deadline again. Remember bringing in Gasol played a huge role in them winning the title. But this time around both Gasol and Ibaka are expiring deals and are on the wrong side of 30. Who's to say they don't flip either of these guys at the deadline for pieces if they aren't legit contenders? Especially if they don't plan on keeping either for their next deal. Remember they also have to pay Fed VanVleet this summer as well which will be pretty important seeing as how Lowry is only locked in through 2021. 
I could understand looking at this roster and thinking the Raptors are going to come crashing down to earth given their talent, but I think that would be selling them a little short. For starters, they did go 17-5 without Kawhi last year even that's a little inflated by who they played (opponents had a .455 winning percentage). They were 4-5 against teams .500 or better which isn't exactly great, but they showed enough against the poor competition to still stay afloat in a weaker East. To me, the question isn't really how are they going to replace Kawhi because you can't replace Kawhi, but how they will overcome the loss of Danny Green as well. 
This was a team that ranked 8th in 3PM last year and 6th in 3P%. Spot up shooting was a major factor to their success and Danny Green had a huge role in those numbers putting up 2.5 3PM a night on a ridiculous 45% shooting. How can they replace that? Well what about an expanded role for Norman Powell. He shot 40% from three last year with a 3PA rate of 42%. That's nowhere near the 69% from Green but their Per 36 3PM numbers are somewhat close (2.2 vs 3.2). He should see more minutes this year and could be a surprise there. Maybe OG shows up with an improved outside shot as well, remember he shot 44% from three with 1.3 3PM in the 10 postseason games he played last year. But the drop in outside shooting has to be a concern given how this league plays now. Then there's the addition of their two new wings in Stanley Johnson and RHJ. Safe to say things haven't been great!
Taking all this into consideration, I think we're going to see a change in approach from this team offensively. We have to. With Kawhi gone, it would be silly to be the same sort of isolation heavy team we saw last year. The Raptors were great at it, ranking in the 82nd percentile as a team but now running things through Siakam I'm not sure that's their best strategy. Kawhi ran this 16.5% of the time, averaged 1.05 ppp and finished in the 83rd percentile in isolation. Siakam wasn't as effective, with 0.97 ppp ranking in the 73rd percentile. Where he THRIVES though is in P&R. Here we see him average 1.12 ppp scoring 56.9% of the time ranking him in the 96th percentile. The Raptors last year ranked 23rd in P&R frequency with the ball handler, so I expect that number to skyrocket now with Siakam being their best player. He's virtually unstoppable in this set
What I love about Siakam and why he made such a jump last year isn't just his improved outside shooting, but the man can get to the rim with ease and has one of the most devastating spin moves in the entire league
Frankly the success of the Raptors this year will really depend on what type of leap we see from Siakam now that he is their #1 option. If he wants max money he's going to have to produce like a max player, and not the Gordon Hayward version of a max player but like…a real max player. 
Then you look defensively and there are almost just as many questions. You lose two elite defenders in Kawhi and Green who helped you be a top 5 defense last year. Gasol and Ibaka are one year older, and a whole bunch of unproven guys are now going to be thrown to the fire. This preseason the Raptors were one of the worst teams in the league defending the three point line, something they were a top 10 team at doing last year. This team's length and defensive awareness made them a BITCH to play, I mean this was one team that actually figured out how to stop Giannis. Who is doing that on this roster now? Siakam is legit sure but the rest of them would make me nervous.
But I'll stress again, this entire year is gravy for the Raptors. If they end up a 5-6 seed and maybe lose in the second round it's mostly whatever. Their focus now should be about locking up Siakam/FVV and maintaining cap flexibility moving forward so they can have a quick rebuild. That's why Lowry's extension was structured like it was, this team will be a player in the summer of 2021, and I think their success last year did a lot of good in terms of making them a potential destination. As we saw, you win in Toronto that city and fanbase will treat you like a God.
Official Greenie Prediction: 45 wins