Faith Hill is Out, Carrie Underwood is In on SNF
To: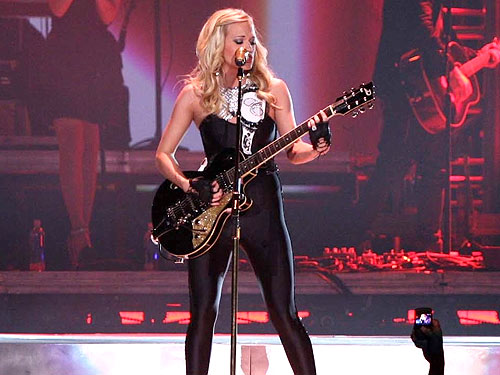 This is a sad day indeed.  It is with a heavy heart that I report the tragic news that NBC has booted Faith Hill off the opening to "Sunday Night Football" and is replacing her with Carrie Underwood.  Not that Underwood isn't a world class smoke; She is.  To steal a phrase from Wayne Campbell, she tested very high on the Stroke-ability Scale. But with all due respect to Carrie, the country music world is lousy with hot 30 year old blondes.  As are the pop music world, Hollywood, the porn industry and most bus stations.  But there's not a breed of female as rare as 45 year old MILFs like Faith Hill.  Her SNF openings were part of the fabric of my life these last few years.  I couldn't wait til 8PM Sunday to see what outfit she'd be rocking.  Faith in a LBD.  Faith in Fuck Me boots.  Faith in a painted on leather catsuit.  It was like that last little taste of pure steamy, dripping sex before Michaels and Collinsworth would come on with their middle aged spray tans and spoil the mood.  She made life at the end of the weekend worth living.  Sure, we all recognized that at 45 she was in the twilight of her career and the window was closing on her hotness.  But I still felt like she had another good season or two in her.  Oh well, it's always better to retire too soon than too late I guess. And at least she's being replaced by another knockout instead of say, Hank Williams Jr.
One saving grace in all this is that there's always potential for this to turn into a vicious catfight.  Faith is saying all the right things, but you know she still hates Underwood for the time she beat her out at the  CMAs and the cameras caught her making a big pissy face over it:
So losing this gig to Carrie Underwood of all people has to the worst sort of cuntpunt Faith Hill could ever experience.  And I for one am going to miss her MILFishness something awful.  Godspeed, Faith.
PS.  I'm pretty sure this is 100% the entire premise of "Nashville."