AFC West Recap - I'm Hitting The Cancel Button On The Chargers Season
The Broncos get front billing today since they shut out the uhhhh explosive Titans offense, winning 16-0.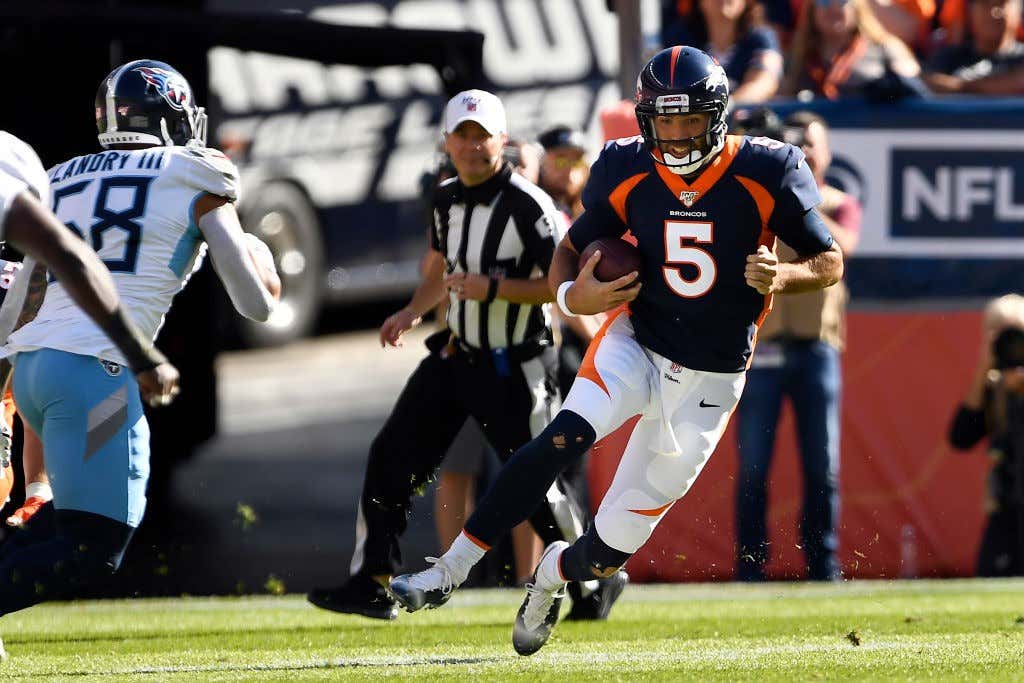 Vic Fangio looked like Vic Fangio again, with Denver racking up 7 sacks and 3 picks. Are the Titans a good team? Well, no. Mariota got benched halfway into the game and Tannehill wasn't much better. The fact remains, however, that they looked good. They looked good on defense and sort of passable on offense, which is a great sign team moving forward. Flacco finished with 177 yards and a lame-duck pick, but Philip Lindsay averaged 4.7 YPA and had a hard fought TD rush. Their offensive line is still incredibly bad, but they're able to break open some holes for Lindsay who SHOULD be the focus of the offense. The star of the defense, in my opinion, was Demarcus Walker. He was all over the goddamn field, tallying 2 sacks and 4 tackles.
Notes: They need to be more efficient on 3rd down. 2-14 on the game isn't going to work vs good NFL teams. They have a chance to extend their win streak to three hosting the reeling KC team on Thursday. Emmanuel Sanders missed the second half with a knee injury. Juwann Winfree, Duke Dawson, Bryce Callahan, Ja'Wuan James, Calvin Anderson, Troy Fumagalli and Adam Gotsis were all inactive.
The Chiefs blew their early luck vs the Texans, losing 31-24 in Mahomes and Watson's rematch game.
Cheetah being back was, without a doubt, and instant boost. His TD catch on the first drive of the game was unbelievable, and I'll leave that at that. With Mahomes slightly limited from a mobility standpoint, their offense just doesn't look the same. The combination of said injury and the offensive line being hobbled as well has left them looking a little slow. They're currently 22nd in total rushing yards and 24th in RYPG which makes it easy for defenses to gameplan, even against someone as dynamic as Mahomes. What does not help, obviously, is the fact that the defense hasn't improved at all since last year. They're 5th in yards allowed per game, and 12th in points allowed. That's just not going to cut it going forward, especially when the offense isn't able to bail out their poor performances. They were only a few Will Fuller drops from this being a 3 score game too.
Notes: Frank Clark looks like he was worth every penny. He's been good for one big impact play every other game which is what this team needed. Now, I think both Houston and Ford were good for that too, but still. For fans, there is no reason to panic. I honestly think they just need a bye week for some rest, which is unfortunate because theirs isn't til week 12. Kendall Fuller left the game with a thumb injury that needed X-rays. Eric Fisher, Sammy Watkins, Dorian 'O Daniel, Andrew Wylie, Chris Jones, Anthony Hitchens and Greg Senat were all inactive. They travel to mile high on short rest where they play a rejuvenated Denver defense.
The Chargers are done. D-O-N-E. Final score: Steelers win 24-17.
This team is a disgrace. The offensive line can't block, the defense can't stop the run, and Bradley, Wiz and Lynn have no fucking clue how to call plays for the personnel they have. They were dominated the entire game until they got some points in garbage time, making the final score look reasonable when in reality it was a massacre. River was on the run the entire game, throwing 2 lame-duck picks to offset his 2 touchdowns to Hunter Henry. By the way, Henry was supposed to be on a snap count considering his knee was shattered into a billion pieces and he's the TE of the future. Guess how many he had? 41. There's no point in rushing him back in a game that is this far out of reach this early. Just eat the embarrassing L and move on. Speaking on which, I hope the Spanos family takes a good look at this video.
Moving your organization into a city where they wouldn't be a top-5 most popular team among all sports would be stupid. Moving your organization to a city where they aren't even a top-5 most popular team in their own sport is fiscally irresponsible to the point where their ownership should be stripped. LA is a transplant city that doesn't give as hit about football. It's like Melvin Gordon said, they won 12 fucking games last year and they still can't build a fanbase in this hellhole. And you think these optics look bad in a 25,000 person capacity MLS stadium that they can't sell out? Just wait until they're in SoFi and they have 10,000 chargers fans in a 70,000 capacity stadium.
Notes: I liked Rivers protecting his guys at the end of the game. ICYMI, Steelers DB Hilton was jawing the Chargers sideline at the end of the game and Rivers ran up on him.
Rivers said post-game that it was just that. Protect your guys, nothing else to it. Love seeing this, although I haven't seen him get physical with an opposing player since he was a young buck. Easton Stick, Cortez Broughton, Michael Badgley, Andre Patton, Justin Jackson, Nasir Adderley and Melvin Ingram were all inactive. They start a four game road trip starting in Tennessee on sunday.