Gronk Isn't That Skinny After All. In Fact, He Looks in Playing Shape. Be Afraid, NFL. Be Very Afraid.
Back at the end of June, Rob Gronkowski made an appearance for the "100% Julian Edelman" movie that sent the world into a mini-panic because he looked like he had lost some weight.
To be fair, he wasn't exactly McConaughey body-morphing for "Dallas Buyer's Club." But you wouldn't have known it from the reaction of people saying that's much too much weight loss for him to ever be able to unretire if he chooses. And I was as guilty as anyone.
Well Gronk hosted some promotion for his fitness business in Boston and posted the photos on his IG. And to the surprise of no one who's been paying attention for the last 10 years, he went Shirtless O'Clock early and often. And if you can get a good look at the pictures through the reflected glare off the puddles under the feet of the ladies in attendance, reports of his skinniness might have been greatly exaggerated.
Let's go to photos.
Gronk now:
Gronk in 2015:
Gronk now: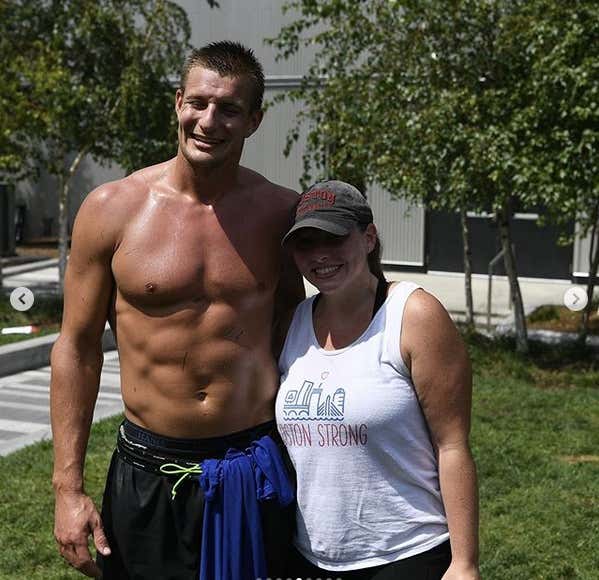 Gronk in 2016:
Gronk now:
Gronk at the parade in February: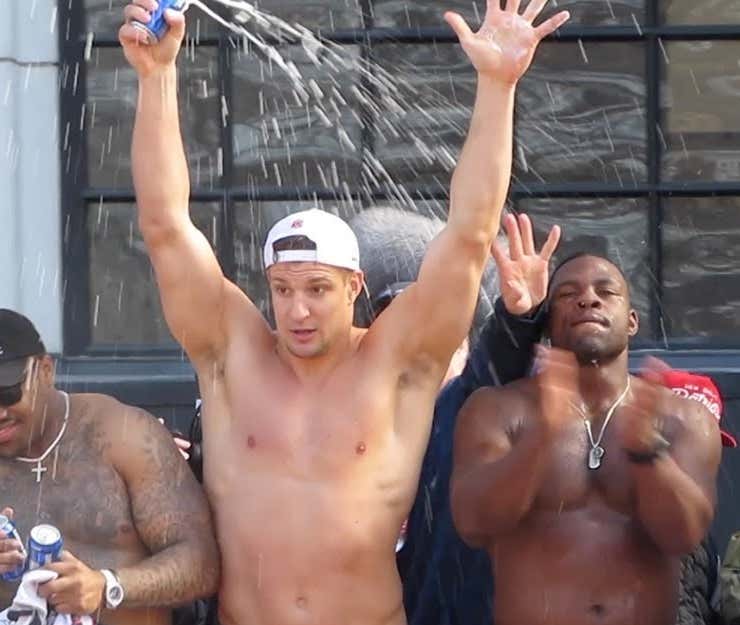 Gronk last month (this has nothing to do with the point I'm making, it just makes me laugh every time):
Look, I'm no forensic scientist. And I'm still evolving as a man, so this idea of being able to appreciate the physical appearance of another man without feeling weird about it is still new to me. I've never been a homophobe, but I used to be so uncomfortable with the male body, I couldn't eat eclairs.
So you'll have to forgive me if I'm wrong here. But I don't see much of an appreciable difference between Current Gronk and Classic Gronk. He said a while back that he was down about 15 pounds. Looking at him at this fitness event, I doubt it's even that much now. That maybe he dropped some once the season ended. But he's been hitting the weights and the protein powder pretty well, as far as my vision-corrected eyes can tell.
Does this make an unretirement more likely? I don't know how you can see it any other way than it's more possible than it was in June. He looks like he could spend a week at TB12 Fitness and be right back to being the most gifted, physically imposing tight end in the game. To add to a roster that already has Josh Gordon reinstated, Julian Edelman and Demaryius Thomas back on the practice field yesterday, and athletic specimens like N'Keal Harry, Maurice Harris and Jakobi Meyers.
To put it a different way, if the Patriots were a publicly traded stock and these pictures came out, their shares would be through the roof today. And traders with their money tied up in other franchises would be jumping out windows. As for me, I just moved the Gronk Unretirement Probability Meter from 69% to 75%.