Nate Robinson Hit A Game Winner Over Big Baby Who Then Held Him Like A Big Baby
Are you watching the Big 3 yet? Because you absolutely should be for plays just like Nate Robinson's game winner. The Big 3 is legit and have given us a ton of these type of moments so far this summer and each one is better than the last. This entire sequence was pretty outrageous when you think of everyone involved. For starters I haven't seen Big Baby play with that type of defensive intensity maybe ever, and I'm someone who has watched far too much Big Baby over the years. I can't lie I was impressed with how quickly he could pick himself up after diving on the floor like that, who knew he has some sneaky athleticism left in that big flabby body.
With Nate Robinson, I mean this is a dude who is a known bucket getter. He did it at Washington, he did it in the NBA, and now he's doing it in the Big 3. The shot was nice and all, but personally my favorite part of the clip is how Big Baby simply caught Nate Robinson like he was a child hoisting up a prayer three and basically recreated this photo but in reverse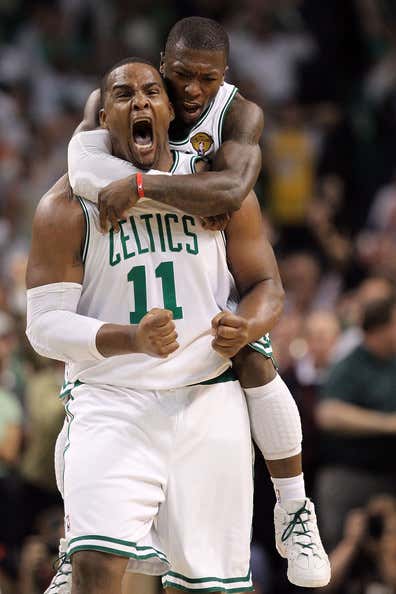 But seriously, you need to be watching the Big 3. You may remember just last weekend we had the Iso Joe game winner
and maybe it's because these guys are all former Celtics but man I cannot get enough. The perfect way to scratch your basketball itch until training camp/preseason starts.