A Woman Was Busted At The Airport With A Kilo Of Liquid Cocaine SURGICALLY IMPLANTED Into Her Leg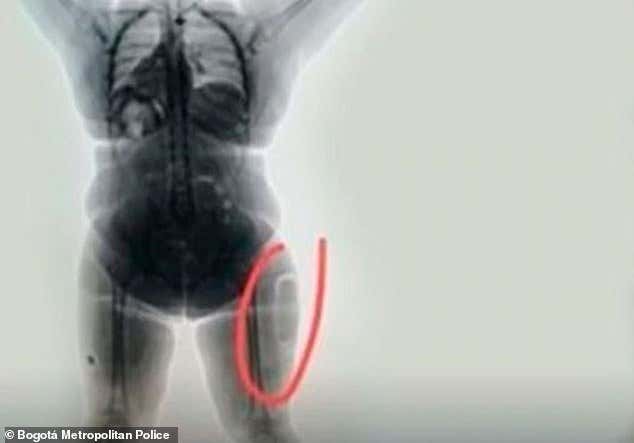 Daily Mail – A woman was detained at an airport in Colombia on Monday after she was busted with nearly a kilo of liquid cocaine implanted in her leg.

The 42-year-old hair stylist arrived on a flight from Cali at El Dorado International Airport in Bogotá and was waiting for a connecting flight to Madrid.

Police surveying the boarding area became suspicious of the woman when they noticed her walking slow and in pain. Her mood changed once she was approached by the cops.

A routine security check at the police department's airport office revealed that the woman had a pouch containing 780 grams of liquid cocaine sandwiched between her skin and muscle in her left leg.
Credit to both parties here. It's a shame there had to be a loser in this one because there's no doubt in my mind that this lady deserved to get away with it. For a drug smuggler to take her job so seriously that she surgically implants the cocaine into her leg, I have to give credit where credit is due. You don't see that kind of commitment in the workplace anymore. She probably laughs at the lazy smugglers that shove it up their asshole. Or this guy that thought putting cocaine under his toupee would do the trick…
LAZY! If you want something done right, you need to put a little effort into it. The difference between try and triumph is just that little extra umph!
But even through all of that effort, there was still no sliding by airport security. Tip of the cap to the guys in blue. They saw someone "walking slow and in pain" and they immediately suspected her. In America, this probably would've been the main story. Woman walking in pain is immediately suspected of having drugs…who cares that she actually had cocaine. But in Columbia, I'm pretty sure 99% of air travelers are smuggling some sort of substance for the drug lords. If you take one misstep, we're taking you right over to the x-ray machine.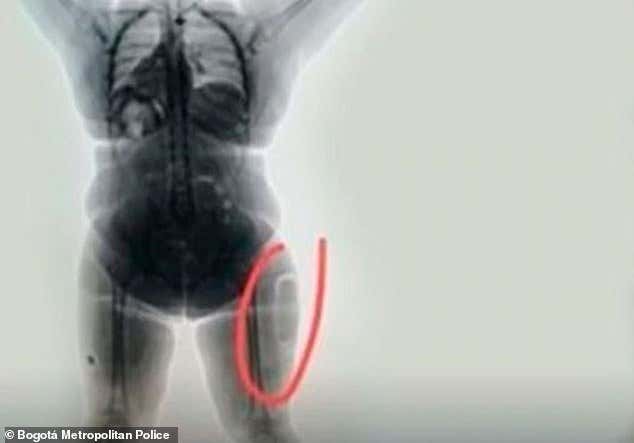 Thoughts and prayers to the woman arrested. I saw that she could do 25 years in a Colombian prison for this. I'm usually a proponent of don't do the crime if you can't do the time, but something tells me this wasn't all her idea. And with the sheer effort she put into this, I say she should walk free.
**To the Columbian Airport Security / Police — I've watched enough documentaries to know that sometimes the drug lords will use a wild target as a sacrificial lamb to move larger amounts of drugs right under your nose. Stay on HIGH ALERT.