Ninja Shocked The World Today And Left Twitch For Mixer - But Was It Really For a BILLION DOLLARS???
Pretty wild news out of the gaming world today, so I figured someone should get it on the blog. Ninja has left Twitch and is now at Mixer. Even if you're not tied to the gaming world like Smitty with GameTime you know how big Ninja is. Over 4 million Twitter followers, 14.4 million on Insta, over 14 million subscribers on Twitch. The guy is a monster. Him switching platforms is like LeBron leaving the NBA. Except imagine the NBA being single handily carried by LeBron. No Kevin Durant, no Kawhi, no Harden, no Steph. It's like if the NBA's 2nd biggest star was DeMar DeRozen.
The biggest question that I've tried to solve all day is how much money did Ninja get paid by Mixer (owned by Microsoft) to leave Twitch (the NBA of gaming in this analogy).
There was this now deleted tweet from a Twitter account of 250k followers that clearly is respected in the gaming world. 6 years $932 MILLION. IMAGINARY MONEY!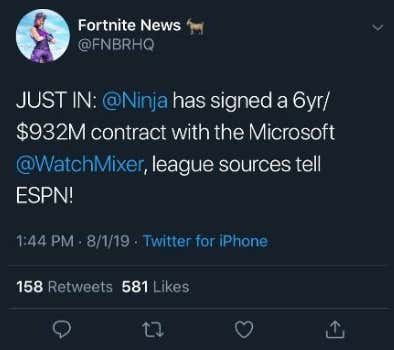 As wild as that number appears, when you consider how huge the gaming world is right now and how fast it's growing, it's not out of the question. Ninja has over 14 million subscribers on his channel with Twitch. The next closest is at around 6 million. I mean to pry that big of a fish away would take some serious money. Probably not a BILLION, but $100 million would not shock me in the slightest. It's just a different world now.
Anyways, remember to follow along on Barstool GameTime. I think Carrabis and I will be streaming during Yankees/Red Sox tomorrow night so that should be…fun