Patriots Draft Preview: Defensive Tackle
March Madness is in full swing. The Celtics and Bruins are heading into the playoff stretch. Baseball Opening Day is almost upon us. The Masters is just around the corner. And before you know it the city will be overrun with thousands of nobodies angry over the fact that we don't care that they can jog for a long time. Which can only mean one thing: It's time to get ready for the NFL Draft.
And time for a tradition unlike any other: Patriots draft previews on Barstool. The Draft is 30 days away, and you save yourself a lot of time and pointless aggravation by doing all your previewing here. Because in the time I've been doing these, I've amassed a track record of correct picks that's better than any draft pundit, guru or -nik you can name. In the last four drafts I've correctly identified 6… S-I-X… Patriots picks before they happened. I defy you to name anyone on Earth not on the Patriots scouting staff who has even come close.
Sure, I hear the doubters. The slapdicks who say I just repeat what Mel Kiper Jr says or claim I'm just doing some parlor trick or something. People who say I don't know what I'm talking about and I just pull lucky guesses out of my ass. Hell, last year my own brother told me I was off my rocker for suggesting they'd take a particular linebacker, who just so happened to be Dont'e Hightower. Like Rudy told Father Cavanaugh, my whole life people have been telling me what I could do and couldn't do. So go ahead. Keep reading your national "experts" who told you they'd go after Julio Jones or whomever while I was telling you they'd take Nate Solder, if that's what you want. But if you want a look into the heart, mind and grey-hooded soul of Bill Belichick, you need go no further than right here.
I'm starting as always what I see as the area of most immediate impact: Defensive Tackle:
Current Roster: Vince Wilfork, Kyle Love, Brandon Deadrick, Justin Francis, Marcus Forston, Armond Armstead, Tracy Robertson
Positional Overview: Defensive tackle is a position the Pats haven't shored up through the draft in years. Since Wilfork miraculously fell into their laps in 2004, they've drafted exactly two DT's in the top 200: forgotten non-factor Kareem Brown in '07 and crushing disappointment Ron Brace in '09. Granted, Kyle Love has been a revelation and Deadrick has his moments filling in. But the biggest need… one they've neglected… is for an interior pass-rusher. They brought in Jonathan Fanene last year and that worked out so well they're now suing him for his signing bonus money. Jermaine Cunningham moved inside quite a bit and was the most improved player on the team until he tested positive for whatever substance improved him. Francis played on passing downs and showed flashes of being able to penetrate and apply pressure. But the answer isn't some undrafted free agent out of Rutgers. Nor is it some Johnny One Note specialist. Playing D-line for the Patriots requires versatility. It means you can rotate in and out. You can move inside and out in their 4-3 "under" front. Slide from 1-technique to 2-shade to 3-tech and even to strong side end from one down to the next. To be able to play 2-gap to stop the run but still be able to penetrate as soon as you read pass. And with the way the Pats utilize all their lineman, anyone who can do all of the above can play significant reps and contribute right away. What they need is a talented, athletic, hard-to-block blue-chipper who'll still be available when their turn comes at 29. The good news is that the 2013 draft appears to be loaded enough at the DT spot that they can find an impact player where they are. God willing.
Tackles They'd Love to Have But Who'll Be Out of Their Reach:
Star Lotulelei, Utah. 6-3, 311
No matter what scouting source you use, the report on Lotulelei is always the same. He comes from Tonga, he's married with children, he's a better player than his stats would indicate because he faced so many double and even triple teams, and he regularly rag dolls offensive linemen. His highlight reel looks like the parts in "The Avengers" when Hulk tosses Chitauri around. The other word you hear with him all the time is "raw." But talent like his doesn't get past the top ten in the draft whether it's cooked or not. Best case scenario with Lotulelei is he turns out to be Ndamukong Suh. Worst case is he ends up high-diving next to M-List celebrities on Season 5 of "Splash."
Sharrif Floyd, Florida. 6-3, 297
Floyd has everything going for him that would make him an ideal Patriot. He's a product of the Florida Belichick coaching tree. He's played every position on the Gators' line. He had a phenomenal Combine, running a 4.87 40 with a 1.68 10-yard split. He's played everywhere on the line. He was suspended once but it was for one of those asinine NCAA rules no one cares about. His intangibles are off the charts, with a "Blind Side"-like personal story. But his chances of slipping past the Top 15 are as realistic as that part where Sandra Bullock goes to the ghetto and bitches out the crack dealer.
Sheldon Richardson, Missouri. 6-3, 294
There's some disagreement over whether Lotulelei or Lloyd is #1, but it's almost unanimous that Richardson is right there behind them in the 3rd spot. He was ridiculously productive for an interior lineman: 75 tackles, 10.5 for loss, 4 sacks, 3 forced fumbles, a blocked kick and a 60 yard fumble return. That's a college career for some ends, and he did it all in 2012. The problem is 2012 was his only standout season, so the "one year wonder" doubt puts him just behind the others. But his performance playing DE against Alabama, when he assaulted sure-fire 1st round O-Tackle DJ Fluker for 14 tackles and a sack, should remove all that doubt.
Consolation Prize for Whomever Doesn't Get One of Those Three:
Johnathan Hanking, Ohio St. 6-3, 320
He's more of a stout, point-of-attack run stuffer type who overpowers people than an athlete who'll be all over the backfield. Still, he's a 3-down player who hates to leave the field, though the conventional wisdom is that wears him down and late in games he gets fatigued. He had a decent showing at the Combine but none of the scouts will be telling their grandkids about it.
All the DT's Named Williams Who Should Go in the Late 1st or Early 2nd:
Jesse Williams, Alabama. 6-4, 323
It's hard not to watch Jesse Williams or read about him and not see him being a perfect Belichick guy. For starters, he's right off the Nick Saban Limb of the Belichick Coaching Tree. He was the 0-technique nose tackle on the National Championship No. 1 defense in the country. He's been well coached so his fundamentals are flawless. He's got the kind of background the Hooded One is a sucker for: born in Brisbane, Australia, he was a rugby player until the U of Hawaii caught wind of him. He didn't have the grades so he went to community college and dominated at that level to the point every major program was after him and Bama got the final rose. He came to the Tide as a junior and played end before moving to the nose last year. And, he was voted captain, which is Belichick's type. The only issue is fit; the Pats' priority should be pass rush, and this particular Williams is more in the Wilfork mode. A gap-stuffer who'll occassionally overpower a blocker and slip in, but it's not his strong suit.
Sylvester Williams, UNC. 6-3, 313
Sylvester is a 1st Round talent, but the question with him is consistency. In 2011 he benefited from having Quentin Coples next to him. And even when Coples went pro, Williams came out of the gate in 2012 on fire, putting up 5 sacks in the first six games. But then opponents caught on, started game-planning for him and he only had 1 sack in the second half of the season. Still, he's considered the best pure tackler out of this crop.
Brandon Williams, Missouri Southern. 6-1, 335
Brandon acquitted himself about as well as you can in the dog-eat-dog world of the Mid-America conference. And that's not a knock. The guy dominated to the point of an incredible 27 sacks. But it's very un-Belichickian to draft D-lineman whose biggest competition was Ball State. He's massive and powerfully built, and his strength seems to be winning battles in confined spaces (think the bathroom fight in "Bourne Supremacy"), not shedding blockers and pursuing.
Massive Space Eaters from Georgia:
John Jenkins, Georgia. 6-4, 359
Kwame Geathers, Georgia 6-5, 355
If Wilfork decided to retire, or left as a free agent, or was doing a life sentence for killing Ted Johnson with his bare hands, you could almost see New England taking a mid-round shot at one of these two. Or if they had the extra picks this year. But fat guys who clog the middle aren't a priority right now. In the meantime, the athletic complex at Georgia must've just laid off half their kitchen staff.
Three Day 2 Guys the Pats Could Easily Take a Flyer On:
Bennie Logan, LSU. 6-3, 295
Kind of overshadowed by teammates Barkevious Mingo and Sam Montgomery, but Logan was a solid and consistent, especially in the passing game. He has arms like pool skimmers which would help a Front-7 that doesn't bat down a lot of passes.
Jordan Hill, Penn St. 6-1, 303
Hill was that undersized, short-armed, marginally-athletic overachiever that coaches love. And who stuck around to play under Bill O'Brien under impossible conditions. It's not hard to picture The Hood taking recommendation from BOB on Hill the way Mike Vrabel talked him into taking Nate Ebner last year.
Corey Grissom, South Florida. 6-1, 306
I know two things about Grissom, and I like them both. One, Belichick was down at USF working him out personally last week. And two, his nickname is Porkchop.
Best Name:
Jose Jose, Central Florida. 6-2, 345
He didn't work out at the Combine and might not actually exist, but I want him regardless. If by some miracle Jose Jose ends up in New England I'm personally taking him to go see Phillip Phillips. Or Rochelle, Rochelle. Maybe talk about Pete Peters and Sirhan Sirhan.
Small School + Character Issues = No Chance
Montori Hughes, Tennessee-Martin. 6-4, 303
It says everything about Hughes he was academically ineligible for U of Tennessee of all places. Instead he went to a military academy, got accepted back to the Vols, then got kicked out and ended up at T-M. He dominated FCS-level competition there (duh) but more importantly looked very good against the elites at the Senior Bowl. If he's not a Jet at the end of this draft I'll kiss Rex Ryan's feet.
Perfect Patriot:
Jesse Williams. It all just adds up. The kid has the experience, the versatility, the coaching, the leadership and the intangibles. He's the prototype of a Belichick guy. Except for one thing: They need pass rushers, and he's more of a 2-down player. If they feel he can contribute on 3rd downs as well or if I'm nuts and they're perfectly happy with their ability to collapse the pocket, he's ideal. But I'm saying they're looking for something else. Which is why I'm going with:
Whom the Patriots Will Pick:
Kawann Short, Purdue. 6-3, 300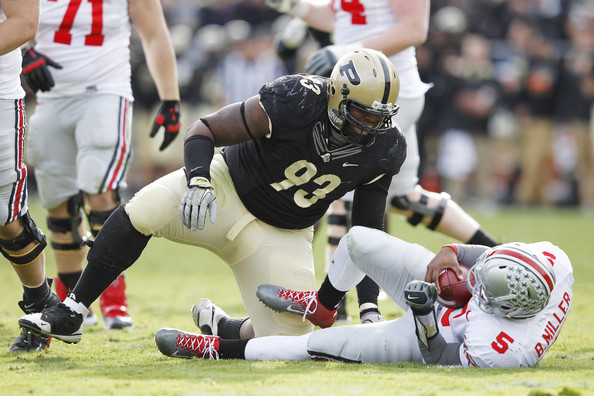 (Note: I could've used a picture of him crushing a Notre Dame or Michigan QB, but the Patriots are the place where Barstool staffers find common ground.)
Short is the consensus best interior pass rusher in this year's class. But he's no One Trick Pony. He could stand to add some sand in his pants but has the upper body strength and hand-combat skills to be effective against the run. He's 2-gapped for the Boilmakers as well. He's got 34 3/4" arms to free himself from blockers and disrupt passing lanes. He's also not a total stranger to dropping into coverage. Early in his career he benefited from playing with Ryan Kerrigan (16th pick by the Redskins in 2011), but Kerrigan is on record as saying it was Short that made him better. After Kerrigan went pro, Short took over the leadership of the D and was voted captain two years in a row. The Patriots have always put a premium on guys who finish school and Short has already graduated. If you're looking for a coaching connection to New England, his head coach was Danny Hope, who in an earlier stint at Purdue was Matt Light's position coach. Not only is Short expected to still be on the board at 29, they could probably move down into the early 2nd round, add a pick and still get him. Kawaan Short and the Patriots: The perfect marriage of ability and need. You heard it here first. @JerryThornton1