Mr. Kraft Met with the Emir of Qatar at the White House. 'Scandal,' My Ass.
Source - The bromance between Robert Kraft and Donald Trump is back on — because the New England Patriots owner was front and center at a Trump dinner in D.C. on Monday.
78-year-old Kraft sat at Trump's table for a special dinner at the Treasury Cash Room honoring Sheikh Tamim bin Hamad Al Thani, the Emir of Qatar.
The dinner was intended to show the Emir that the U.S. wants to work with his country — so Trump rolled out some of the biggest names in business for the event. …
Kraft was joined by Goldman Sachs exec Dina Powell and International Monetary Fund honcho Christine Lagarde.
Ivanka Trump and Jared Kushner were also on hand — along with Treasury Secretary Steve Mnuchin.
"This is a who's who of people in business," Trump told the room, according to The NY Times.
Well, this is interesting. I don't claim that I have a firm grasp on Middle East politics. (Or anyone else for the last 2,000 years or so, for that matter.) But when you're the President of the United States hosting the Emir of a monarchy in the Persian Gulf, you invite not only the best and brightest business people you can. Including the man who just last month was in Israel being awarded the "Jewish Nobel Prize."
But of course POTUS is going to invite Mr. Kraft. Just like he did when he hosted the Prime Minister of Japan: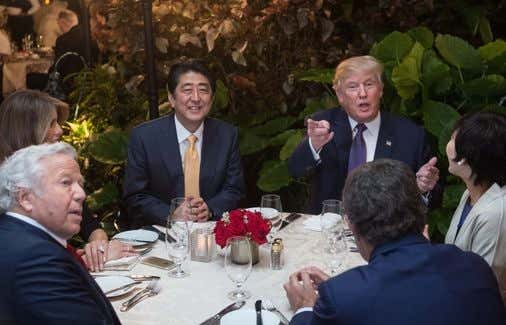 International relations are all about making a good impression. Of showing these foreign dignitaries the best the United States has to offer. Mr. Kraft is the human version of the nice china with the crystal stemware you break out when you have the in laws over. Of putting on that shirt Nana gave you for Christmas to show you're trying to look your best.
According to my crack research team (Wikipedia), Qatar is the richest per capita nation in the world and "classified by the UN as a country of very high human development and is widely regarded as the most advanced Arab state for human development." You're not going to impress the leader of a country like that with just just your garden variety tech billionaires and a handful of ordinary venture capitalists. To put our sometimes great country in the best possible light, you need the best possible businessman. Someone who's built an empire and can walk among kings as easily as he does athletes, movie stars, rappers and the common man.
Funny thing though. Wasn't it just a few short weeks ago that we were hearing Mr. Kraft's time in the public eye was just about over? Wasn't he involved in something that supposedly he would never come back from? Weren't TV dopes like Bart Scott demanding that he be forced to sell the team he built into a dynasty and that they should lose all their draft picks over something-or-other?
Oh, right. I almost forgot what it was. But I guess it doesn't matter now. Now that he's once again being America's Ambassador Without Title. That he's respected in the halls of power and the seats of government around the world. Everywhere, it seems, except among the grandstanding, crooked Boss Hoggs and Sheriff Buford T. Justices down in Death's Waiting Room, FL. But when you're busy building bridges between nations and working toward world peace, who's got time for them?