A Day At The Encore Boston Harbor
Let me preface this blog with the fact I am not a casino guy nor a big gambler in general. I've walked through some casinos in Atlantic City and snuck into a Manny Pacquio fight at the Venetian in Macao but have never even been to to Las Vegas. However, when your grandma hits the Big 1-0-0 and says she wants to celebrate by playing slots at the brand new Encore Boston Harbor Casino, you hit the ATM, grab the keys, and head to Everett. Here are my first impressions.
LOCATION:
Prior to the opening of this casino I knew next to nothing about Everett except for the fact that I didn't recall it being on Boston Harbor and as it turns out, it isn't. The Encore Boston Harbor Casino is actually on the Mystic River at a site once occupied by four chemical plants that would make sulfuric acid to dye textiles and then dump their excess toxic waste in the river. Infographics on the boardwalk outside the casino remind you that before Wynn resorts invested 68 million dollars to clean up the site, the shoreline of Everett used to be Massachusetts's very own slice of Chernobyl
68 million dollars can work miracles though and I must say the the grounds of the casino as well as it's waterfront now look pretty damn snazzy. And while it's not technically in Boston harbor, water shuttles are available to take passengers to and from Boston's Seaport and Long Wharf for $7 bucks each way.
But other then getting cancer, what else did people use to do in Everett before the Casino. Lets ask local Tony Ramond, who was interviewed by the Union Leader about his thoughts on the new casino in his hometown.
"Destination Everett!" said Raymond. "This is our hometown. We used to drink beers in the marsh and run from the cops. Now we're on the map."
Drinking beers in toxic marshes and running from cops. Thats what EVERETT DOES. Or did. Now they can take the money they earned in their Erin Brokovich-esque class action lawsuit and flush it down the slots. Needless to say, the casino is a welcome addition to the town.
The CASINO:
The resort and casino cost 2.6 BILLION. John Wynn is pretty much John Hammond in Jurassic Park (if John Hammond had multiple sexual misconduct allegations) in that he SPARED NO EXPENSE. Cue the music!
With that type of investment, it's no surprise the place is pretty damn snazzy. Don't believe me take it from Grandma
(PHOTO CRED: WCVB BOSTON)
(PHOTO CRED: WBUR)
When it comes to the gambling, all the tables had at least a minimum bet of $25 with a bunch of min $50 and $100 tables too so you can get in a HOLE fast. I was hoping for some $10 tables for us more casual gamblers but that wasn't the case.  On my way to the slots with Grandma I played one hand of black jack and lost $25 in 15 seconds and then on my way back from the slots I played one hand of blackjack and won back $25 in 15 seconds. However, I didn't come out even on the day as I lost about $40 bucks cranking levers and mashing buttons on the slots. Grandma claims she came out on top $20 but honestly who knows, I saw her FUNNELING cash into those machines. It still boggles my mind that people enjoy being inundated by flashing lights and ringing sounds all while flushing money down the drain with the simple push of a button, but whatever makes my Grandma happy, makes ME HAPPY. 
To be fair I think my experience was hampered by the fact I was trying to detox from 4th of July so was stone cold sober. I would rank "sober in a casino" in my top 5 scariest places on earth so I may have had more fun if I was 6 vodka sodas deep.
THE CUISINE
The Encore Boston Harbor is packed with 15 different world class bars and restaurants including a fancy Frank-Sinatra themed Italian spot called "Sinatra", which can also be found at the Encore in Vegas.
I only had a chance to sample one spot though so stayed on brand and had lunch at Red 8, an upscale Chinese restaurant that can also be found at all Wynn Casinos. I regret inform you, that the GOONS were lackluster.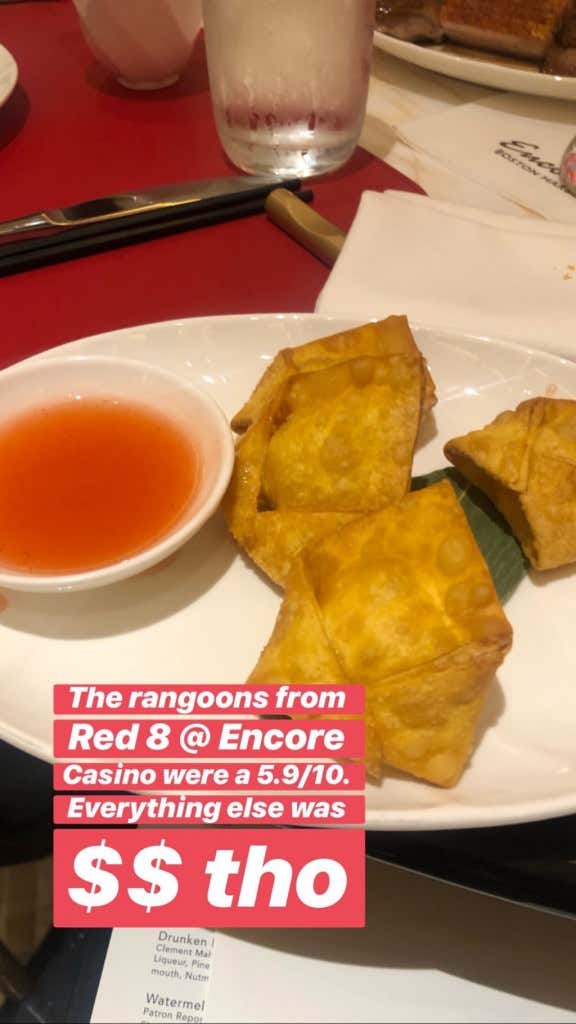 However, all of their authentic Chinese food was delicious. Tasted just like the dishes I eat back in China. Below is a photo of their Hong Kong BBQ platter.
And if you want to try authentic Shanghai soup dumplings the ones at Red 8 are $$$$.
Only difference is that in China you get 8 for 2 bucks and here you get 3 for 9 bucks. The casino may make more off their soup dumpling margins than old people at the slot machines.
THE INTANGIBLES
– I never made it to their Mémoire Nightclub so can't comment on the nightlife options. Let me know how it is if you go.
– Where the hell is the pool? I've seen ZERO mention of a pool in anything I've read online and didn't see one anywhere on the premises. I was pumped to go to Vegas style pool parties a stone's throw from Boston every summer but it doesn't seem like that will be happening. At the very least a resort this fancy should have a nice indoor pool but I don't even know if they have that. Come on guys! I don't love to gamble but you give me a solid spot to go hippo mode and this would have been a glowing review start to finish. I'm a simple man.
CONCLUSION
If you've been to the Encore in Vegas and enjoyed yourself, you'll enjoy yourself at the Encore "Boston Harbor". If you're a degenerate gambler in the Boston area, you'll love the convenience of this place. If you find casinos depressing, you'll find this casino depressing too!