New MLB Pipeline Rankings Are Out, Luis Robert Flies Up Rankings To #5 Overall
The new MLB Pipeline rankings are out, and there was some movement at the top of the list.  Tatis, Jr., Eloy and Vlad, Jr. all graduated from prospect status, while some flew up the ranks and others plummeted.  Let's take a look at where the White Sox sit in the rankings:
#5 Luis Robert:
Luis Robert is MURDERING the ball this year.  I had mentioned it before, but last year Robert hadn't tapped into his raw power…. at all.  He was injured a lot of the year but he also didn't hit a single dinger in about 200 plate appearances in HiA.  The raw power was the there, the in game power wasn't.
That has changed this year.  He's on pace for about 30 dingers over the course of the rest of the MiLB season, has 12 already, and his power output outside of just hitting the ball over the fence has been nothing short of absurd…
…and this is in a pitcher's paradise, the AA Southern League.  That's a league where hitters go to die.  Well Robert is fucking killing the ball there and it's caused fans to call for his promotion to Charlotte.  I'm of the opinion Robert should spend the entire year in AA.  He'll see a lot "nastier" pitching in AA.  There aren't any 32 year old journeymen in AA like there is in AAA, there's just a ton of 23 year olds who throw 97 with cut.  They just don't know where the ball is going quite yet.  That's what makes what Robert is doing in AA all the more impressive.
#16 Michael Kopech:
Kopech is coming along justtttt fineeelllyyy in his Tommy John recovery.  He'll be back and ready to go full bore when pitchers and catchers report for 2020 spring training and will slot right back at the top of the White Sox rotation.  Can't wait, this kid can spin it.  I mean that literally.  In his handful of starts in 2018, his fastball's spin rate averaged 2559 RPMs compared to about a 2200 RPM league average, per Baseball Savant.  That is elite in every sense of the word.
Not all fastballs are created equal; some are perceived different by the hitter when it comes out of the pitcher's hand.  Kopech has a grade 80 fastball, but he also has grade 80 spin.  His 98MPH fastball looks about 110 to the hitter.  In the new age era of upper put bat paths, Kopech is going to miss a billion bats a year by throwing the ball over hitters' bat paths up in the zones.  Pair him with Giolito and Cease and that's a formidable top of the rotation for a LONG time.
#18 Dylan Cease:
Sox fans really, really want him up right now because they're within striking distance of the 2nd wild card.  I get fan's excitement, because I'm excited too.  I want him in the rotation taking his big league lumps now so he can hit the ground running starting in 2020.  But the White Sox have a very specific plan for each and every prospect and they will NOT divert from that whatsoever.  They want to be absolutely sure that each of their best prospects are ready for the highest stage when they're called up.  And Cease clearly isn't quite yet:
Reynaldo Lopez: 27 AAA starts, 154 AAA innings pitched
Lucas Giolito: 31 AAA starts, 165 AAA innings pitched
Michael Kopech: 27 AAA starts, 141 AAA innings pitched
Dylan Cease: 12 AAA starts, 58 AAA innings pitched
No matter what the instance is, Cease will probably be up sometime in late July after another 8 starts or so.  That's my guess.  Never the less, he's yet another pitcher with TOR shit.  I cannot fucking wait for him, Gio and Kopech next year.  It's going to be the best TOR in the division with the Indians probably selling and the Twins losing Odorizzi and whoever else next year.
#40 Nick Madrigal: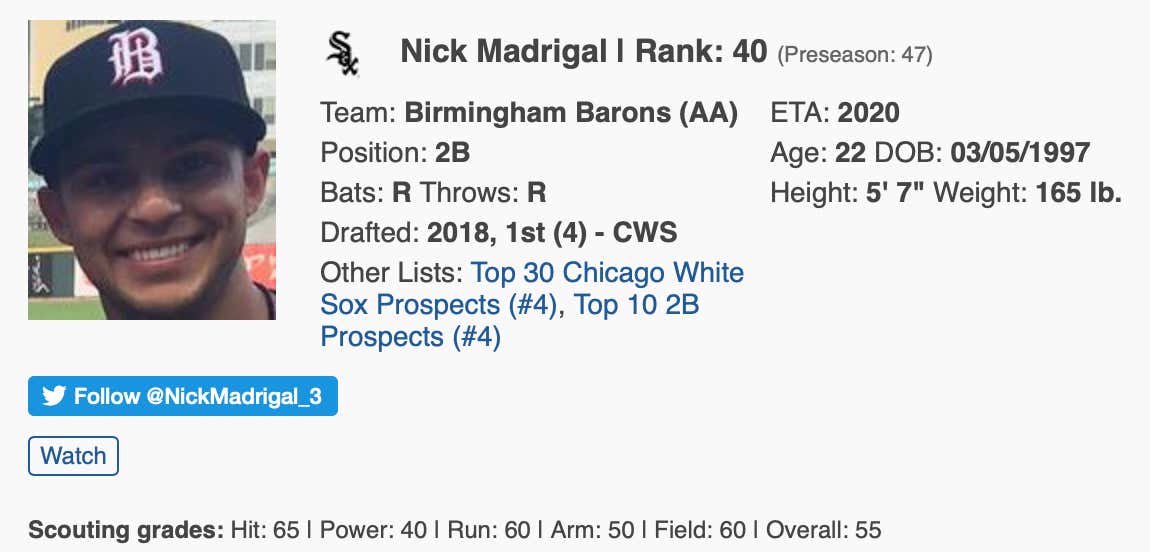 Ahhh the most polarizing White Sox prospect.  Is Nick Madrigal going to turn into someone like Whit Merrifield or is he David Eckstein?  Obviously you don't want to draft David Eckstein with the 4th overall pick.  Fuck that.  You want someone with star potential when drafting that high, especially when the Sox are going to be somewhere around the 15th pick next June.
Nevertheless, Madrigal is putting together a really nice season in AA proving myself and other doubters kinda wrong:
7 strike outs in about 250 plate appearances is so fucking mind boggling.  I don't think Mike Trout or anyone else in the Big Leagues right now could do that over the course of 250 plate appearances in HiA and AA.  That's how insane Madrigal's ability to make contact is, and why I think his production will translate level to level.  Now if over the course of a 162 game big league season Madrigal slashes .300/.360/.400 with 35+ stolen bases and a lot of doubles and gold glove defense, we're more than happy.  That's a really, really solid big league player.  Maybe not a star, but someone who will help win a lot of games, whether he's hitting leadoff or 9th.
His showing in AA right now has me really inspired.  I would expect him to end 2019 in Charlotte and be up sometime in early 2020.
Andrew Vaughn, Not Ranked (yet) 
I haven't seen Vaughn play much but from everything I've read, he'll
1. be ranked somewhere in the top 30 and
B. will FLY through the system
That's how polished his bat is.  I hope once he signs he's assigned directly to HiA Winston Salem and skips LoA completely.  I am not for rushing prospects or being frugal with them, typically.  I want most of them to develop individually.  The White Sox are operating in that manner; some players ascend quickly, others don't.  It's up to the player to produce to earn a promotion.
That said, I want the White Sox to be much more aggressive with Vaughn than they typically are.  I'd like to see him in Chicago sometime in mid-2020.  His bat plays and he's a fine fielder as a 1B.  Nobody knows what's going on with Abreu at this point yet, but Vaughn is the obvious heir apparent.  He *should* be a middle of the order bat with his combination of contact skills and power for a LONG time.  Maybe a little bit of a poor man's Eloy.  But hitting Eloy, Vaughn, and Moncada all next to each other will be lethal for pitchers.
We're getting closer!  This team is so goddamn close to being great I can taste it.  Take a look at this lineup:
1. Robert CF
2. Moncada 3B
3. Vaughn 1B
4. Nick Castellanos/JD Martinez/Free agent DH
5. Eloy LF
6. McCann/Collins C
7. Anderson SS
8. Free agent/trade RF
9. Madrigal 2B
then Giolito, Kopech, Cease, (Cole Hamels? Alex Wood? Both?) Rodon (In July-is) and an already good bullpen
Good times, they are ahead