Cardi B's Ass Split Her Jumpsuit In Half At Bonnaroo, So She Performed In A Bathrobe
Source - Cardi B's rainbow-colored jumpsuit couldn't take the pressure of a full concert worth o' booty shaking, but she made sure the show went on … slightly more covered up.
The rapper had just taken the stage Sunday night at the Bonnaroo Arts and Music Festival when — a couple songs into her set — she suffered a wardrobe malfunction … a split right down the middle of her ass.
Cardi left for a few minutes after announcing her outfit had ripped, but after the crowd entertained themselves by singing "Old Town Road" … she reemerged in a white bathrobe and declared, "We gonna keep it moving, baby."
Even with her setback, Cardi's set was a super quick 45 minutes, but was jam-packed with all of her hits … including "I Like It," "Money" and "Bodak Yellow" to close it out. She also vowed to "keep it sexy" and managed to do so … even in a robe.
What a professional! Name one other artist who would twerk her costume in half and still go on with the show. You can't. The rip wasn't nearly as bad as they're making it seem, but it's still impressive. Speaks volumes to her level of commitment/how comfortable she is being nude on stage. Let's take a look at the suit:
Can't say I'm surprised it ripped. Like I said, it wasn't too bad, just a little peek-a-boo crack, but it was enough to make her stop the show and come out in something far less revealing…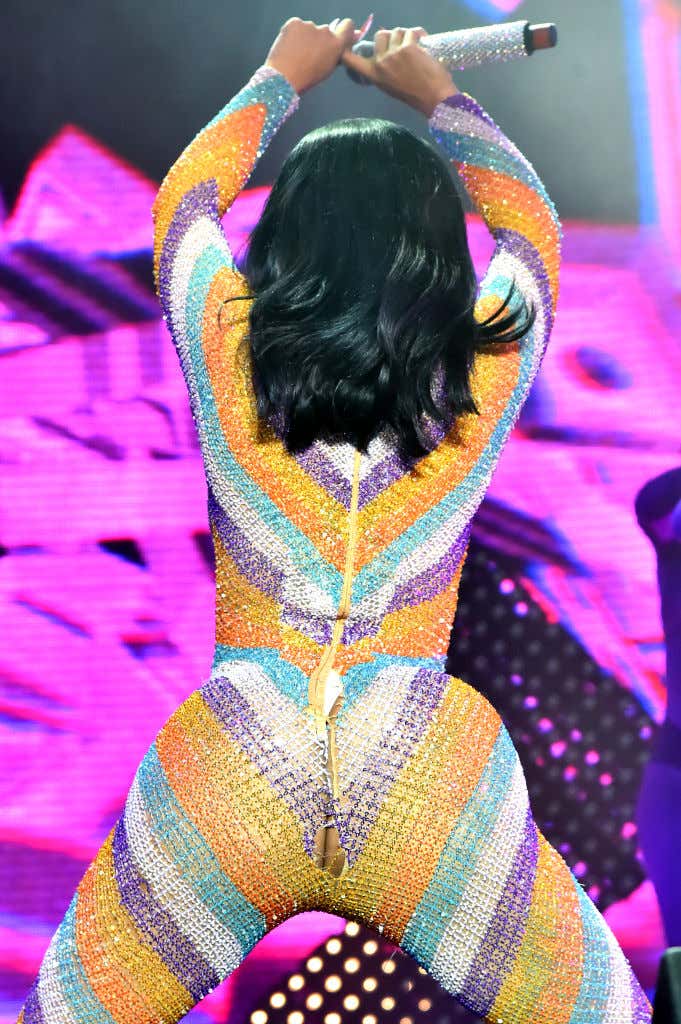 .
.
.
.
.
A bra and panties loosely covered by an oversized robe.
More power to her. Money hasn't changed Cardi and I doubt it ever will. If she was smart she'd invest some of it in double-stitched seams for her wardrobe, but to each their own. Regardless, the concert looked like an awesome time.