Facts Only: Northwestern Will Be Your 2020 NCAA Men's Basketball National Champions
First of all–everybody needs to watch out once Big Cat drops the sympathy pregnancy weight because he's going to come back looking as sculpted as ever. Granted, this is like when girls make sure to take pictures with ugly friends because it makes them look so much better. But compared to Rovell, Big Cat looks like Drago.
Second of all–
BOOM.
That's right, folks. The Northwestern Wildcats are your 2020 NCAA Men's Basketball National Champions after adding Pat Spencer to the roster. For those of you who are unfamiliar, Pat Spencer just wrapped up one of the greatest careers in college lacrosse history at Loyola. He just won the Tewaaraton Trophy which is the lacrosse equivalent to the Heisman. He finished his college lacrosse career as the all-time leader in assists and 2nd all-time career points leader. And he's known for scoring absolutely preposterous goals like these ones right here.
So he's got the shakes. He has the handles. He has the hops. And now he'll be making the move from DI college lacrosse to DI college basketball. Where you can expect him to continue dominating other college athletes like he's been doing for the past 4 years.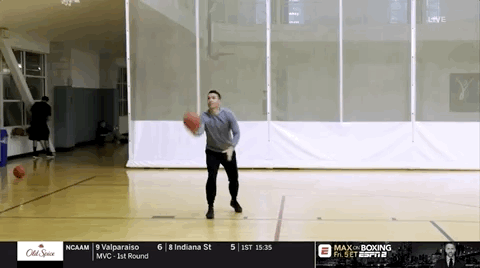 And now the entire nation is officially on notice. I've long said that Pat Spencer wouldn't end his collegiate career without a national championship. I always figured that Natty would come on the lacrosse field, but things didn't quite turn out that way. Which means that he'll just have to get that ring with the Northwestern Wildcats next year. That much is a certified fact.
It'll just be interesting to see where things go from there. He was the 1st overall pick in the inaugural PLL Draft. And after leading Northwestern to a national title, you figure at least one NBA team will take a chance on him. So could he become the next Bo Jackson and play both professional lacrosse and professional basketball? It's not out of the question. Because this is Pat Spencer's world, and we're just living in it.