Quick Update On The DJ That Was Arrested For Drinking At An Event To Prevent Drinking: Says He Wasn't Drunk Because There Are No Videos Of Him
A disc jockey at a Kentucky high school's Project Graduation was arrested Sunday after authorities say he was drunk at the event.
An arrest citation says Denis Ray Rhodes of Loveland, Ohio was charged with drug and alcohol-related crimes during the event at Oldham County High School.
The Oldham County Sheriff's Office said it received several complaints from bystanders accusing Rhodes of being intoxicated around hundreds of students. Deputies said he was slurring his speech, staggering and smelled strongly of alcohol.
Deputies say Rhodes would admit to law enforcement he was drinking vodka during the event, and they found it in a sports drink bottle. He was also possessing a marijuana vape device with residue inside.
Project Graduation is a program which provides adult-supervised, alcohol-free activities after students graduate.
So now our guy Denis has taken to the media to defend himself. And let me tell you what. He brings up a couple of valid points that's impossible to argue. Let's start with the first piece of evidence. Or should I say lack there of:
In a report, deputies said he smelled strongly of alcohol and was slurring his words.
"And stumbling around," said Rhodes.
"Were you?" we asked.
"No!" he said emphatically. "No, I was not stumbling around. I truly believe, these are high school kids, if they would have seen me stumbling around and looking like an obvious drunk, I'm certain, in this day and age with all these video cameras, there'd have been videos and pictures of it, and there wasn't any."
This is perhaps his best leg to stand on. It's 2019. We take videos and pictures of everything. We're trying to capture the viral moment. A DJ hammered at an event preventing drinking would go viral in an instant. But there are no videos of it (yet). Score one for Denis here.
Evidence No. 2:
"I did spend four years in the Marine Corps. I know what zero tolerance is, so I'm just hoping that they'll see it was a bad judgement error, but I'm not a habitual criminal," said Rhodes. "And looking back on it, I, I know, I know what I did wrong as far as possession of the alcohol."
Uh, hello. He's a veteran. He knows what zero tolerance means. He's owning up to possessing the alcohol in the Gatorade bottle, which is still just a smart move. We'll get to that in a second. But, you're telling me we can't trust a veteran now? Look at these guys and tell me you can't trust them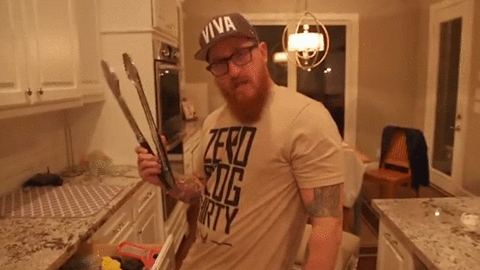 Another point for Denis.
And finally his last piece of evidence to defend himself?
He's charged with public intoxication, drinking in public and possessing drug paraphernalia, a CBD oil pen.
"I was really nervous, but I never pulled it out, I never took a hit on it, it was just CBD oil pen," said Rhodes, who did not even know it was in the pocket of his jacket.
"It's a CBD vape pen, I have no idea how the marijuana residue works, I ordered it online and have had it for a few months. I don't know if CBD tests positive for marijuana or not, no clue," said Rhodes.
Now, that's just a lie. I mean that's the biggest lie I've ever seen. You don't sit here and get a CBD oil pen and pretend you don't know how it works. You do research at a minimum. Why else are you buying it? Someone just randomly told you to and you buy it? Come on, Denis. Just own the CBD and weed.
I still stand with Denis on the drinking. You're at a high school event – everyone puts some vodka in Gatorade at that level. That's just what people do and Denis was calming his nerves with some drinking. There's no videos so there's no crime.
I said it before and I'll say it again. The only crime is spelling his name Denis.