Tom Brady Is Now Suing Pro Lacrosse Player Trevor Baptiste For Having The Same Initials As Him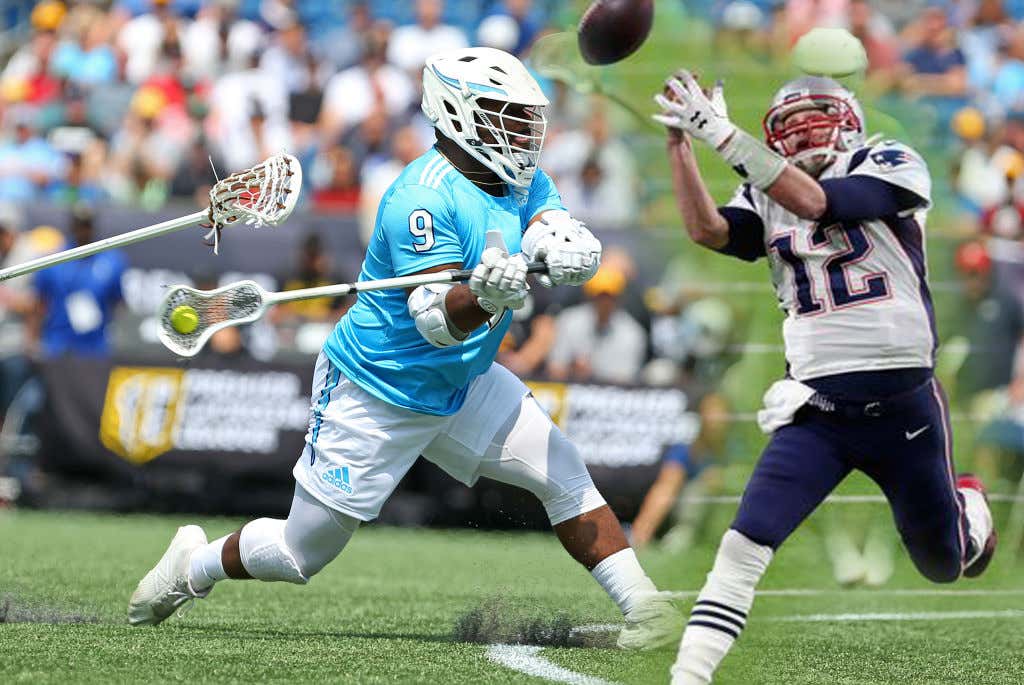 ProFootballTalk - On Thursday, Tom Brady explained that he has sought trademark protection for the "Tom Terrific" nickname as a defensive maneuver, gobbling up the rights to the term to ensure that others won't use it and profit from it, in relation to Brady. That's not the only strategy that Brady's lawyers have utilized to advance his interests.
Per a source with knowledge of the situation, the lawyers representing TB12, Inc., Brady's "cutting-edge training, nutrition, apparel and lifestyle company," sent a cease-and-desist letter earlier this year to block the use of "TB9" by Trevor Baptiste, a professional lacrosse player who wanted to place the "TB9" logo on a lacrosse stick for marketing to other lacrosse players…Arguing that "TB9" will cause consumer confusion, the lawyers requested on behalf of TB12 that Baptiste discontinue using the TB9 name and logo. Baptiste complied.
***BREAKING NEWS***
It appears as if Tom Brady now owns the initials "TB". Never again in the history of the human race will anybody else ever be allowed to have those initials unless they want to feel the full wrath of Tom Brady and his lawyers.
Ted Bundy? See ya later, dink.
Tori Black? Take a fuckin' hike.
The Boogeyman? You're not even half as scary as Tom Brady's lawyers, bitch.
If your initials are TB, you can expect a cease-and-desist in the mail from Tom Brady today. ESPECIALLY if you're a professional athlete and just so happen to throw your number at the end of your initials to market yourself. It doesn't matter if it's a completely different number than the number 12. Now I do wonder if there's a specific legal precedent set here about numbers that are multiples of the same number. Because 3 goes into both 9 and 12. Do you think that maybe Trevor Baptiste would have a case if his number was 7 or something like that? Because maybe this whole "consumer confusion" that Tom Brady's lawyers are thinking about is that if Trevor Baptiste's "TB9″ is just a 3/4 knockoff brand of Tom Brady's "TB12″. You wouldn't have that confusion with TB7. But I digress.
Either way, this is a great sign for the sport of lacrosse. Because it shows that the sport has officially arrived. Tom Brady is one of the biggest names in sports. If he's not the most popular athlete in America, he's damn near the top 5. And if he's so afraid of Trevor Baptiste coming in and taking the "TB" initials away from him that he needs to run and cry to his lawyers? Well that means that lacrosse is a legitimate threat now to football in terms of popularity. There was a time not too long ago where a guy like Tom Brady would have never even heard of Trevor Baptiste before. And now he's lawyering up to stop him from being so dang popular. All I'm saying is that you don't C&D nobodies. Just think about what ESPN sending a cease-and-desist to Pardon My Take did for those guys.
Speaking of Pardon My Take and the sport of lacrosse continuing to take over, make sure you listen to today's episode of PMT featuring Premier Lacrosse League co-founder/player Paul Rabil.
P.S. – I love this idea and I just hope the American judicial system will allow it.