Judging The NHL Draft Prospects Based On Their Hair
First of all…dear white guys…we gotta stop taking these pics lest we be roasted by the internet
That picture above tweeted by the NHL prior to Game 4 of the Stanley Cup Final gives a little window into who these kid are off the ice. Their personality, their preparation, how they see themselves. Stuff that many scouts probably overlook. Not me though. I am in it for the details. Let's break down who is doing what with their hair and what it means.
Jack Hughes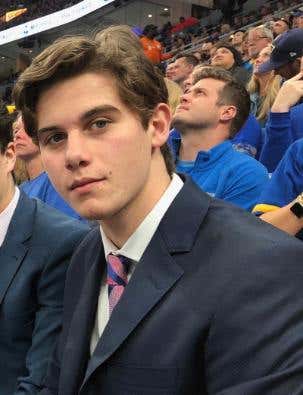 This cocky motherfucker. He is going number one. We all know that. And you know who else knows it…Jack fucking Hughes. He looks like a prep school kid who knows his whole life is taken care of. Like yeah, I have an internship this summer and my dad's VC firm so I have to keep it clean cut, but I also don't really give a fuck. Kinda dead behind eyes, probably didn't turn a paper in all of second semester, but still somehow managed A's…hmmm. Also probably didn't sell drugs himself, but always had good drugs. Not saying Hughes is a drug guy, for the record. Just saying that his haircut is an entitled prep school drug kid.
Kaapo Kakko
The weird foreign exchange kid. He kinda lingers around the group and laughs at inappropriate times because he's desperately trying to fit into the group. With a little help he could have good hair. The talent is there. Just needs more time in the west and a tutor.
Alex Turcotte
Every report you read about Turcotte is basically perfect. First guy in, last guy out. Plays hard all over the ice. Great defensively. Everyone loves him. One of the guys. Conscientious. This is NOT a conscientious haircut. It's a look-at-me haircut. A guy who clearly has some natural poof, but he takes the time to poof it up wiht some product and blow-drying. He says Jonathan Toews is his idol, well look at Toews's hair
That's a haircut you can set your watch to. Something that works in the club or at a military academy. Toews even has a hairstylist as his girlfriend(or at least he did, I don't really keep up with the WAGs) and his hair has been virtually unchanged for his entire career. Why? Because it's tough to blowdry when you're constantly in the squat rack. If Turcotte has another interview pre-draft he should trim that thing. Having that extra poof isn't going to get you to 6'1, Alex.
Dylan Cozens
Jesus Christ, Dylan. I want to take this kid off of my draft board all together because he was willing to show his face in public like this. It looks like one side of his head was sticking out the window. Do you have any pride, Dylan? He's got the raw tools. Good shine, decent volume. Take those god given gifts and end up looking like this. You want to see how a kid drops from #3 to #7 in the draft…it's because he showed up to interviews like this. No attention to detail.
Kirby Dach
This is the exact haircut I would expect for a kid named "Kirby". Just a nice harmless kid who has had the same haircut since he showed up to picture day in the first grade. You can trust him to be on time, have nice manners, and do the right things. He is just never going to excite anyone and that is okay. The safe pick for your middle 6.
Bowen Byram
Ooooh baby. FUCK this kid. Look at that blonde hair. Perfectly coiffed. Red carpet ready, but doesn't look like he spent too much time on it either. That little smirk as he looks down the row at these other idiots with their stupid haircut, they're closer to the camera, but he knows all eyes are on him. I hate his guts, and want him on the Hawks so badly. It's a villain haircut and face. Straight out of a 1980s high school movie. Every good team has a guy like this. A guy who's mere face pisses off the other team and their fans. The Blackhawks are in desperate need of a haircut like this