Keeping You Abreast Of Protest: Why Hundreds Of Enormous Nipples Popped Up In NYC This Week
Women's nipples & Instagram/Facebook go together like Dave Portnoy & a drunk St. Louis Blues fan who likes whipping towels around… You kinda want to see a little more, but they go & put a stop to it.
People are mad about the rules & want them changed. Specifically ones like this via Instagram's guidelines page:
We know that there are times when people might want to share nude images that are artistic or creative in nature, but for a variety of reasons, we don't allow nudity on Instagram. This includes photos, videos, and some digitally-created content that show sexual intercourse, genitals, and close-ups of fully-nude buttocks. It also includes some photos of female nipples, but photos of post-mastectomy scarring and women actively breastfeeding are allowed. Nudity in photos of paintings and sculptures is OK, too.
Women can go topless in nearly 40 states now, but our nipples are considered 'lewd' whereas men's are not. Clearly feeding babies is still too sexy for most to handle, so even though we've got the same parts (except actually useful) we need to keep ours hidden. It's a real downer. If you check out #topless on Instagram now all you get are guys & cars. A real shame & a total snoozefest.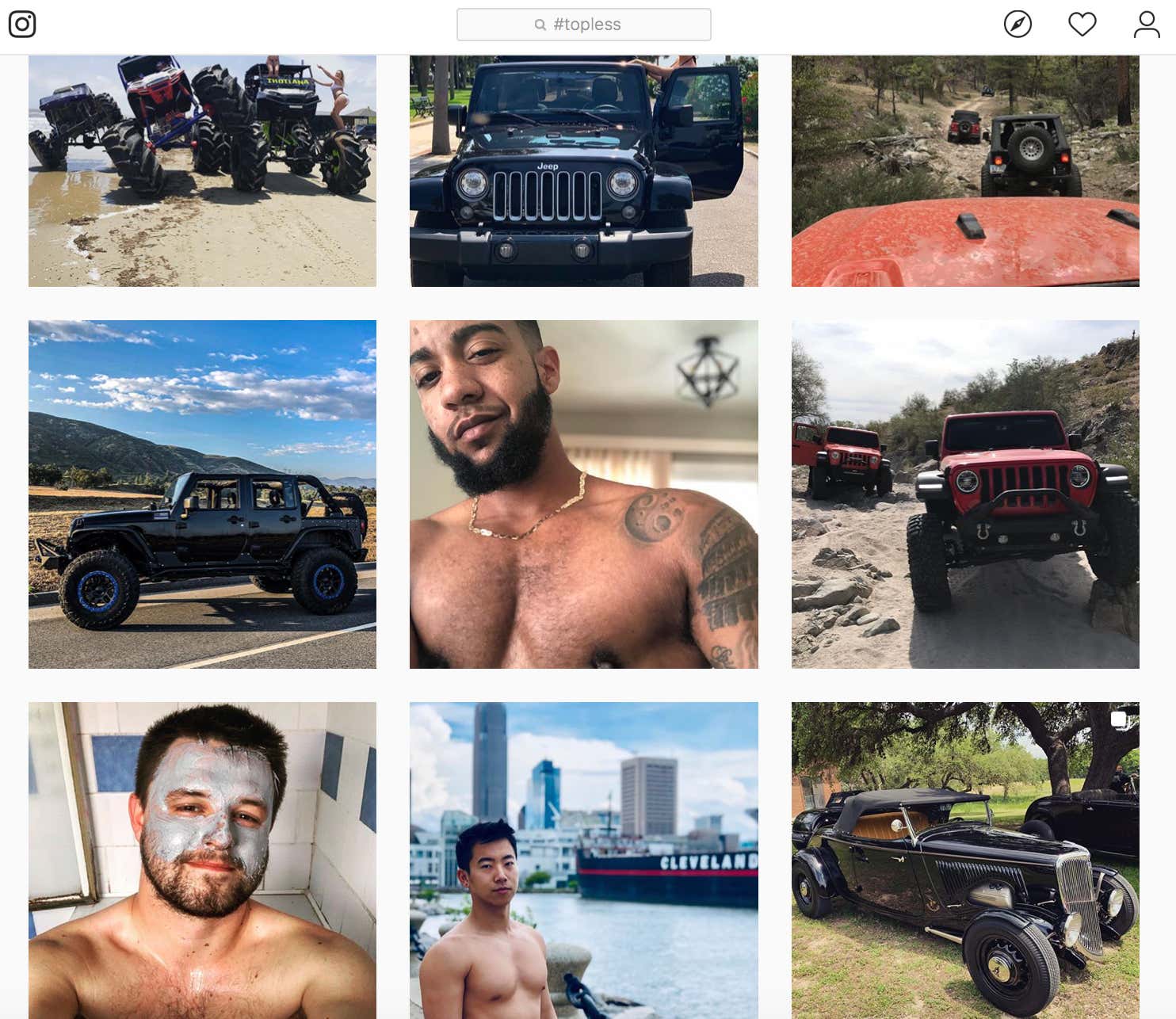 Thankfully there's a group out there looking to change that & they whipped 'em out for our right to show nips on the 'Gram & Facebook earlier this week:
From The Guardian:
Some were hairy. Some were pointy. Some were dark brown, some a pale pink. But the hundreds of nipples on display in front of Facebook's New York City headquarters on Sunday were technically "male", despite some being on female protesters.

More than 100 people lay nude on the sidewalk to call for a change to the company's censorship policies. The action, called #wethenipple, was organized by the artist Spencer Tunick and the National Coalition Against Censorship.

The demonstrators covered their bodies with stickers of male nipples to protest against Facebook and Instagram's ban on "some photos of female nipples" on the platforms. The activists say the ban harms artists and users exploring gender and identity.

Tunick, known for his nude photography, has been battling these policies for years, after Facebook disabled his page in 2014. He has organized similar interventions in the past, including an action in 2007 in which a collection of volunteers stood nude on a glacier in the Alps as part of a campaign on global warming.

"The work I'm allowed to post is fundamentally different from the work I make," he said. "To me, every pixelated nipple only succeeds in sexualizing the censored work. As a 21st-century artist, I rely on Instagram. It's the world's magazine and to be censored on it breaks my spirit."
The nipple images held by protesters were taken from "donated" photographs of male celebrities and artists including Bravo's Andy Cohen, the artist Andres Serrano, the actor-photographer Adam Goldberg, the Red Hot Chili Peppers drummer Chad Smith and Tunick himself.
The #WeTheNipple movement is picking up steam in more than just the artist community & the hashtag has over 1,000 posts on Instagram (#FreeTheNipple has over 4M) but there's still been no changes to the rules. (Ladies, you can post your nips so long as you cover your own with cut-out photos of guys nips that look exactly like yours.)
Have to say, I'm all for change. Maybe I'm jaded by living in NYC with windows right up against other windows & eventually you just stop caring who sees your boobs, but I just don't see the big deal about 'em. I get it, they can absolutely be sexy & enjoyable, but act like you've been there before & don't go clutching your pearls when you see a pair. We've all got 'em, sort of. ::sadly looks down at A-cups::
As for the "What about the children!?!" argument – Monitor your kid's online habits & social media if you don't want them stumbling across a pair of nipparoons, and know that seeing some female anatomy on Instagram & Facebook should be the least of your concerns on the web. Where there's a will, there's a way. ::hears PornHub drum solo in head::
Anyways, if you live in NYC & start seeing nipples everywhere, #WeTheNipple is why.
If you live in Near Orleans & continue seeing nipples everywhere, everything is normal & fine.