The Chicago Cubs Memorial Day Mid Season Recap Blog
This is a repost from over the weekend. I tried to recap everything that's happened with the Cubs from Opening Day to Memorial Day. There's player grades, a top 10 and a bunch of mailbag questions. My goal is to give you about 30 solid minutes to get completely lost in your 2019 Cubs. Unfortunately when you're done we still don't have a closer. Enjoy. 
---
Happy Memorial Day everybody including St. Louis Cardinals fans.
I've been jonesing for the opportunity to go deep on the Cubs for awhile now and can't think of a better reason than the unofficial start of Summer vacation across the United States. So think of this as a recap of everything Cubs related in the pre-summer phase of the season. Other phases include:
1. Pre- Summer: Opening Day to Memorial Day
2. Good Summer: Memorial Day to All Star Game
3. Sweet Spot: All Star Game to Trade Deadline
4. Dog Days: August 1 to start of NFL
5. Football Season: Rest of season before playoffs
6. MLB Playoffs 
Write that shit down so I don't have to repeat it and let's move on. We have a lot of words to get through across 3 Key Areas of our Memorial Day recap blog: (1) Grades, (2) Top 10 Moments and (3) Mailbag. Bob and weave. Survive and advance.
I'm using 3 topics like this to maintain a system of Checks & Balances in my content as judged by the legal scale I stole from law school the 2nd time I dropped out.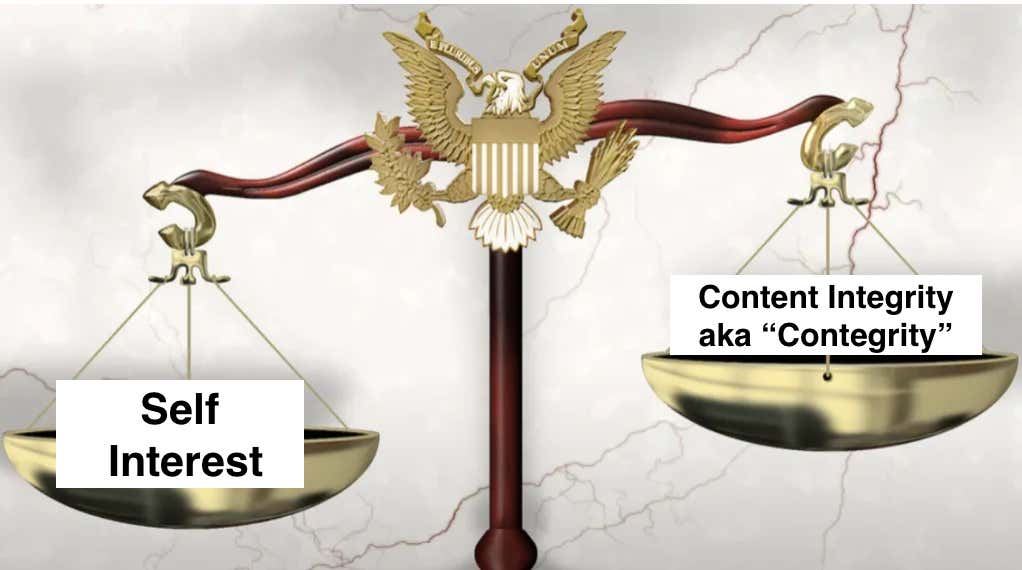 It's made out of real brass.
And while my law school grades sucked both times I went, I am confident that the following grades do not as I'm the one handing them out. So let's get to our first prong: GRADES
Overall: A-
Let's take a look at the standings
Thank you, Governor.
Staring Pitching A- 
I hope you like cut fastballs because that's pretty much the name of the game with our starters and it's working. So far. At least enough for me to act like some fancy pants hot shot right now.
In reality, it's an aging-staff that relies on changing speeds and looks in the strikezone to get weak contact. They're 3rd in groundball rate, 3rd in home run rate and top 5 in a bunch of other stuff and thank fucking god. They're the most expensive starting rotation in baseball by a lot.
Bullpen C
Not nearly as bad as you've been crying about. They're 3rd in NL in ERA, HR/FB, LOB% and a bunch of other shit that should make you feel okay about the unit. Also take comfort that it's May and on average Theo will be bringing in at least half a dozen fresh arms between now and August. If a real closer were to somehow magically end up on this roster, we can all agree the Bullpen would be very good provided CJ Edwards takes a deep breath and remembers he throws 98 with cut.
But it would also be better if the team invested in the back end of the bullpen sensibly. Not Brandon Morrow. Not Steve Cishek. Not Brandon Kintzler. Someone other than Pedro Strop needs to be able to strike someone out with a runner on 3rd and less than 2 outs. It's getting ridiculous at this point.
Outfielders C+/B-
I want to be meaner but Heyward had a good start. Since then he's been awful while Schwarber heads one way and Almora the other. I was more optimistic telling this story in 2017 but that ship sailed. These are the regular everyday outfielders for the Chicago Cubs and so far they've been collectively average. That may be okay for a lot of you. And I may be a dick for complaining. But the real litmus test would be asking the 3 of them for honest feedback about how they've played. My guess is all of them would agree they can be a lot better.
Worth noting Almora has been killing it over the last 3 weeks going .308/.328/.585 in 15 starts with 10 extra base hits. That's A+ level stuff in my book. Would be nice to see him get 4 plate appearances every day for the next month.
Infielders A
Javy, Bryant and Rizzo have combined for:
134 games
109 runs
157 hits
40 doubles
3 triples
36 home runs
102 rbis
.292/.386/.578
151 OPS+
6.8 WAR
They're 4th, 5th and 8th respectively in WAR across the NL and they share the same infield. That's actually incredible.
Only thing holding back the A+ is 2nd base. I address that extensively in the last section: MAILBAG. That's why I did the 3 prong approach.
Catchers A
Wilson Contreras is an MVP candidate catcher who struggles calling pitches. So that should tell you how good he's been offensively and if it doesn't consider this: he's 4th in wRC+, 4th in .BABIP, 7th in OPS, 10th in ISO, 5th in slugging% and 4th in wOBA.  The fact he's done that while catching should have your brain in a pretzel. Catchers are not supposed to be that good offensively.
Wrigley Field B
The stadium is turning into Corporate America Disneyland. A lot of the renovations are nice and the food is improved. But it's not my grandma's Wrigley and it will never again be what I fell in love with. Sucks but that's part of growing up and the Cubs needed to make it the destination it's become to maximize their cash flow on it. Great. Kudos to you guys. Don't build another fucking bowling alley.
Overall A-
It's not the 2016 Cubs but it's as close as we've seen in the 3 teams since winning the World Series. The pitchers are going to struggle to keep up their pace, which is why you need one of the 3 outfielders to step up and hopefully keep the infield core healthy and productive.
Really though the only thing missing is a closer which is so painfully obvious to everyone that I'm about to get mad but don't want to get mad so I'll turn my attention now to our second prong: Best Moments – Top 10.
I like this one because it's positive and that's a good thing so let's get to it:
---
10. Jon Lester RBI Single Against The Pirates
Pretty lame list if I'm starting off with a Jon Lester RBI single right? Wrong. The Cubs were 2-7 heading into this Monday day game. The Pirates had some action going in the top of the 2nd. Jameson Taillon had already struck out Rizzo and Baez in the 1st and Contreras in the 2nd. The Pirates walked Heyward to get Lester and this was the result. The Cubs would go on to win 10-0 and start a streak of 27-12 that's still going.
9. Almora Catch In Miami
Almora made this play in the middle of a 1-16 stretch in 9 games. Everyone (including him) needed this reminder that he's remarkable at something and that's tracking down deep fly balls. I think the catch percentage on that was less than 3% or something. And he's not that fast relative to MLB centerfielders but is known for having one of the best first steps. That's a weird thing to brag about or celebrate. But when you watch that catch it makes all the sense in the world. The eye test is still very real.
Also, bonus points for making this play in the bottom of the 1st after the Cubs scored 3 runs to start the game. Darvish was looking for his first positive start literally EVER as a Cub. He had a cushion. The Marlins suck. All he needed was to settle in and needless to say if Almora doesn't catch that, we know Yu is walking a lot more than 4 and giving up a lot more than 2.
8. Bote Walk Off Single Against Diamondbacks
David Bote walk offs are worth 5 extra wins. Bill James just came out with a stat on it. Swear to god.
7. Joe Maddon Wins 400th Game With The Cubs
Even though it's not a play or a traditional moment, this cracks the top 10 because of notable significance. People love to bitch about Joe. I've been there. I can hate his guts in the playoffs with the best of him. But that's the nature of being a spoiled ass fan and that's what Joe Maddon's turned us into. People forget he's averaging 93 wins a season over the last 12 years, and people forget that the Cubs always always ALWAYS sucked before he showed up. Like even the stuff we fondly remember is nothing in comparison to what he's accomplished. So kudos to Joe on the accomplishment and here's hoping to more confidence with the bullpen this October. You can do it.
6. Taylor Davis Grand Slam (with A+ caption from MLB)
Down 5-1 heading into the bottom of the 4th on Saturday. Cubs had won on Friday so they were up 1-0 in the series and at the time STL was in first place. Davis was catching Darvish because Caratini was on the Disabled List and heading into the AB he was a career 5-24 with 1 career extra base hit and 3 career RBI's.
Also worth noting Taylor Davis is the only active Cubs player to publicly recognize the existence of Red Line Radio. I'm not salty I just cheer extra hard for him because he gets it.m
5. Javy Throws His Bat, Gets Base Hit
You don't see that very often unless you're watching Ichiro and Vlad Guerrero career highlights. So yes, I'm impressed. VIVA EL MAGO! (or is it vivo? I'm not sure if you account for the gender of Mago, Judges?
4. Yu Darvish Vs. Jake Arrieta
This one was tough to watch but we needed it to get over the bullshit we've been serving ourselves since Jake left and Yu showed up. I understand the emotional side of this – I actually love Jake Arrieta. But I don't love him as much as the Cubs and that's where you have to grow up and move on.
Obviously that's been more difficult than we'd prefer but time heals all wounds. So does having these two go head-to-head and it coming out pretty much a wash. The Cubs lost 5-4 in extras. Arrieta went 6 innings giving up 8 hits and 2 walks and 1 earned. Darvish went 6 giving up 4 hits and 3 walks and 3 earned. If you watched, you know it was a great game with the first 5.2 innings belonging to Yu Darvish. A groundball single up the middle slightly alters the headline, but the main story remains unchanged: Darvish and Arrieta battled their asses off and it's time to move on with our guy.
3. The 15 Inning Game Vs. The Brewers
The Brewers won game 1 convincingly 7-0. The Cubs had a 6 game road stretch looming. This was the last series of a 10 game home stretch. The bullpen was taxed. The weather sucked. Tyler Chatwood was pitching and Christian Yelich was hitting. Under no circumstances did you expect the Cubs to give up 1 run for 15 innings but they did. And the real hero behind Tyler Chatwoods extended appearance was Taylor Davis. He legged out an infield single in the 5th and scored from 1st on an Albert Almora bloop single with 2 outs. The Cubs waited another 10 innings to score again but fortunately it was just enough to win. The Cubs won 2 more after this before dropping 3 of 4 on the road. So in hindsight, this really was a massive win. After losing the Division by 1 game last year could you imagine otherwise?
2. The Week The Cubs Hit 75 Walk Off Home Runs 
There's too many videos to embed here without breaking the server but I blogged it so give me another pageview and check it out.
1. Kyle Hendricks 81-Pitch Shutout
I'm not exaggerating or joking when I say this game is a gift to Cubs fans everywhere and you should feel very #blessed to be able to witness such professional excellence.
If you disagree with my top 10 leave me a voicemail on the pod so I can eviscerate you on my own terms 224-544-9194
---
Mail Bag 
I figured if we come this far I might as well turn it over to you guys and your question. First though – the questions are getting so much better. I think that's a credit to us as a group being better Cubs fans. So take a brief moment to pat yourself on the back and maybe enjoy a responsible and refreshing great tasting less filling ice cold Miller Lite. You earned it.
To the questions.
This is my kind of start to the Mailbag. This is a knock at PECOTA and other projection experts that said the Cubs would go 79-83 this year and finish in last place in the NL Central. Season isn't over (meatball voice) butttttt safe to say those douchebags were wrong.
Also – is douchebag okay to say? I'm being serious. I don't want to get in trouble but same time I kinda need that one to stay. You can take cocksucker but don't you dare touch douchebag.
No clue when worded like that
Not how you develop starting pitching. He'll be down there for a while for a number of reasons. He made his 4th start the other night and looked good. 5 innings with no walks and 6 strikeouts. He'll need several more starts to get his legs under him. I'd guess at least another 4 or 5. The Cubs have depth in front with Chatwood and Monty although no one wants to see Monty start right now probably including Monty.
So you'd need 2 injuries from 5 starting pitchers. Don't make me talk about the likelihood of that because it could happen tonight during batting practice in Houston. It could also never happen. But in order for him to pitch before the ASG, that would have to happen.
After then, if the Cubs build up a cushion, I can definitely see him getting 3-4 starts. If it makes sense. If he's healthy etc. It would then be a chance for him to debut and get comfortable.
Although ultimately I don't think it matters because Theo doesn't particularly focus on developing arms internally because he thinks pitchers need to get beat up a little bit at the MLB level. So he'd rather get guys that can come through after that point in their career. That's his bread and butter.
Long question, long answer.
Next caller.
Fitting
He just has to take harder more aggressive swings which he has over the last month or so. He looks like a different man. The change is something anyone can relate to.
Think of something you've wanted to do well. Anything at all. My favorite analogy is hit a golf ball because I think we all naturally suck at that, but I realize not everyone plays golf. So let's apply it to throwing darts, talking to the opposite sex, playing an instrument, public speaking and/or ejaculating on an airplane. Hopefully there's a little something in there for all of you.
Applying Almora's swing to one of those things, they're the exact same in that it's so much better when you stop thinking and trying so hard and just let the Big Dog Eat. Like when you know you belong, it comes so much easier to you vs. trying to be perfect because you're nervous. Some people just need the experience to turn a corner and I am hoping/praying that this is Albert Almora turning a corner in our face. With that comes power and cleaner drives to the gaps which is where Almora's power really plays.
As I say on Red Line this week, I think we can all agree it's so much cooler when Almora is playing well. The hair, the swag, the explosive bat flip/throws when he hits a line drive in the right center gap.
No the White Sox can keep all their good ideas
Descalso is playing more than they anticipated because of Zobrist and that also means more reps for Russell which is something they kind of prepared for.
As for how I feel about him – I'm with everyone else that it's hard to cheer for him given all the baggage. It's weird. I want to straight up ask Theo Epstein to explain my feelings to me. Maybe that's the only way I can get an answer. I'd prefer not to talk about him but it's becoming impossible. Let me get a better take as my brain un pretzels itself.
As for 2nd base, it's a dumpster fire. I don't want to see a trade or anything. Would much rather have Ian Happ to be the guy.
He went 3-5 last night with 4 runs. He still has a long way to go as long as the Cubs just called up Jim Adduci to play right field for tonight's game against the Astros (shoutout Evergreen Park) and not him. You could argue that's for a short turn around for the 3 AL games and that it's better to have Happ get his 4/5 PA's instead of platoon 1 out of 3 games.
Idk. I'm just the blogger who thinks Ian Happ wouldn't come up unless it was a permanent move which would probably mean Bote or Descalso gets hurt. As for DD he's a playoff guy so you can't DFA him unless it's a slam dunk and I don't think it is. I still like his game in the 12th inning of an NLDS game if that makes sense. He's just playing wayy too much,.
This is now the Ian Happ mailbag.
Hope not. Just no need to bring in another position player. The Bote contract was a step towards that.
Yes
Have you ever seen Major League when they're like This guy here *points at list* is Dead! and she goes Then cross him off? 
Because that's Morrow. The dead guy. I crossed him off.
Schwarber's going to get looks at the top of the order to get him fastballs and he can't waste the opportunity. It's his spot to lose as the Cubs are dying for a reliable leadoff hitter in front of what's quickly becoming baseball's best 2-3-4-5 with Bryant-Rizzo-Baez-Contreras. It makes too much sense for an OBP heavy lefty power bat to fit perfectly in front of that.
He's not the guy and neither is Cishek and neither is anyone except possible Pedro Strop and even then that's stupid because Strop's value is highest when you can plug him in any spot 6th thru 9th for a strikeout when you need it most. I hate having him labeled as the last 3 outs only so you never use his stuff earlier in the game. Never mind that he's injured I'm just bringing him up for comparison purposes.
Kintzler is different in that he's a double play guy 1st. Big sinker baller trying to break bats. So he's not the guy you want in the 9th with a one run lead. He can do it. No doubt. But he doesn't fit the profile and it's obvious the Cubs are really missing the backend fireballer that makes you want to cry.
2 different teams that are very good. To be better, they can't. To be worse, they would have to not win the WS.
As simple as I can make it – Theo's goal is winning the championship and then he beats that into everyone's head that no matter what, you're here to win. So that might mean you sit 3 games in a row. Or that you're in the bullpen when 9/10 teams would have you pitching in the 5th spot. Or that you get traded like Tommy La Stella because there just isn't room for you even though you're good. No room.
When you think about it like that, you kind of get away from comparing one team from the next.
Also, that team had a closer.
Immensely.
Hopefully as soon as the MLB Draft ends
I say Baez yes. KB is a coin flip for me. Rizzo is a 100% slam dunk provided Theo is still the President of baseball operations.
$13m for a guy not closing and not starting is terrible news no matter how you slice it. So as long as Chatwood is pitching in a role other than starting or closing, it's a massive failure.
That said, he could be a viable option to give one of the older starters a break after the 16 game stretch coming up. There's a lot of baseball in June and Chatwood could have a chance to show last year really was one of the greatest flukes in baseball history.
Another chance would be closing even though the thought of that just made be barf a lot in my mouth.
Oh god it's still coming.
So.
Much.
Barf.
I'm barfing because the command issues are laughable. Even if he doesn't walk guys, he still has NO IDEA where it's going more often than not. His stuff (98 with sink) means he doesn't get hit hard but when it's over the plate, anyone can smoke it.
Weird scenario.
Let's just agree on this – everyone keep cheering for Chatwood because we desperately need to get the most out of his contract. I love seeing 98 from him out of the bullpen. Maybe he can sustain the good vibes and turn it into something?
Idk. I'm lost. It's his fault.
They're both bad. Heyward plays a lot more for the Cubs than Crawford did with the Red Sox. My question is whether or not that's a good thing for purposes of this question.
Kill Starlin. Start D Lee. Statue Aramis.
*Relevant
Probably never
Not this year.
Yes. The Cubs are going to win more than 90 games and this concludes your Memorial Day Weekend Recap & Review blog.
Go America.