Breaking Down The Black Mirror Season 5 Trailer
Breaking down the Black Mirror Season 5 trailer without reading anything online:
-First visceral reaction was HOLY SHIT due to the visual/audio/overall insanely high quality production of that trailer.  I LOVE trailers.  I'm always at the movie theater 15 minutes early just so I don't miss any trailers.  Songs featured in trailers are guaranteed to get at least 100 plays from me on Spotify.  This trailer is awesome.
-When it comes to the actual show, I'll be honest, and I hate to admit this – I'm nervous.
First and foremost:  THREE EPISODES?  Ugh.  Come on man.  First Game of Thrones now my other favorite show.  I mean I get it, it's hypocritical to complain, especially after that bloated season 3.  Always better to leave them wanting more than to overdo it.  But that sure does put a LOT of pressure on every moment of these 3 lonely episodes.
Main reason I'm nervous: these plot lines look pretty….well…"done before."  That's not to say I don't trust BM to come up with a great fresh new twist on it and knock it out of the park – even if the show has been – a little more than slightly – downhill since it left the BBC and went to Netflix, it's still on the whole better than most other shows on TV.  With the exception of only a couple episodes, even when Black Mirror is at its "worst" it's still pretty damn good; if not entertaining, at least thoughtful.
Let's look at these storylines, or at least the basics that we are shown:
The first one is "guy who is fed up/freaked out by technology taking over our lives and ends up in an OJ-Bronco situation with the cops."
A guy cheating on his wife with Tinder:
And, basically: the movie "Her".
(Surprise – it turns out to be actually bad!)
And in the midst of all of this, we get out first Miley glimpse: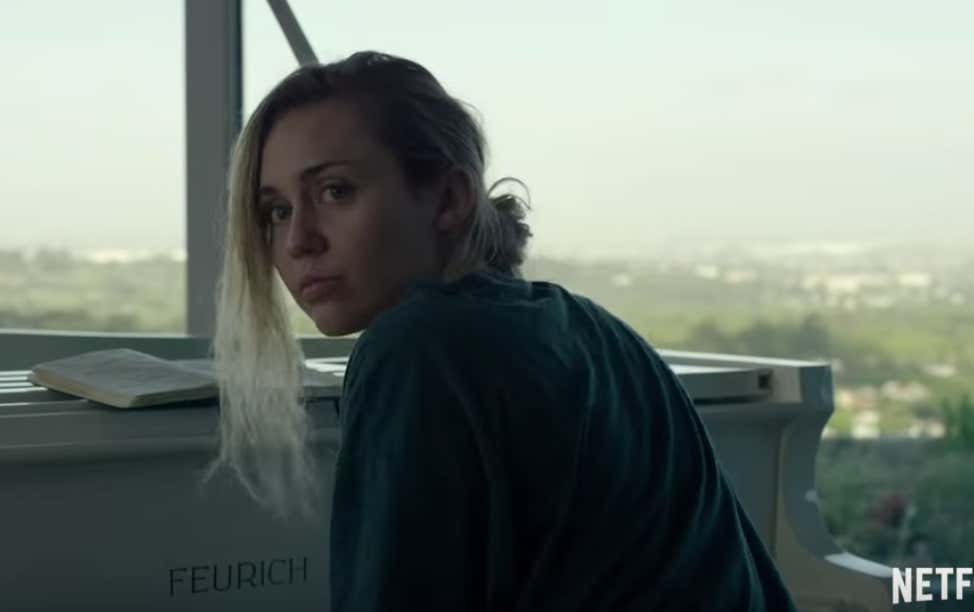 Variety says Cyrus seems to be taking part in a "meta storyline," portraying a performer who's "undergone a transformation in order to rise to a higher level of fame."
From there….
Your guess is as good as mine where the hell this all fits in.
(That Mortal Kombat shit looks crazy.)
-Excited about the cast for sure…although it's always risky adding actual big names to a show that was at its best early on with relative little-knowns.
According to Variety, actors for this season include familiar faces like Anthony Mackie, Andrew Scott, Yahya Abdul-Mateen II, Topher Grace, Nicole Beharie, Angourie Rice, and — yes — Miley Cyrus.
-Finally, I loved the spelled-out themes, most of which we all know already, but with an important addition: AFTERLIFE.
See everyone June 5!
PS,
Here's the song.
---
Previously: My Black Mirror episode power rankings and my Season 4 scorecard.