Barstool's Weekend Soccer Preview – The "North London & Merseyside Dærbies" Edition
Hi Haters™,
Whoops. Messed around and dropped an extra special one-time bonus episode of everybody favorite on-temporary-hiatus podcast: Sam's Army. Segments include:
• Interview with Ian Ayre, CEO of Nashville SC, about his decade (2007-2017) in charge at Liverpool and plans/strategy for building his new club ahead of their planned 2020 launch in MLS
• Discussion with MLS Commissioner Don Garber about the league's interest in embracing non-traditional media outlets
• Previews and predictions for the big big youge dærbies in EPL
• What to watch for throughout the rest of Europe
• Rundown of important storylines heading into the 2019 MLS season, which – by the way – gets underway this weekend
A big fat thanks to everyone who has already subscribed and listened, and if you haven't then there is no better time than right now to do so. (Note: we are indeed still on a hiatus at the moment, as I am working on some necessary changes before looking to relaunch, so hopefully you will [continue to] bear with me on that!)
Now without further ado let's take a look at the preponderance of fantastic matchups on deck this weekend…
***********************************
ENGLISH PREMIER LEAGUE
Results from the midweek slate of games:
***
POWER RANKINGS
TOP 4
1. City
2. Liverpool
3(t). United
3(t). Chelsea
3(t). Tottenham
3(t). Arsenal
Honorable mention: Newcastle
BOTTOM 3
20. Huddersfield
19. Fulham
18. Cardiff
Dishonorable mention: Brighton
***
Table as it stands now:
Tottenham [+105]
Arsenal [+250]
Draw [+260]
NLD's are always massive but this one is just a little massiver. Spurs come in on the heels of two straight losses that have made the battle for top four a lottttttttttt more interesting. We went into some depth about the matchup in the podcast so I'll keep this short, but one change that has emerged over the last 24 hours and could make a real difference is news that Dele Alli is unlikely to be healthy enough to go on Saturday morning. He brings an element to Tottenham's midfield on both ends of the field that has been notably absent in recent weeks. I said 3-1 Spurs in the podcast when I thought Dele was playing. I'm slightly less confident now. I think Tottenham are the better team but there is no doubting the fact that Arsenal's attacking unit is a scary matchup for the likes of Ben Davies and Kieran Trippier. Yikes. So I'm tweaking the pick assuming Poch goes a little more conservative through the middle… Spurs to win 2-1.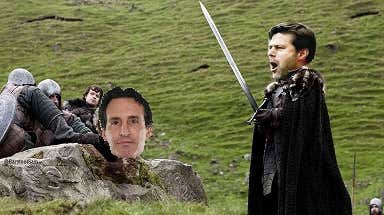 **
Everton [+450]
Liverpool [-170]
Draw [+300]
We also went into some detail on this game but it boils down to Liverpool being clearly better on paper but Everton – which has shown some signs of life lately – looking at this game as this season's Super Bowl. The Toffees also has a little added belief given how well they shut down their neighbors at Anfield earlier this season (losing on an incredibly bizarre last second tap-in by Divock Origi).
Liverpool just hung an ugly FIVE-spot on Watford and are capable of those type of explosions at any time but I'll give Everton the benefit of the doubt and say they lay it all on the line on Sunday before spending the rest of the season scheduling summer vacations. Everton to win 1-1.
**
More picks (so I eventually get one right maybe):
• BOURNEMOUTH vs CITY – The Cherries just got WORKED at Arsenal while City are a wagon. This is definitely going out on a limb given Bournemouth's defensive woes but they are a different team at home. Gimme a 2-2 draw. [Note: I know, I know, there is almost no chance that BOTH title contenders draw this weekend but if one of them settles for a point that basically pays for our drinks all weekend so hush child and let's just grip it and rip it.]
• BRIGHTON vs HUDDERSFIELD – Huddersfield! You dogs! (Literally!) The wee buggers hadn't won a game in eons yet came out of nowhere to beat a damn good Wolves squad last time out. I have no good explanation for that kind of result. But it plays right into my game-after-unexpected-win-hangover theory… especially at the American Express Community Stadium. Brighton to win 2-0. (Hand up. I had no idea what their home field was called until I just used the google machine. Sounds a little like a community college's stadium if we're being honest.)
• BURNLEY vs PALACE – Interesting matchup, though that should not be confused with it shaping up to be an "interesting game" to watch. Each team has experienced long dry stretches this season but have also come up with some big wins, and both – with way too much talent to go down – now sit on 30 points just five points ahead of Cardiff in the dreaded last relegation spot. Probably gonna be one of those close games that turns on a single play. Burnley will likely get more looks but Palace have a little more quality going forward. I'll tell you one thing that I would NOT be thinking about taking and that is the over…gimme a 1-1 draw.
• UNITED vs SOUTHAMPTON – Congrats to the Saints for getting a massssssive win last time out over fellow flounderers Fulham. Unfortunately the Red Devils are not a team you want to face right now. United to win 2-0.
• WOLVES vs CARDIFF – Wolves losing to Huddersfield last time out was one of the more inexplicable results of the season… though just between you and me that was their SECOND loss of the season to the Terriers, which have "racked up" 14 points the entire season, six coming against Wolves. That's a pretty crazy stat. Guess it's just a bad matchup… or something? I don't know, I really don't have an explanation other than the fact that Wolves offense is inconsistent enough that those things will happen every now and again. Anyway, no way they lose to two serious relegation contenders in a row…. Right? Right??? Maybe, but probably not. I'm going with a big bounce back performance Wolves to win 3-1.
• WEST HAM vs NEWCASTLE – Magpies have been a different team since Miggy showed up and (Sunderland fans notwithstanding) if you are an American it is hard not to get a little excited watching him help supercharge their offense. Also, neither here nor there but Sean Longstaff has emerged as a legitimate stud in recent weeks alongside Almiron in midfield. Unfortunately my picks (while generally awful per usual) have been spot on for Newcastle lately and my gut is saying that West Ham have been playing well enough lately – including losing only 0-1 to City at the Etihad on Wednesday – that they will come out on top. Newcastle has had one of the stingier defenses in the league this season but everybody loses the plot every now and again. Hammies to win 3-2.
• WATFORD vs LESTER – Quietly big game for each team, both of whom are likely eyeing up their chances of snagging a Europa spot. If the Foxes have any chance of doing so they absolutely have to win on Sunday, and they are catching Watford at what could be a good time seeing as the Hornets just got massacred 5-0 by Liverpool. The Reds have enough weapons, though, that one terrible performance can be written off as a bit of an outlier. Brendan Rodgers is now officially at the helm of Lester and I do think he could be a good hire for a club with upper-mid-table ambitions (water finding its level – one might say) but Watford's ability to sit deep and attack on the counter is the type of team the Foxes have had a lot of trouble with this season. Watford to win 3-1.
• FULHAM vs CHELSEA – The Cottagers sent Ranieri packing after seeing precisely no improvement in the team since he was brought in to quell the dumpster fire in November. Tough spot for the Tinker Man. I'm sure his buyout was big enough to wipe away most of his tears. Fulham brought in Scotty Parker and if ever there is a guy who will find a way to instill some (perhaps fleeting) confidence and energy into a team Parker can do it. Chelsea are coming off two of their better performance of the season against City and Tottenham so bit silly to think they would drop points against a team in 19th place at the moment… but sometimes soccer just doesn't make sense. (Plus I couldn't help thinking Eden Hazard started to look pretty damn tired against Spurs and may need a little rest while Gonzalo Higuain is… well… he's Gonzalo Higuain.) Fulham with a "famous" 2-1 win.
***********************************
LAP AROUND THE WORLD
ITALY – Two YOUGE dærbies as Lazio host Roma on Saturday (1:30pm CT) followed by Juventus, nursing a 13 points lead atop the table, visiting 2nd place Napoli on Sunday. They might as well hand the Old Lady the Scudetto on the field if they win that one since, needless to say, the title race is already on life support.
GERMANY – 3rd place Monchengladbach host 2nd place Bayern, and ze Bavarian giants are just three points behind Dortmund who already lost to Augsburg on Friday so needless to say the Bundesliga title race is looking mighty tasty this season (assuming BVB don't do what a lot of people seem to think they are about to do by rolling over and dying).
Spain – Third Clasico in a matter of weeks and second in a matter of days. The last one ended up being a really strange 3-0 win for Barcelona that could have gone a very different way if Madrid finished some early chances. Atletico (7 points back) are in the uncomfortable position of rooting hard for their city rivals Real (9 points back) but such is life sometimes. Kickoff is 1:45pm CT on Saturday.
***********************************
2019 MLS OPENING WEEKEND
MLS is back and if for some reason you have been dragging your feet about getting more "into" our domestic league then right now is the perfect time to do so. I have been saying it every season and every season have been proven right: the quality is going up quickly, the drama is ramping up accordingly, and the more people who get into it creates a virtuous feedback loop.
Anyway, in case you are wondering about storylines heading into this season here is a distilled list of some of the more compelling ones that came to mind off the top of my head:
ATLANTA: Are they in for a post-championship hangover? A lot of people may have said yes the way they came out against something called Herediano in the first leg of their Concacaf Champions League tie last week…. but then they came out and dropped the hammer on their Costa Rican opponents this week so suspicions of their demise may have been greatly exaggerated.
CINCINNATI: Welcome to the league, Cincy, and thank god Columbus was indeed saved because that rivalry should be awesome. Speaking of the n00bs, though, they have made some really interesting moves this winter, and there is talk that they may be in for USMNT midfielder Kenny Saief, who has reportedly fallen out of favor with Anderlecht in Belgium. Basically, I'm not say Cincy is a sleeper this season, but I'm definitely saying Cincy is a sleeper this season.
TORONTO: they shat the bed last season, plain and simple. Can they bounce back? Things are not looking great as they lost Giovinco and got trounced in the Concacaf Champions League. Don't have a great feeling about them at the moment but I am rooting for my boy Alex Bono.
ZLATAN and ROONEY: Both had fantastic "rookie" seasons after coming over from Europe. It will be interesting to see if talent continues to shine through or if Father Time does his thing and causes a sophomore slump for one or both.
WATCH OUT FOR THE FIRE: That's just my heart talking. Don't mind me. But that new and improved midfield plus Sapong……… I'm just sayin.
NEW PLAYOFF STRUCTURE: an extra (seventh) playoff spot is up for grabs this season but more importantly MLS is switching to a single-elimination format, which I am a BIG fan of because it makes the regular season that much more important.
As for the games we got coming up this weekend to get things started off on the right foot, this is what we are looking at:
Get into it, fam. You won't regret it.
***********************************
So there we have it. Champions League is back next week.
Gulp. Either way thanks for reading and I'll be back with the latest and potentially greatest preview on Tuesday.