Patrick Kane Is The Most Clutch Hockey Player Of All-Time
He did it again. Patrick fucking Kane. Whenever this team needs something special you just know that 88 will do something great. It's common place but it never gets old. I think it is time to crown him as the most clutch hockey player whoever lived. Certainly the most clutch I've ever seen. I wanted to remove my own bias so I went to hockey-reference to make sure and yep…pretty confident he is the greatest. 11 playoff game-winning goals. 5 OT winners, which is good enough for 3rd all-time behind Rocket Richard(6) and Joe Sakic(8) who both played longer and Joe Sakic has 45 more playoff games under his belt. God-willing, Kaner will have more chances to beat him in the future.
This sent me down a rabbit hole inside my own memory of the best of Patrick Kane moments. There's been no shortage of moments like last night in the regular season. Too many to count. Too many to remember. The playoffs is where legends are born and that's what lives on. Here is Patrick Kane's greatest hits
Patrick Kane Hat-Trick To End The Canucks In 2009
His first "oh my god this guy is a SUPER STAR" moment. The Hawks were MASSIVE underdogs going into that series as the young upstart team. They hated each other. That Game 6 is maybe my favorite game of the dynasty run. Shoot out, back and forth, and Patrick Kane throwing darts passed Luongo and DAGGERS in the Canucks hearts. It was amazing. He legit made Roberto Luongo cry. People forget that.
Triple OT Hat Trick Game Winner WCF vs LA Kings
Peak of his powers and the height of the Blackhawks dynasty in 2013. I would put that team up against just about any team in history. Kane was unstoppable in that playoff run and the image that comes to mind when you think of Patrick Kane more than any other is probably this
heart breaker, executioner. Nothing sweeter than an OT winner to eliminate someone. And with that said…
Game 6 OT Winner vs Minnesota SHOWTIME
Right place, right time because he has the biggest brain on the ice. Then he put that lethal back-hand roof job up top to send Minnesota home. Still their Daddy and always will be.
Game-Tying Goal, Game 5 vs Nashville
My heart went into my throat just typing this one into youtube. Arguably the most stressful moment of the whole run. Down a man, down a goal, net empty, who else but Patrick Kane.
Game 6 vs Tampa Bay, 2015 Stanley Cup Final
I remember, in the moment, when Brad Richards had the puck on his stick in the slot becoming what I hate the most…a SHOOT IT guy. It's always a good idea to give it to Patrick Kane and he made no mistake. It wasn't a "game-winner" but it put the game away and brought home another Stanley Cup.
Game 4 OT Winner vs St Louis in 2014
Down 2-1 in the series at home. Absolute MUST-win game. Who ya gonna call…Patrick Kane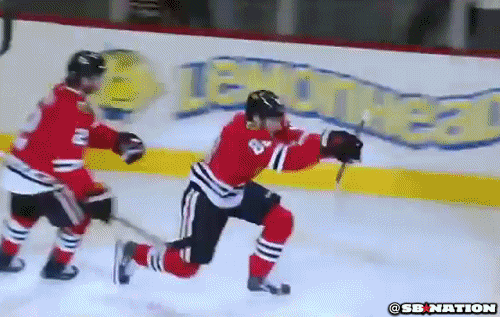 Game 6, OT Winner vs Philly To Win The Stanley Cup
That little shoulder shimmy in the biggest moment of his life. That's a guy who clearly wants the puck on his stick when it matters most. He knew it was in before anyone on the planet.
I am sure there are some I've missed, but these are my favorite moments. Pretty good for a guy that teams were dismissing as a "power play specialist" when he first came into the league. Now he's the greatest American born player ever, the most clutch player ever, and might fuck around and become the greatest Blackhawk ever too.
PS: "Saint Patrick" Kane Shirts are 20% off today