Lil Dicky Is Getting His Own Comedy Show On FX
Variety - Lil Dicky is officially coming to TV.
FX has ordered an untitled half-hour comedy series based on the life of the rapper and comedian to series, Variety has learned. The series is centered on a suburban neurotic man in his late twenties who has convinced himself that he's destined to be one of the best rappers of all time. Now he must convince his closest friends, because with their help, he might actually convince the world. FX had ordered a pilot for the project last May.
Lil Dicky, whose real name is Dave Burd, achieved critical acclaim and commercial success with his album "Professional Rapper," which debuted at #7 on the Billboard Hot 100 and #1 on the Comedy, Rap and Independent Charts, and featured the multi-platinum single "Save Dat Money." Another of his singles, "FreakyFriday," peaked at #8 on the Billboard Hot 100 and has gone on to achieve over one billion streams and achieve multi-platinum status in over a dozen countries.
The series is co-created by Burd and "The League" co-creator Jeff Schaffer, with Burd also set to star.
——————
What a come up Lil Dicky has had. And very well deserved too. Ever since he came on the scene everything he has put out has been a banger. Banger after banger after banger. I remember when he came onto the scene in a big way 5 years ago with the "Ex Boyfriend" video and his career took off from there. He was crushing the YouTube game before the YouTube game was even a thing. Going back to back with "Ex Boyfriend" and "Staying In" made him the internet darling, and he never stopped from that point on.
He started getting mainstream fame and getting big names on his songs that did crazy numbers of views on YouTube
And then a year ago, of course, this happened: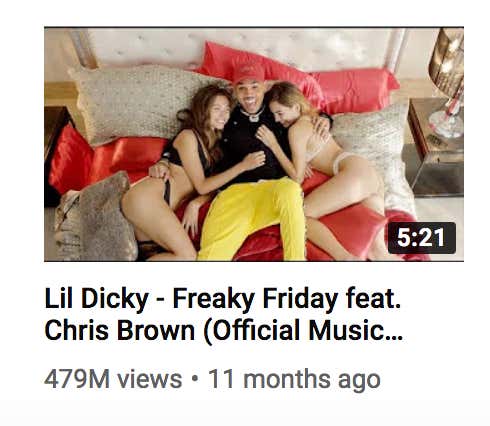 Needless to say, Lil Dicky puts asses in seats. And now that grind has paid off with a TV show, which is pretty cool. Always good to see the cream rise to the top and the TV execs to reward it. And the good news is FX generally has a great track record with comedies, especially letting them kinda just do whatever they want. I have high hopes for this, can't wait to see what they whip up.