When Does It End? 86 Tons Of Boston Market Frozen Meals Are Being Recalled Due To Possible Glass/Plastic Contamination
Delish – A press release from the USDA confirms 86 tons (or 173,376 pounds) of Boston Market frozen meals are being recalled as they may be "contaminated with extraneous materials, specifically pieces of glass or hard plastic." It's their not ready-to-eat boneless pork rib patties that were potentially affected by this issue.
The patties were distributed by Ohio-based food manufacturer Bellisio Foods, which produces the pork rib patties in question. According to the notice, the Boston Market meals are labeled "BOSTON MARKET Home Style Meals BONELESS PORK RIB SHAPED PATTY WITH BBQ SAUCE & MASHED POTATOES." These meals may have a "best by" date of 12/07/19.
According to CNN, the USDA is classifying this as a Category 1 recall, which means "there is a reasonable probability that the use of the product will cause serious, adverse health consequences or death."
This is not the news that we wanted to wake up to on this Wednesday morning.
I've never had the rib sandwich from Boston Market's frozen meals, but I can imagine that there are people out there that are effected by this who aren't happy. One person in particular who I'd imagine isn't happy is Dr. Willie Wilson. If you've been following along to the Chicago Dog Walk podcast you know that Dr. Wilson is a fan of Boston Market, and for him to not only lose the election, but then lose Boston Market's rib patties all in 24 hours is just really unfair. **
Besides that I honestly don't understand how this shit always happens. Boston Market isn't the only company that's had these problems.
If you remember there was once a Skoal recall for having metal contamination:
---
Then there was a chicken recall due to plastic contamination:
And there's been countless others on top of that. Like, for real how the hell does this always happen? A malfunction in the plant equipment? Workers that aren't paying attention?
Maybe this is how those people from My Strange Addiction got their start? They were pounding shit that was contaminated with glass and plastic so one day they figured pounding the foam from their mattress can't be that bad.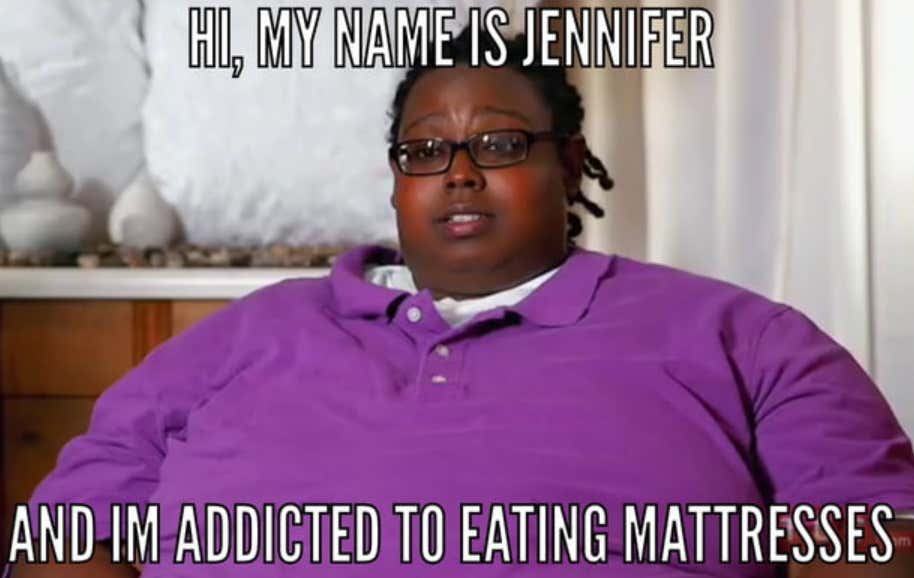 I'm on the case, Jennifer. It's not your fault that you're addicted to eating mattresses.