Happy Birthday Ron Santo. Let's start there. Ron Santo is the most impactful baseball player of my life and I never watched him play. The fact the Hall waited until his death and over 31 years to elect him will be an eternal stain on Cooperstown history.
I say Ron Santo is the most impactful player of my life because he nearly-singlehandedly turned me into a Cubs fan in 1993. I was six years old and my oldest brother had just been diagnosed with Juvenile Diabetes. Naturally that means nothing to a six year-old, but it propelled my folks to get super involved with the Chicago chapter of his charity, JDRF. Shortly thereafter, my two older brothers and I were balls deep in Cubs related charity events as my parents grew close to Ron and his family. I remember one summer he brought us into the Press Box to watch him and Pat call a few innings of a late 90's Cardinals home game. I'll never forget how close he made us feel to the Cubs and how much he loved the game.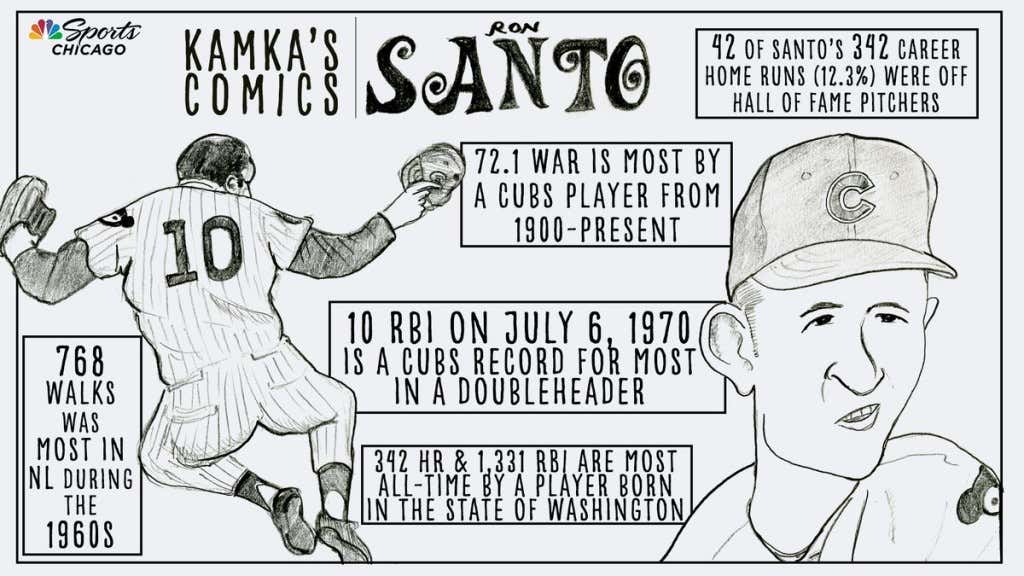 If you've ever wondered how I –  as a south sider surrounded by White Sox nation – became the bleeding heart Cubs fan you know today, there's your answer. If you never cared and still don't care, fuck you. Ron Santo was an amazing player.
Here's some of my favorite stats and comparables. Keep in mind two things: (1) he played his entire career with a debilitating disease that no one knew how to treat properly and (2) he received FOUR PERCENT of the BBWAA vote his first year on the ballot.
Santo won five consecutive Gold Glove Awards for defensive fielding excellence at third base (1964–1968).

He set or tied NL records by leading NL 3rd basemen in total chances 8 times, in games played at 3rd, putouts and assists 7 times each, and in double plays 6 times.

At retirement, Santo held the NL record for assists in a single season.

He also set NL records for career assists (4,532), total chances (6,777) and double plays (389) at third base, all of which were eventually broken by Mike Schmidt between 1986 and 1988.

At retirement, his NL total of 2,102 games at third base was 2nd all-time, 6th in NL history in putouts (1,930) and 9th in fielding percentage (.954).

Between his walks and his ability to hit .300, Santo twice led the league in OBP and came in the top 10 five other times.

From 1963-70, Santo averaged almost 29 homers and 106 RBI per season.

From 1961 to 1969—his first nine full years in MLB—Santo played in all but 15 of the Cubs' 1,441 games.

Twice, Santo played every inning of the season at 3rd base (1963 and 1965)

Compared to legend Brooks Robinson, Santo trumps offensively: He hit for a higher average, .277 to .267, hit more home runs, 342 to 268, and knocked in about the same number of runs, 1,331 versus 1,357, all in a career eight years shorter than Robinson's.

Finally, Santo averaged 5.5 WAR in his 13 full seasons with the Cubs. Brooks Robinsons best 13 season average in his 23 year career is 5.6. So technically you could cherry pick the best year of Brooks Robinson and it turns out to be what Ron Santo was every single day he took the field.
4 fucking percent. FOUR. Let's get to the notes before I start puking again.
Kris Bryant dropped dick in his first AB of Spring Training:
Naturally that feels good. We like Kris Bryant moonshot Yabos a lot and we don't discriminate against when he hits them. February, June, October. It's all deadly.
Even better tho is KB's attitude towards everyone right now:
"When our backs against the wall, we turn it on," he says. That gets me going so much.
People forget that KB had a .311/.428/.595 slash last year thru the first 38 games before hurting his shoulder sliding into firstbase. LOL. Sliding.
At the time, KB's isolated power (which is basically a measure of how often you hit extra-base hits) was .284. That would have been good for 6th in MLB last year and 1st in NL.
AFTER the injury, KB played in 64 games posting a .249/.339/.378 slash with a .129 ISO. For comparison sake, Mike Fontenot had a .137 career ISO while Fukudome had a .136. So you're talking about either the best power hitter in the NL or guy who is slightly worse than this:
Speaking of Projections, I talked a lot last week about how PECOTA and other baseball nerdery has predicted the Cubs to be at the bottom of the NL Central barrel. There were interesting reactions from Brandon Morrow outright laughing to Jose Quintana saying "I don't believe that computer." It's obvious the players don't really give a shit and that's good.
Theo naturally had his own thoughts. He had an artful takedown of PECOTA while making the point that it's strongly biased against aging pitchers. Oh and btw the Cubs don't care. From ESPN:
"Part of the reason [for the PECOTA projection], we've developed bats and brought in pitching from the outside, and our pitching is skewing older than our bats, and that system is really harsh on aging pitchers," he said. "[Whereas] I like pitchers that know what they are doing. Let pitchers figure (things) out somewhere else, then bring them in once they're good and know how to pitch."
It's true when you look at the staff. Notable examples of guys learning how to pitch elsewhere: Lester, Hamels, Darvish, Quintana, Morrow, Strop, Cishek and Chatwood (more lol).
Doesn't matter though – Theo has comfort in their own model.
"Our internal projection system is a lot more accurate," Epstein said. "We've been within a game or a game and a half just about every year. Our system [this year] has us exactly in the right place in the division."
On the subject of Tyler Chatwood, he made his first start of Spring Training. Here's how his first inning went
He threw 31 pitches, 17 strikes. In the first inning, he gave up a leadoff single to Joe Panik before getting Gerardo Parra to ground into a double play. Chatwood walked Evan Longoria and then gave up a home run to Brandon Belt. He followed by throwing 1 pitch to Brandon Crawford and getting a groundout.
You cannot get more Tyler Chatwood than that.
What else.
George Kontos is a local Chicago guy that's in camp with the Cubs on a minor league contract. From 2012 thru 2018, Kontos posted a 3,11 ERA in 343 relief appearances for the Giants and Pirates. Personally I love the move for a lot of reasons, but for now I'll limit it to this: his family owns/operates a banger hot dog stand at Belmont & The Kennedy
Pizza Puffs fuck so hard. I love this place. Go Cubs.