Can The Celtics Salvage Both Their Season And My Employment? We're About To Find Out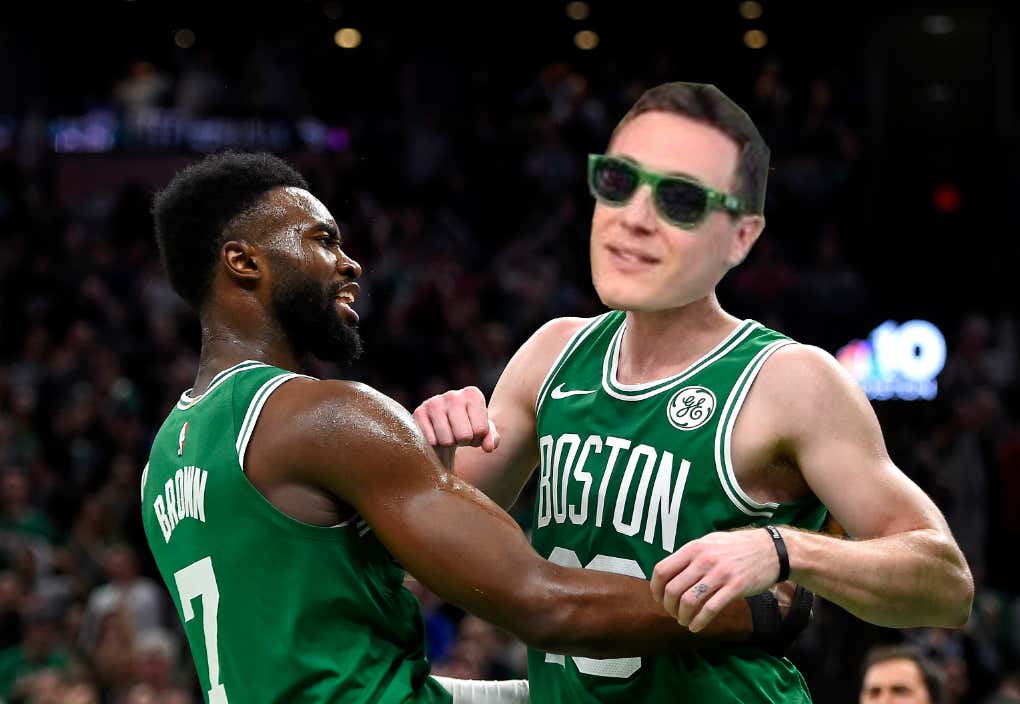 We made it. After what seem like decades since we've seen our beloved Celtics on the hardwood, they're back tonight with perhaps the biggest game of their season to date against the Milwaukee Bucks. Before we dive in allow me to set the stage considering it's been a while since many of us have had to think about where things are at the top of the East. Entering today, the Bucks sit in first place, with a 6.5 game lead over the Celtics with 25 games to play. It would take a pretty massive collapse for them to not finish with at least a top 2 seed, and for a team that has not lost back to back games all season, I don't think that's going to happen. In fact they are rolling, winners in 14 of their last 16 games with their only recent loss being a weird 20 point loss to the Magic who are also sneaky playing well right now. Beating this team had home essentially doesn't happen since they're 23-5 on the year which just so happens to be the second fewest home losses in the entire NBA, however they do have home losses to good teams like TOR/GS so far this season.
Enter the Boston Celtics. Winners in 12 of their last 15, and a team that has been playing some of the best basketball in the entire conference over the last few months. All season as Celtics fans we've basically been pushing all the drama and poor play aside, saying this team just needed to figure it out once the Playoffs rolled around. Well they fucked around a little too much and  now are feeling the heat for their final 24 games. This is no longer a team that has the luxury of time, we need to see them flip this "switch" we've heard so much about all year. Even if you want to rule out the top seed and maybe even the 2 seed, they still are in a prime position to secure a top 3 seed. Given the Raptors and the Bucks have some of the easiest remaining schedules, I'm confident in saying the 3 spot is probably as high as this team can get. So unlike some of the H2H matchups against the other top of the East teams, tonight's matchup against the Bucks is important for a variety of reasons even if it's not seeding related. We heard this morning that the Celts will be without both Gordon Hayward and Aron Baynes so a tough challenge just got even harder. A win tonight with give the Celtics the season series and the confidence to know they can actually beat this team on the road, something they could not do last postseason. It's also their chance to see how they stack up with this new look Bucks roster, and to me that's the biggest question.
So how can they pull this win off and start this homestretch on a positive note? To me, it's simple
Guard the three point line
In their loss to the Bucks in their second meeting, the Celts gave up wayyyy too many threes, 16 in total. You may remember this game as the one where Thon Maker and Tony Snell went a combined 7-8 from three. That was fun. While Maker may no longer be around, he has been replaced with a MUCH better three point shooter in Nikola Mirotic. On the season, the Bucks are tied for 2nd in 3PM with the Celtics at 13.1 a night. Over their nice recent stretch that number has dropped to 12.2 and they are 10th in the league in attempts. It's no surprise that in the first win the Celts had over this team they held MIL to just 9 3PM, but this team is legit from deep in their own building which means perimeter defense is going to be crucial. I say use the LeBron method and let Giannis score all the points he wants, this team has to stay with the MIL shooters.
Expose the shit out of Brook Lopez
What this season has told us is whenever these two teams play, the Celtics style does provide the Bucks with a number of problems. The goal should be to keep running P&R/P&Pops so often that the Bucks can't have Lopez on the floor. As a team they always go under screens, so the Celts will certainly have their opportunities to let it fly from three, and this is where Al Horford is going to have to be huge. Just like he dominated the Embiid matchup before the break, the Celtics are going to need him to basically make Lopez unplayable. This team does not have that much big man depth, and in my opinion the more defensive possessions they force Mirotic to play the better.
Turn the ball over and die
The easiest way to get blown out against this team is to turn it over. The Bucks are 6th in the league in points off turnovers, and we've seen this story a million times before. Sloppy play turns into easy Giannis transition dunks which gets the crowd into it and then the Celtics panic and poop their pants. Can't have that. Over the course of the season the Celts have been good at taking care of the ball with just 13.7 a night, but they've been bad with it as of late, coming in at 24th in the NBA during their last 15 game stretch. Defending the three and taking care of the ball are the two most important things they have to do.
Don't shoot like assholes
Last meeting, Hayward/Tatum/Kyrie/Smart/Terry combined to go 18-63 from the floor. That is atrocious. Now Morris/Horford didn't play in that game, and Hayward is now out tonight, so it's my guess that Jaylen will get the spot start and he did have a decent 8-14 performance in that previous game. The biggest problem seemed to be this team bailed on running any sort of offense and did nothing but jack threes. Nearly half of everyone's FGA came from behind the arc, despite the 29% production. Brad needs to be ready to reel everyone back in if they get three happy, and not be afraid to actually run an offense. They had just 22 assists in that loss and this is not a team you can afford to get off to a slow start against.
We've seen this team rise to the occasion and play their best basketball in big time games like this all year, and seeing as how the rest of this month is littered with big time opponents a win tonight would do wonders for the psyche of this team. Forget all the drama, forget the Kyrie quotes, none of that matters if they play well on the court. Every single one of these final 24 games matters, and I wouldn't want it any other way.
The fate of this season and my overall employment starts today. Let's fucking dance.