Maintenance Guy Finds One Single "Air Jordan One" Signed By MJ In An Abandoned Mall. It's About To Sell For $20K+
It's a simple enough message, scrawled on an old athletic shoe that wound up in an abandoned storage room as Capitol Court Mall was being demolished on West Capitol Drive and North 60th Street in Milwaukee. It's faded along with the signature that accompanies it: NBA superstar Michael Jordan.
…Larry Awe, then head of maintenance for the disintegrating mall, knew to whom the white Nike initially belonged immediately. He'd been through the mall enough times and passed by sports apparel store Playmakers, where game-worn shoes from NBA players were routinely on display.
…size 13, faded on the bottom, black trim starting to crack near the top — the artifact from the fledgling days of a basketball dynasty turned out to be quite the keepsake.
"It was almost like a buried treasure," said Chris Nerat, consignment director at Heritage Auctions, where the shoe has gone up for bid for its Platinum Night Sales, ending with final bidding Feb. 23-24.
..On Feb. 17, 1985 — Jordan's 22nd birthday — the Bulls rookie scored 26 points in a 125-105 loss to the Bucks at the MECCA. On his feet were a pair of Air Jordan Ones, among the first of their kind. The white shoe with black "swoosh" and toe, red laces and red across the top at the ankle, wasn't available in stores.
Heritage estimates the shoe will be worth $20,000 at auction. The bidding starts at a quarter of the estimate ($5,000), and Nerat feels the shoe will sell for "multiples of our estimate."
"Larry's had it in his basement for 17 years and it happens to be what I consider and what Heritage considers the most significant Air Jordan shoe in existence, and I don't think we're over exaggerating," Nerat said.
---
This story is so awesome.  It's long so I want to try and break it down as concisely as possible.
For SneakerHeads: a game-worn, MJ signed black-toe One needs no explanation.
For everyone else, here's the quick run-down.
Anyone who has ever put sneakers on their feet and tied the shoelaces knows that Jordans are valuable, old Jordans are very valuable, and old Jordans signed by MJ are insanely valuable.  You can also probably tell from the "One" in the name of the shoe that these ones we're talking about were the first Jordans.  They're the ones he has on his feet for the Jumpman ad campaign that basically launched him as a sports and brand icon.
What might not be as well known is that these specific ones, with the black toe, were only worn by MJ 5 times, in his rookie year – they were "banned" by the NBA for violating dress code, and he switched to the red-toes.
(Update from the MJS reporter, I mis-read this detail, sorry: "this shoe wasn't the "banned" one; its red and black twin was.")
The black-toes were never put into circulation for the public – the red-toes went on sale in 1985.
This shoe that Larry Awe found is stamped November 8, 1984.
The Milwaukee-Journal Sentinel reporting is that three (3) of these exist.
He's had it in his basement for 17 years.
Fast forward to this year:
Larry's daughter is engaged, and her fiancee Donald is a huuuuuge Jordan guy (he proves this point by saying he has the #23 in his email address.)  Larry, who apparently is the best father-in-law of all time, wanted to give Don an early birthday present, so he went down to the basement and started bringing up a bunch of plastic bags of vintage sneakers – Dominique, Kareem, Worthy, Larry Bird.   Then:
Stuffed with pieces of Milwaukee Journal Sentinel newspaper from 2007 by Larry's late wife, Debra, the shoes had been stored away. The grand finale, of course, was the Jordan shoe.
Buttttt I'm pretty sure you know what's coming:
There's a big dispute about who owns the shoe.
After all, Larry was the head of maintenance for the mall.  He didn't run a shoe store.  And the guy that did is very, very interested in getting the profits from the shoe that he had on display in his store.
Former Playmakers owner Ron Tesmer believes the shoe is rightfully his.

…When he got out of the business, Tesmer said he packed up some of his favorites — Jordan, Bird, Dr. J, Ice Man, Kareem, Shaq — and stashed them in a box under lock-and-key in a storage room. He believed only he and his brother had a key to the room. When he came back into the room, the box was gone.

"I had kind of written them off and didn't think they'd show up again," Tesmer said Friday. "Twenty years later, now suddenly they're there."

Tesmer questioned how anyone could think he'd simply leave a box of memorabilia like that behind.
(Cool story – Tesmer had shoes like this in a big plexiglas display in the store because of a genius business move: he made friends with the Bucks' ballboys, had them grab leftover game worn merch, get it autographed, then bring it to him in exchange for some free shoes from the store.)
I mean his main point is kind of tough to argue, but the excuse does seem a little suspicious – you just wrote off some MJ-signed black-toe Ones and didn't care to ask your brother if he grabbed them?
Spoiler alert – his brother didn't grab them.
Larry found them during the mall demolition in a pile of the local high school's team sweatshirts.
Ron Tesmer right now: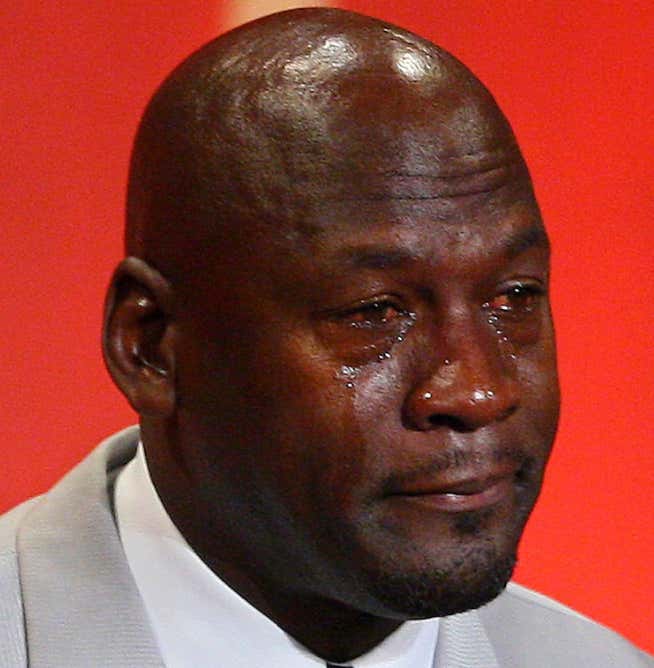 Anyway, to finish up, this is where we're at now:
Tesmer said Friday he's contacting the auction house to see if the sale can be stopped.

"As you can imagine, issues of title dispute do come up regularly when dealing with auction consignments such as these," Heritage Auctions offered in a statement.

"At the time of consignment, each consignor attests that they have clear title to sell the material. However, if a title claim is made during an auction, then Heritage allows the pertinent law enforcement or judicial system to make the judgment regarding title, and we follow the ruling."
I have a really, really bad feeling I'm going to forget to follow up on this, but I spent so much time on this blog that I'm making a post-it note right now to remember to see how it turns out.
---
(via The Milwaukee-Journal Sentinel as reported by JR Radcliffe.)