Phil Hellmuth Donated To Draymond Green's Rainy Day Fund By Losing $95k In A Poker Game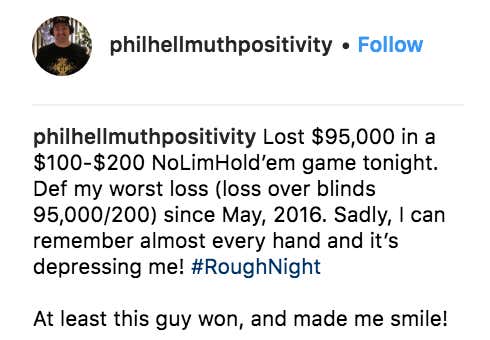 That's a tough pill to swallow. One of the worst feelings in the world is running bad in a poker game. Just losing buy in after buy in, dusting off your bankroll hand after hand, and having nothing you can do about it. Not only did Phil lose 5 buy ins at $100/200, but he lost a chunk of it to Draymond Green. What a kick in the dick (pun completely intended). Draymond gotta be one of the last people on Earth I'd want to have my money. Just seeing him at the same table you'd want to win every pot you were in with him. I would absolutely HAAAATE to donate to Draymond's rainy day fund. Would put me on massive life tilt. Not only is he in the midst of an $82 million contract and will sign an even bigger one in 2 years, but he's freakin' Draymond Green.
Now, Phil and him are buddies/acquaintances. Phil has been known to sit court side at Warriors games, often in a weird/tiny jersey thing
But when you're at the poker table, you have no friends. You have no buddies. You have no acquaintances. It's kill or be killed. And dropping $95k is the definition of being killed. And the fact a chunk of it was to Draymond, that sucks. Every time he sees you courtside he's going to needle you about it. He's going to rub it in your face. There will be no escaping it. I think it's why Portnoy won't play me heads up, when I take all his money he'll never be able to live it down.