The 2018 Chicago Bears Mic'd Up Is Football Porn
Nothing beats the NFL mic'd up. I could watch old school NFL Films on repeat until my eyes bleed. Those old Ed Sabol (RIP) films about how the 2002 Browns came up one play short of changing Cleveland history and shit. That stuff is what being a degenerate sports fan is all about.
That said I'm still working through Cody Parkey PTSD and this helps big. My key takeaways are to start saying I'm Hot repeatedly and never, ever cross Akiem Hicks. In the words of Chief he's One Bad Mamma Jamma.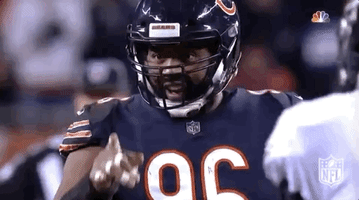 The 2018 Bears will forever be one of Chicago's all-time favorite teams. Heartbreak aside it was sensational start to finish. I think we can all agree how amazing and fun it is to have a dominant team in the modern NFL. The pain and struggle since Lovie/Urlacher left the organization has been so worth it.
PS – Imagine being dumb enough to taunt Khalil Mack and then immediately giving up a strip sack. That's laugh out loud funny.